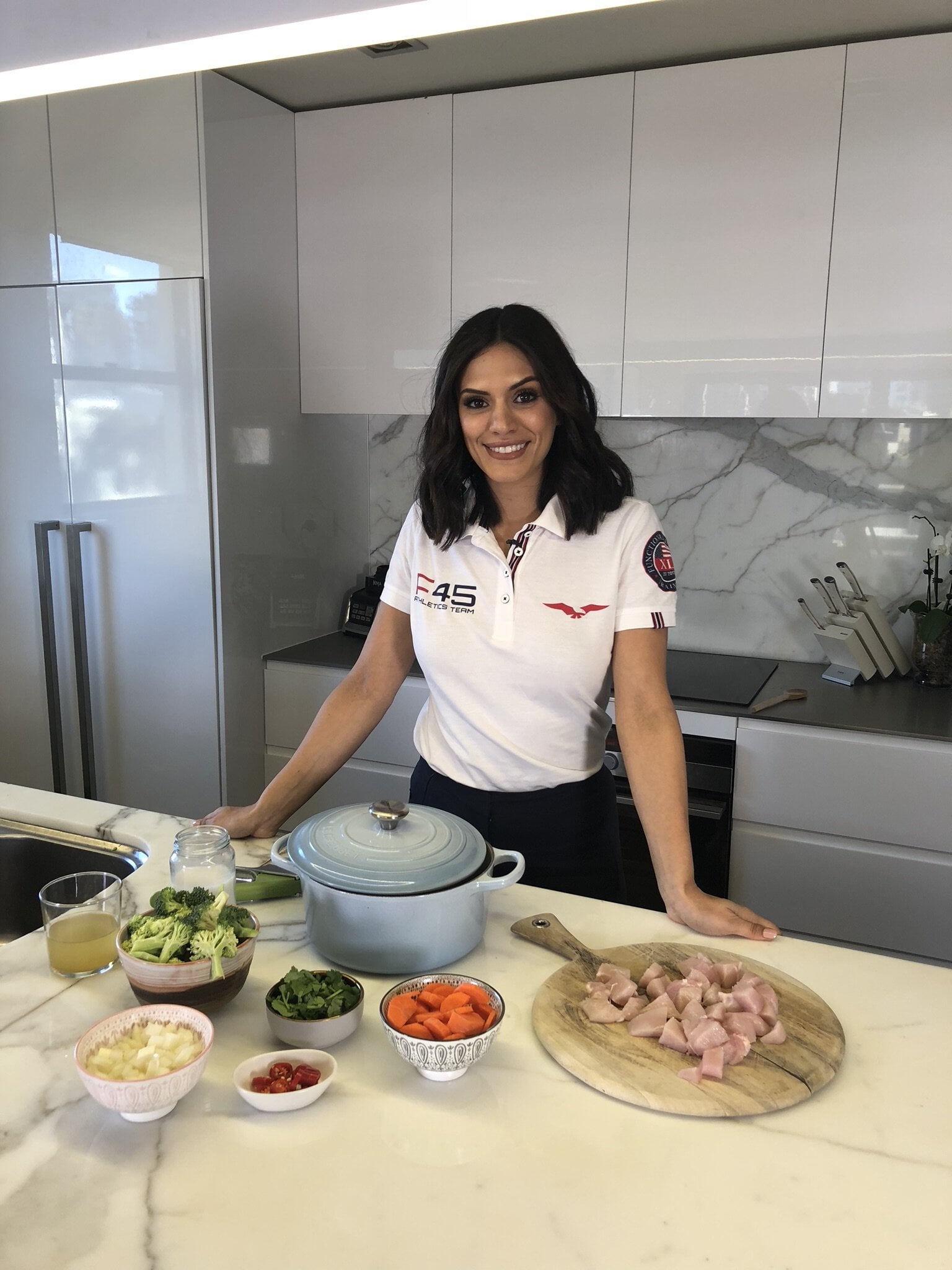 A Day In The Life And On A Plate Of F45 Challenge Director and Nutritionist Lyn Green
When it comes to fitness and nutrition, Lyn Green is a name which is more than likely already on your radar. But just in case you haven't been bitten by the HIIT classes bug (I know we're shocked too), let us give you a little context. Nutritionist, well-being columnist and health advocate Lyn also happens to be F45 Challenge Director and Resident Nutritionist. This means when she is not busy contributing to some of the nation's most well respected health publications she is helping over 570 franchises Australia-wide lead their clientele towards reaching their health goals – one balanced and delicious meal at a time.
I usually wake up at: the alarm rings at 5.45am for a morning workout
The first thing I do when I wake up is... after my alarm goes off, I like to spend a couple of minutes in bed, thinking about everything I am grateful for in my life. I will then jump onto Instagram and check my messages replying back to my followers. Particularly around the Challenge time, I get a lot of messages and want to make sure I am getting back to everyone.
To get inspired for the day I: listen to podcasts and motivational videos on youtube. One of my favourite podcasts is Impact Theory by Tom Bilyeu who founded Quest Bars. Impact Theory interviews some of the world's most successful individuals to find out their secrets on how they made it. It is very inspirational! Other motivational speakers I listen to are Jay Shetty, Gary Vee and Dr Joe Dispenza
My morning fitness routine:  would usually be a 45 min workout at F45, however I like to shock the body and will do a 7km run on an empty stomach a couple times a week.
My go to breakfast: are dairy free scrambled eggs with chopped cucumber, tomato and baby spinach. I love a Mediterranean inspired breakfast. 
Coffee looks like: an activated almond milk cappuccino. I take my activated almond milk to my local café for my mid morning coffee. I struggle to digest normal almond milk, particular the ones used in cafes can contain nasty ingredients in it.
If I am having a smoothie it's usually made with:
1 frozen banana
1 scoop plant based vanilla protein
1 tbsp. cacao powder
1 tsp. greens powder
1 tbsp. nut butter
300ml activated almond milk
1 cup ice
I never leave the house without: my phone haha   
To keep motivated throughout the day I: keep a growth mindset so I listen to podcasts all day when I'm working on my laptop so I can continue working on myself to become my greatest version.
My go to lunch spot in Sydney:  I am all about brunch rather then lunch. One of my favourite brunch spots in Sydney would be Harry's Café in Bondi or Preach Café. I travel to Melbourne a lot so when I am there I would go to Higher Ground in the city. 
I will usually order: It would have to include avocado and eggs… I usually ask for dairy free scrambled eggs and lots of greens too!
If I need a healthy snack I reach for: A health ball… I like to make a batch of them at the start of the week and have them in my fridge at work just incase I feel I need a pick me up at 3pm. 
To wind down I: listen to calming and relaxing music before bed. I also love to light a candle and read a book. 
My signature dish is:   I would have to say any of my smoothie bowl recipes! One of my favourite ones I've made is the Hazelnut Choc Smoothie Bowl. It's vegan, creamy and delicious.
My guilty indulgence: No added sugar vegan chocolate with vegan caramel ice cream. 
My current Instagram stalks are:
Jay Shetty
Jessica Sepel
F45 Training
Favorite F45 exercise: Box jump to burpee – I find this super challenging but I love it.
Most dreaded F45 exercise but it has to be done:  Chin ups – they get me every time
The last thing I do before I go to bed: Warm shower followed by a herbal tea – I find this very relaxing
Life motto: Live with purpose and passion