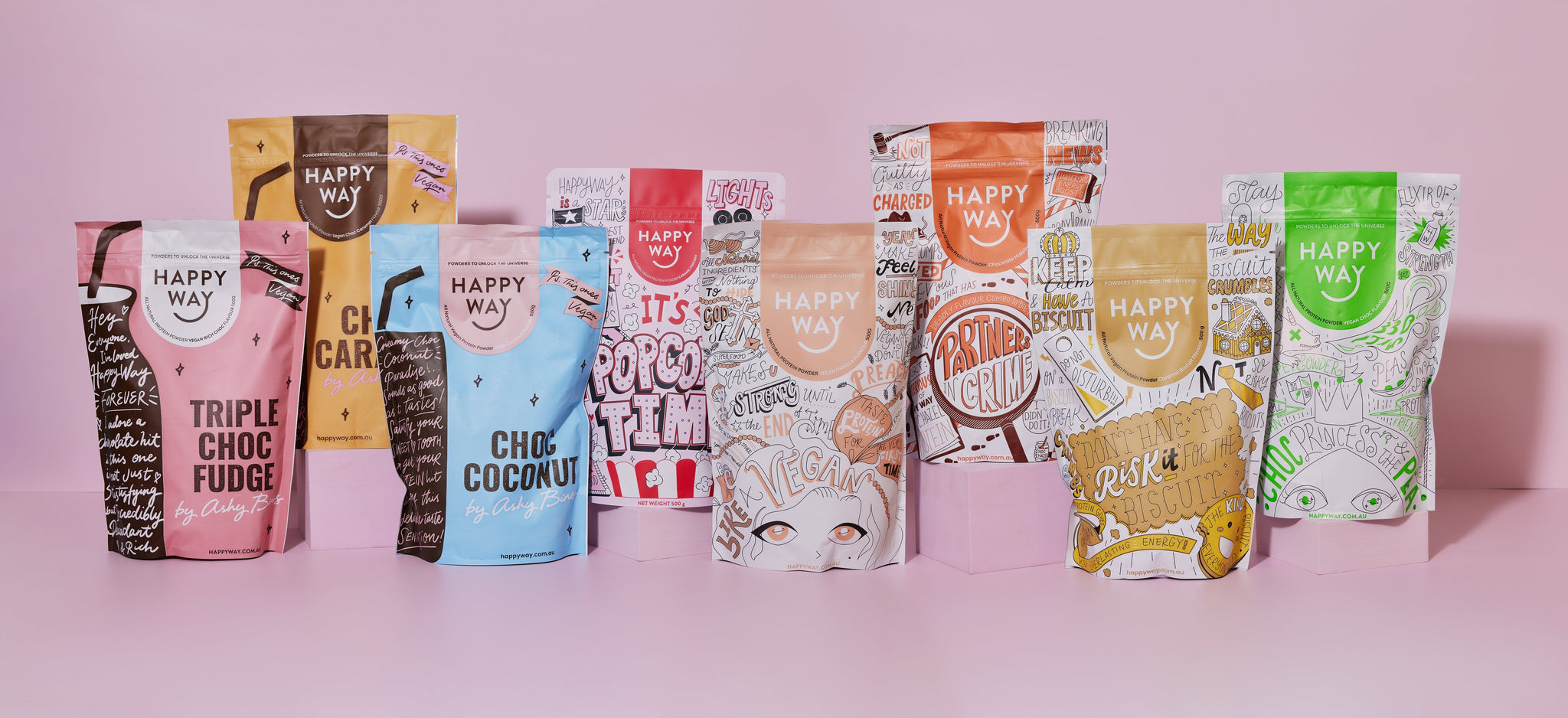 It should be no secret that we're dedicated to providing you with the best quality and best-tasting products—because of this, we're always looking for ways we can be better with everything from the ingredients we use to the suppliers we choose (yep, apparently we rhyme too lol). We also value transparency, which is why we're here today to share some updates with you. 
CHANGE OF MANUFACTURING PARTNER
For those of you who are longtime Happy Way-ers, you may recall that during COVID, we switched manufacturing partners due to limited access to several of our suppliers and, therefore, no availability of specific, high-quality and favourable ingredients we used at the time in our products. Our focus was not to sacrifice the quality or flavour of our products, and although we had to make some slight changes, we feel our products stayed true to their roots.
The tough times of the pandemic seem to be behind us (thankfully!), and so we're excited to announce that we've made the choice to switch back to our original manufacturing partner over the coming months. This means a broader availability of high-end suppliers and, of course, premium ingredients.
WHAT THIS MEANS FOR YOU
Because of this, you may notice a subtle difference in the flavour of our powdered products, but trust that we wouldn't make this decision if we didn't think it was in the best interest of YOU, our customers. Before you panic that things just ain't gonna be the same, know that this is our OG manufacturing partner—so they not only understand us fully and who we are as a brand, but they're just as passionate about creating products that are of the highest level. 
The other exciting part of this change is that we'll now be sourcing all of our whey from right here in Australia rather than from NZ pasture-fed cows. We're proud to be collaborating with an Australian dairy farm located in Victoria, Australia, and over the coming months, all you dairy lovers will notice this shift in your proteins. Mooooo mooooo!!
As we roll out this change, you may notice both our current and newly updated protein powders in circulation out in the world—until our existing stock is depleted. We didn't want to waste a perfectly good product, nor did we want to discard potentially thousands of protein pouches and be harmful to the environment in the process.  
To identify which batch is in your happy hands, check the back of the packaging for the ingredient list. If you have a batch from our new manufacturing partner, you will notice MCT oil powder has replaced coconut flour, and thaumatin has been added as a natural sweetener along with the existing stevia leaf. For details on these ingredients and their benefits, check out our previous blog on this change here. 
We hope it won't take long for our newly improved proteins to end up in your smoothie cups, but we want to thank you for your patience and understanding throughout this transition and for you to know that we have your best interests at heart.
If you have any further questions about this change, please feel free to reach out to our Customer Happiness team via support@happyway.com.au
Thank you for your continued loyalty and support—live life the Happy Way! 
Ben, Hien & the Happy Way team. xx