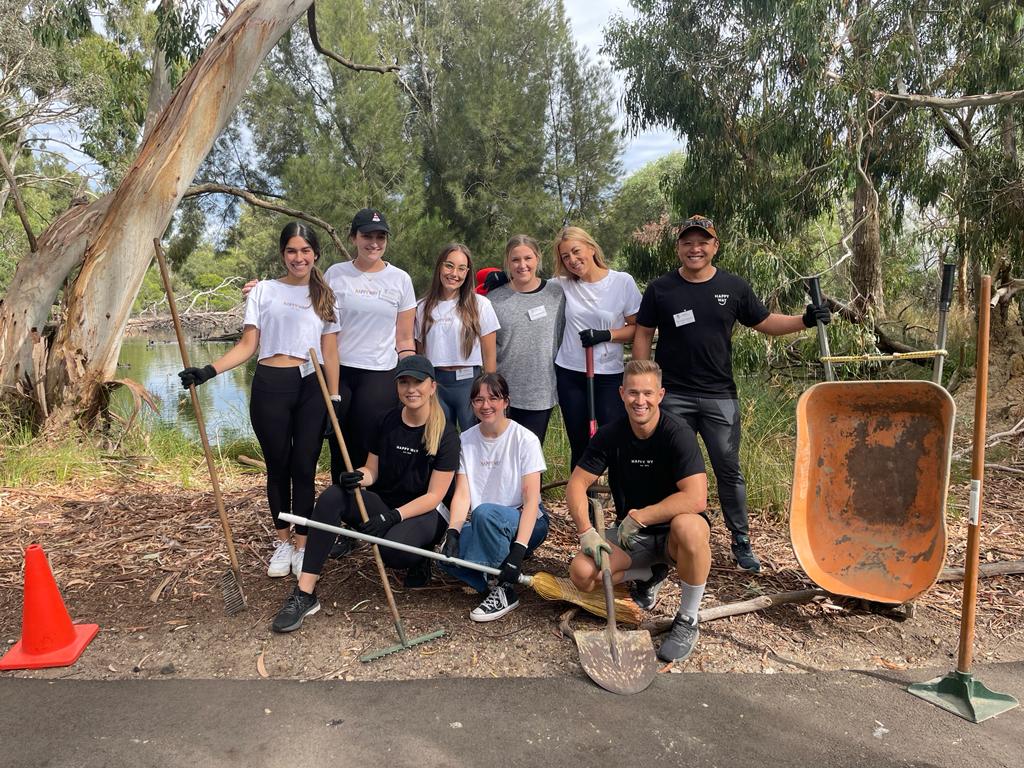 At Happy Way, we value sustainability, and besides incorporating more sustainable workplace practices, and making changes in our processes as a brand, moving forward we're putting a lot of focus and energy into giving back to Mother Nature and our community. 
It's because of this that this month, your fave Happy Way team, put our hands up to volunteer at Cleland Wildlife Park in South Australia. As a team, we love getting together outside of Happy Way HQ—to connect and build upon the supportive and empowering team culture that we already have. We feel this is super important for us as a brand, so this time we thought, why not switch it up and invite some furry friends along for our team building session?! 
So, after some extensive planning with the Cleland team, and a quick run to Bunnings to ensure we had the appropriate 'get up' to be getting down and dirty with the animals, we carpooled our way out to Cleland Wildlife Park to meet our volunteer coordinator, Bess. 
The morning kicked off without a hitch—if you don't count half the team getting lost on the way and finding themselves near Mount Lofty (wrong place ladies!)—and we all breathed a collective sigh of relief when we found out we weren't going to be picking up animal poop or cleaning out their cages!
After collecting our tools and rollin' out our wheelbarrows, our first assignment as the HW Cleland Grounds Crew was doing some maintenance on one of the walking paths near the koala enclosure. This included building up the edges with dirt and dolomite and cutting back some of the overhanging greenery, ensuring it was a safe area for the parks' many visitors to walk around without injury. 
Happy Way co-founders Ben and Hien led the way, shovelling and unloading dirt from the wheelbarrows, whilst we all got our hands dirty, packing it down and making the path look pretty—Ben even made pals with a friendly wallaby!
Following a collective effort from the team, we smashed out our first assignment and moved along to join our new koala buddies, taking on task #2—cleaning up their lil' habitat by raking up the build-up of leaves and debris, which can become a fire hazard. Apart from a few nasty jumping ants and some unfriendly scorpions, our second job was a success and even proved to be a bit of a workout—leaving Hien feeling a bit better about missing his morning gym sesh!
Our three hour volunteer session was definitely a morning well spent—getting out in nature, making a difference and doin' our bit to support such a wonderful organisation, was a refreshing change from the office and a great opportunity to give back. Not only did we help build safer pathways and clean up the koala enclosures, but we connected as a team and were able to spend the morning out amongst the beauty of Mother Nature, together. 
It's an experience that as a team we're extremely grateful for, and we want to thank Bess and the crew at Cleland Wildlife Park for all that they do and for allowing us to connect with our inner park rangers—even if some of us had to dig deeper to find them! 
To visit Cleland Wildlife Park or learn more about their volunteering opportunities, check out their website here.