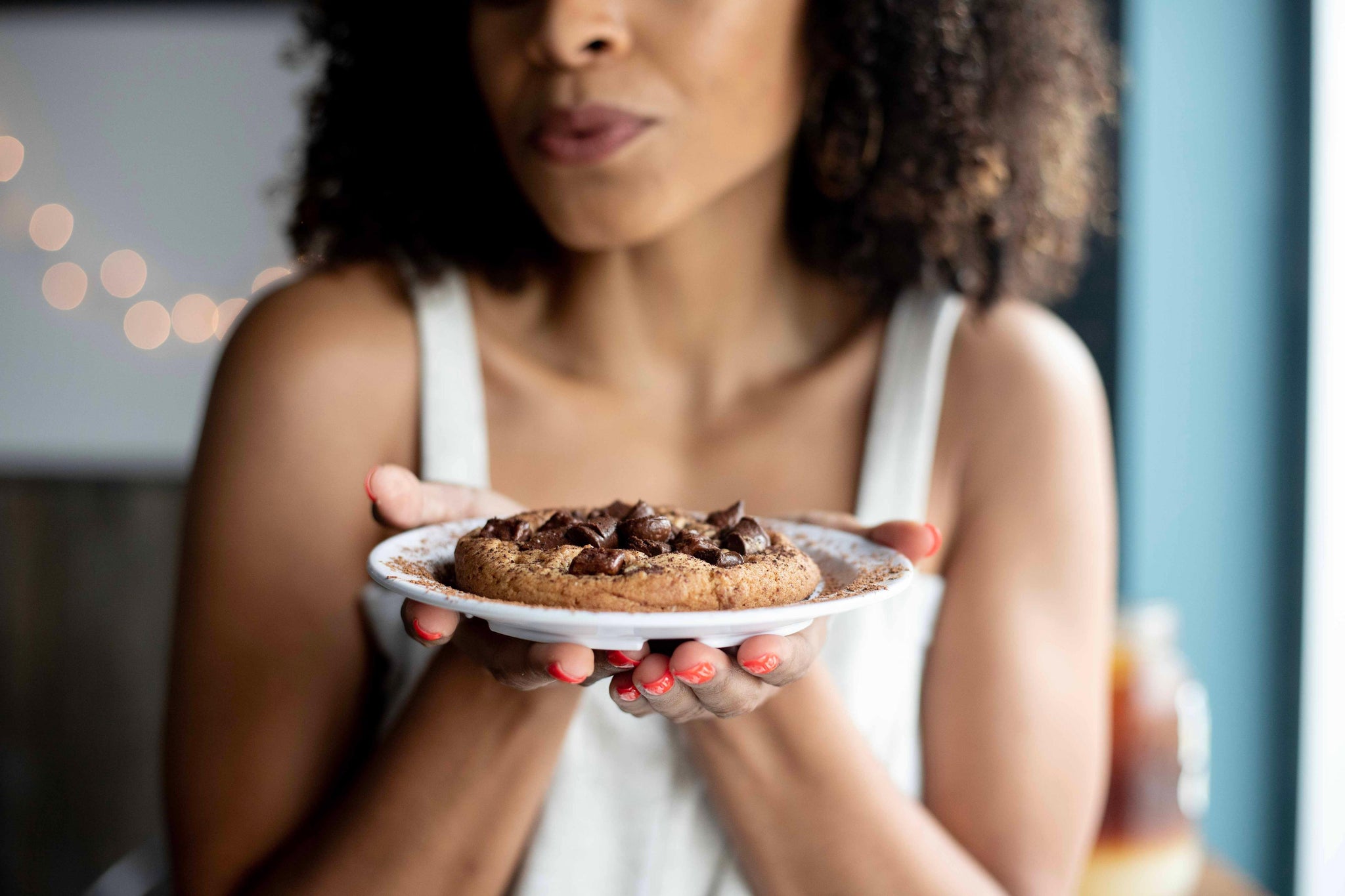 HEALTHY SWEET SNACK IDEAS FOR WEIGHT LOSS
Do you have a healthy relationship with food? Although this may sound like an odd question, don't worry—your dinner is not about to break up with you! Many people struggle when it comes to finding balance within their diet and maintaining a positive lifestyle and eating habits. 
Adopting quick fixes and ditching 'diet-busting' foods such as your favourite takeaway and chocolate bar may provide short-term changes but these changes, more often than not, only tend to develop unsustainable habits and results.
WHAT ARE THE SIGNS OF AN UNHEALTHY FOOD RELATIONSHIP?
If you're constantly feeling guilty when you're eating certain foods, secretly bingeing on your favourite treats or regularly switching between dieting trends, you more than likely don't have a healthy relationship with food. 
A good relationship with food is like any other relationship—it takes time, practice and a lot of persistence. Having a healthy approach to eating not only sets you up for a broader range of psychical and mental health benefits but also strengthens eating habits and consequently makes losing weight more manageable.
HOW CAN I IMPROVE MY RELATIONSHIP WITH FOOD?
Having a good relationship with food isn't something you can achieve overnight. Rather, it's something that you'll most likely work on for the rest of your life—much like you would with a significant person or pet in your life. The goal of a good relationship with food is for there to be more positive experiences over negative ones (that's right Happy Way fam, no more feeling shame after eating that Mars Bar). 
One easy way to adopt a healthy relationship with food is to get creative with your food choices and build recipes that complement your body goals and boost your overall health.
SOUNDS GOOD! WHERE DO I BEGIN?
Sticking to a diet or transitioning to healthier alternatives can sometimes be easier said than done—especially when your food choices aren't all that exciting and/or repetitive. Here at Happy Way, we are constantly whipping up delicious, delectable and dreamy recipes that you and your body will love. 
Eating healthy doesn't have to be boring! Here are some of our favourite sweet treats that will make you rethink how you use different ingredients in the kitchen and hopefully put the fun back in food!
Ever been told to keep your hands away from the cookie jar? Give into your cravings with this cookie cake recipe and stay on track towards your body goals minus the temptation. Made with our Happy Way Like A Vegan Vanilla Protein Powder, get your cookie fix with this dairy-free and gluten-free recipe that will keep you feeling fuller for longer whilst satisfying your sweet tooth. 
MACROS PER COOKIE:
Calories - 182 

Protein - 3.9 g 

Carbohydrates - 12.7 g

Fat - 11 g 
**Based on recipe quantity of 14
Whip out the muffin tin! This decadent muffin recipe is super easy to make ahead of time and will get you through those pesky afternoon cravings without the guilt. Created with only the best chocolate whey protein powder, our Top of the Choc Whey Protein Powder is jam-packed with vitamins and minerals to help your body grow and maintain cells and muscle tissue. 
MACROS PER MUFFIN: 
Calories - 248

Fats - 10.3 g

Carbohydrates - 30.6 g

Protein - 7.9 g
**Based on recipe quantity of 12
When it comes to easy, healthy snacks, protein bars are a no-brainer! Not only are they super simple to make when you're struggling for time but they're also the perfect portable snack. Not convinced? This recipe contains our super delicious Vanilla Whey Protein Powder. Incorporating our vanilla protein into your recipes not only adds a smooth vanilla flavour to your baked goods but it's an excellent way to ensure you and your body are getting all the necessary nutrients needed to live a happy and healthy life. 
MACROS PER BAR:  
Calories - 200

Fat - 13.1 g

Carbs - 14.7 g

Protein - 5.5 g
**Based on recipe quantity of 12
We get it—not everyone has time in their day to get out their baking mitts! That's why we've come out with our very own Snack Bars to keep you and even the little ones in your life happy and satisfied! Made from 100% natural ingredients, our Snack Bars are vegan-friendly and dairy-free, plus our new choc flavours are also nut-free. Our broad flavour selection also means you'll never get sick of these healthy low-calorie snacks!
MACROS PER BAR:
Calories -

69 

Fat - 6.2 g

Carbs - 7.5 g 

Protein - 1.95 g 
**Based on White Choc Berry Bar Snack Bar
With healthy sweet snacks like these, your journey towards attaining a healthy relationship with food and weight loss can be a little less stressful and a little more enjoyable. 
Looking for more inspiration? Find all our tasty recipes here. 
Important Note: The following information is general in nature and for informational purposes only. It is not intended to be a substitute for professional medical advice. We strongly recommend you consult your doctor or health professional to obtain a qualified answer to your question.