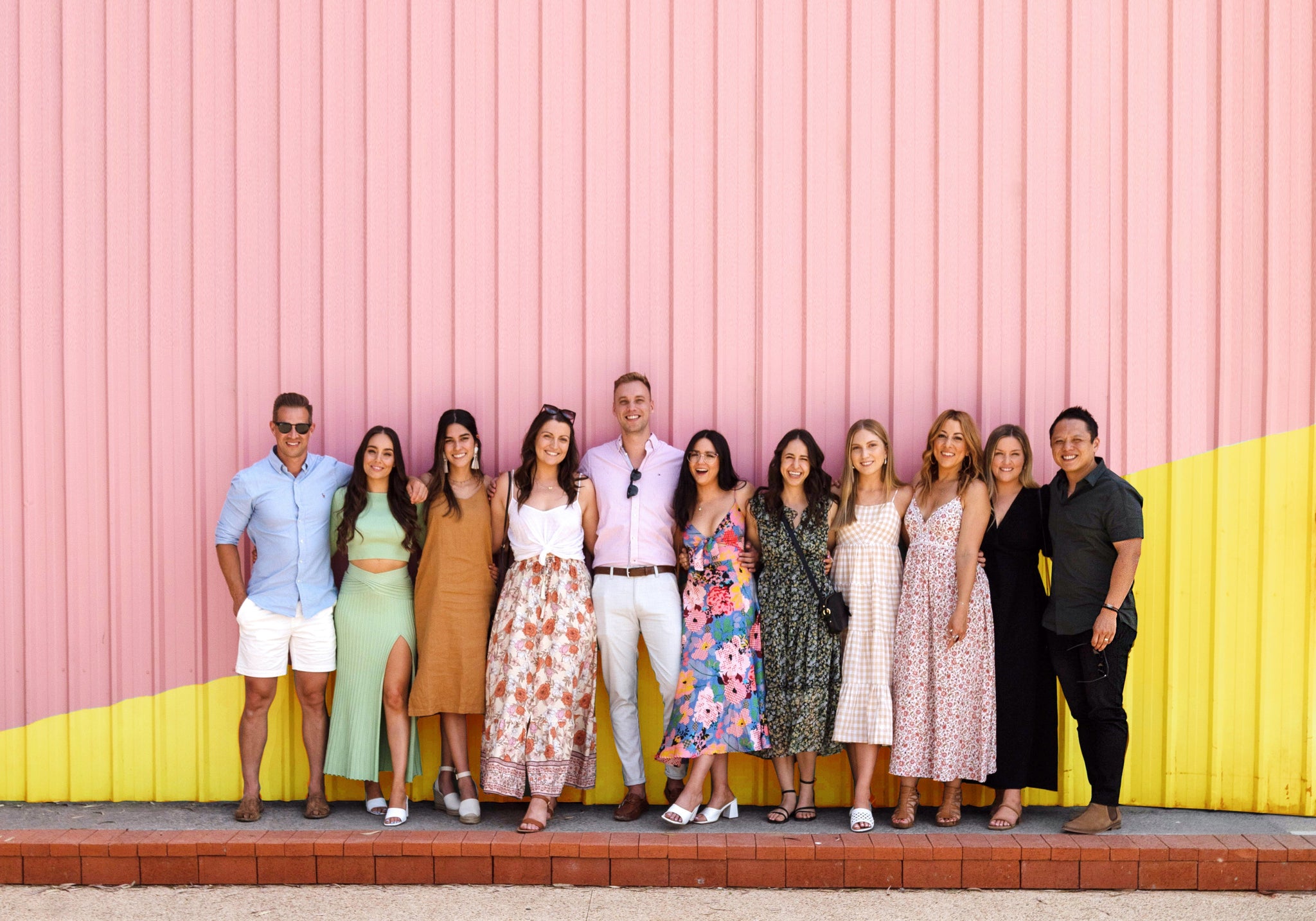 MEET YOUR HAPPY WAY CREW!
You've seen us goofing around on your socials. You've read, watched and cooked our creations. You've even chatted to us online about all things health, wellness and of course, Happy Way.
Well, we thought it was about time you met your Happy Way fam! Enough of this back and forth messaging (we'll leave that for Tinder lol), it's 2022 and we wanted to introduce ourselves and share with you our fave Happy Way products and top tips for the New Year!
We're a hardworking, sometimes crazy, always passionate bunch, who live and breathe health and wellness and are determined to help you live life the best way…the Happy Way xx
MEET OLIVIA – CUSTOMER HAPPINESS TEAM
HOWDY! My absolute ride or die Happy Way products are the CHOC CARAMEL VEGAN PROTEIN POWDER and the SUPER REDS (shhh, don't tell the other flavours, I love them too!) but I have these products EVERY SINGLE DAY without fail! The vegan Choc Caramel is SUPER creamy and is the perfect chocolate treat to kick my cravings as an openly confessed chocoholic.
MY 2022 TIP:
Life comes from you, not at you. You are the captain of your own life and while we can't control most things, we can always control how we react. This year I learnt that being truly happy in life means being resilient. Grow through what you go through!!!
MEET BEN – HW CO-FOUNDER
My favourite Happy Way flavour is the BANANA BONANZA WHEY PROTEIN POWDER because it reminds me of a Banana Paddle Pop—my childhood favourite. 
MY 2022 TIP:
For 2022, remember to put aside time for yourself and your loved ones. Put down your phone, pick up a book and always remember to smile and remember how blessed you are to be alive.
MEET CHARLOTTE – HW GRAPHIC DESIGNER
Hello! Without a doubt, my favourite Happy Way product is the TRIPLE CHOC FUDGE VEGAN PROTEIN POWDER (I have it every single day, no one loves it more than me!). It's so chocolatey and for a vegan product, it's almost too good to be true. My other go-to is our brand new CARAMEL BISCUIT VEGAN PROTEIN POWDER, a perfect little healthy treat to cure my sweet tooth! 
MY 2022 TIP:
Don't worry, be HAPPY! When things get stressful and you feel like you can't see the light at the end of the tunnel, keep taking small steps. One day you'll look back and see how far you've come and that you were stressed for no reason—happiness is good for your health!
MEET STACEY – HW COPYWRITER
Hey hey HW fam! My favourite Happy Way product is the BANANA BONANZA WHEY PROTEIN POWDER, followed closely by the VANILLA WHEY PROTEIN POWDER. I'm a smoothie for breakfast kinda girl, and one of my go-to's is frozen banana, avocado, coco milk, peanut butter and Banana protein powder—smooth, creamy and delicious!
MY 2022 TIP:
Be mindful of your thoughts because "Where focus goes, energy flows". I'm a big believer in manifesting and creating the life of your dreams, so take the time each month to write down your intentions and don't hold back—be specific with the details! It all starts with the thoughts, but then you truly have to feel it, believe it and take the steps to make it happen. I'm a true example of the power of manifestation as I'm literally living my dreams daily! 
MEET REINHARDT – HW PHOTOGRAPHER
Hey hey! My favourite Happy Way product would be TRIPLE CHOC FUDGE WHEY PROTEIN POWDER as I'm a bit of a sweet tooth and love the chocolate flavour. I'm also really enjoying the new CHOC COCONUT flavour too!
MY 2022 TIP:
Short, sharp and shiny—there's never a better time to start than right now!
MEET ELLY – HW OFFICE MANAGER
Hi there! My favourite product is the GREEN APPLE CHARGE UP! I cannot workout without it and it really does charge up my workout to the max! 
MY 2022 TIP:
The future is unknown and from the last few years, we've all learnt how very true it is that absolutely anything can happen.  My biggest tip is to try and focus on the now and how you can make yourself your happiest self. Spend time to make sure your cup is full—you are your most important asset and self-love is so so important. 
MEET MALISSA – HW NUTRITIONIST
Helloooo! My all-time favourite Happy Way product is the SUPER REDS POWDER!! Not only does it taste AMAZING but it has so many great nutritional benefits too. It's rich in antioxidants, vitamins and minerals, to keep you feeling nourished all day long.
MY 2022 TIP:
Create routines, not resolutions if you want that 'NEW YEAR, NEW YOU' vibe in 2022. Habits and routines create changes that last.
MEET EMMA – CUSTOMER HAPPINESS TEAM
Heeeey! My favourite Happy Way product is also the TRIPLE CHOC FUDGE WHEY PROTEIN POWDER! I look forward to having this in my daily smoothie simply mixed with a banana, milk and oats—sooo simple but the Triple Choc Fudge powder seriously does all the work, providing the most delicious flavour! 
MY 2022 TIP:
My little motivational spiel would be to go easy on yourself and appreciate the little things that bring you joy every day. All we really need to feel content in life is to surround ourselves with good people and have good health. If it's not going to matter to you in 1, 5 or 10 years from now, it's not worth wasting another second worrying about it now.
MEET HIEN – HW CO-FOUNDER
Hey ya'll! The Happy Way VANILLA WHEY PROTEIN POWDER is my go-to because it's so creamy and versatile—you can literally mix it with any other ingredient and it tastes delicious! I also can't get by without the WATERMELON CHARGE UP before my daily workout—it's packed with vitamins and nutrients that boost my energy and help my muscles recover so I can get through the day.
MY 2022 TIP:
You'll lose a lot of people when you're focusing on yourself. Don't feel sorry for growing and evolving. 
MEET NATALIA – HW GRAPHIC DESIGNER
Hey hey! My favourite Happy Way product is the CHOC CARAMEL WHEY PROTEIN POWDER! I love adding it to my morning oats for breakfast. I'm also loving the brand new CHOC COCONUT WHEY PROTEIN POWDER—it's the perfect combo in my opinion, I usually have it in the afternoon when I feel like something sweet.
MY 2022 TIP:
Focus on doing the best you can with what you have in your power to do. This will save us energy and worry. One of my favourite quotes for this is – "Make the best use of what is in your power and take the rest as it happens."
MEET CHELSEA – HW VIDEOGRAPHER
Hey there! My all-time favourite Happy Way product is the SMOOTH OPERATOR SALTED CARAMEL WHEY PROTEIN POWDER! The flavour is smooth like caramel, with that hint of saltiness—it reminds me of a milkshake or salted caramel ice cream!
MY 2022 TIP:
Remember to be kind to yourself. These past couple of years have been challenging to say the least, and we can often have very high expectations of ourselves and ideas of where we should be at certain points in our lives. Whilst it's great to set goals and work towards them, it's also super important to take down time to rest and restore. Get out in nature, spend the day reading a book, or even disconnect from all apps and socials for a day or two—this will help you fill up your cup, stay grounded and give some much needed self-love to yourself.