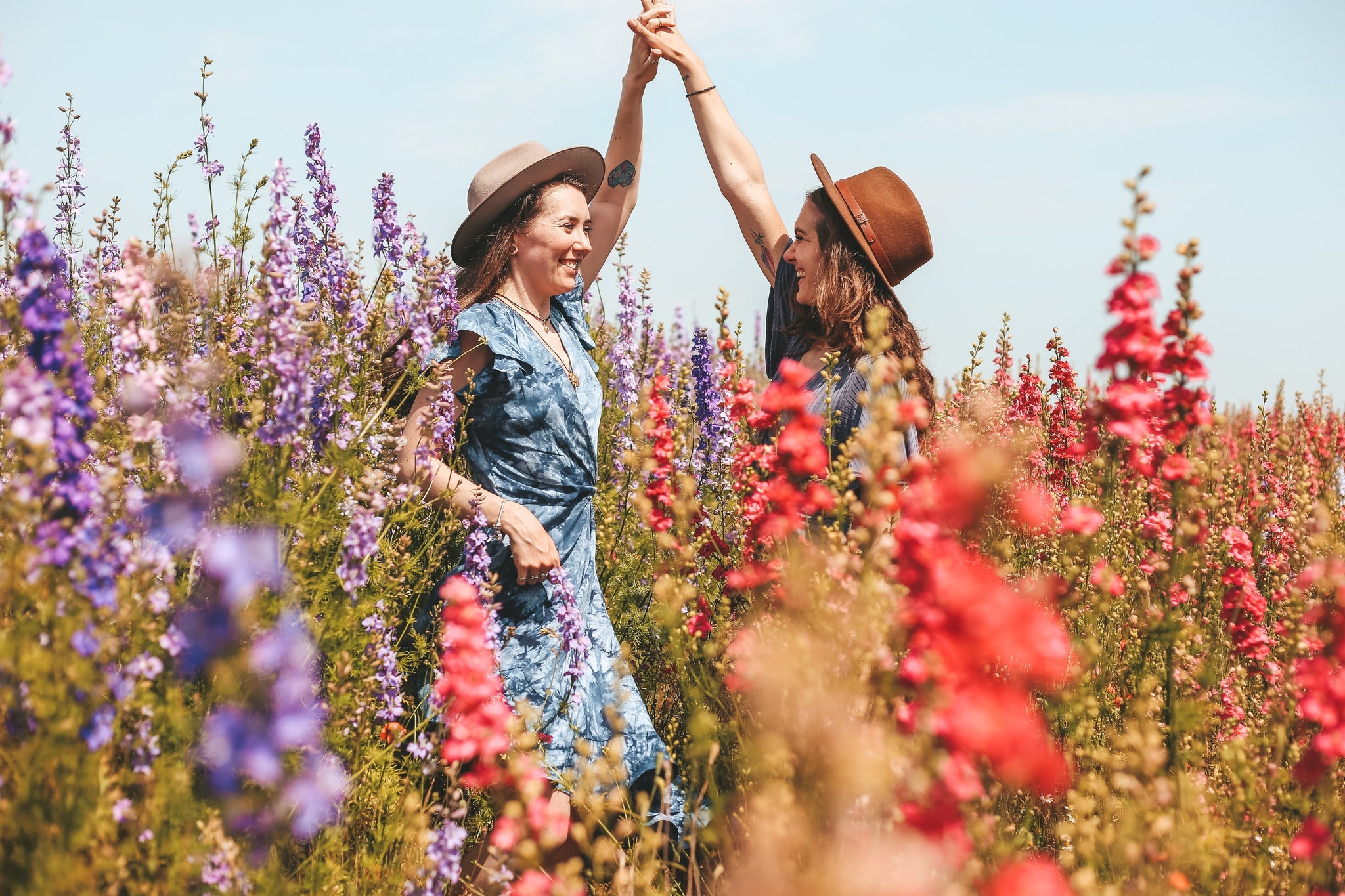 CELEBRATING WOMEN'S HEALTH WEEK
The 5th-11th of September was Women's Health Week in Australia and at Happy Way, we celebrated the occasion by focusing on the importance of prioritising both our physical and mental health and well-being.
To celebrate, we reached out to some pretty powerful and inspiring women, to share some further insight and educate us on how we can better support and care for ourselves, in particular around the Women's Health Week highlighted themes which were menopause and perimenopause, pelvic health, health checks, mental well-being as well as physical activity. 
We also wanted to share our experiences with you, our community and give you the opportunity to not only have your health questions answered, but to gain further knowledge on how you can truly nourish and nurture your mind, body and soul, so you can get the most out of life. 
Lastly, as part of our celebrations for Women's Health Week, we joined forces with Share the Dignity, an Australian charity working to provide benefits and support to women who are doing it tough—whether it be those experiencing homelessness or fleeing domestic violence situations. We share the belief that every woman, no matter what her situation, deserves to have the same access to women's health products as the rest of us, without losing her dignity. 
Throughout Women's Health Week, we've donated $1 from every PINK Happy Way product sold to this amazing organisation that's making such a difference in the lives of women in need. Thank you Share the Dignity—we're super proud of the work you're doing to support women.
So, without further ado, here is our Women's Health Week recap—we hope it empowers you to honour yourself and take that extra step in caring for YOU!
Day #1 - Check me out 
These days as women, we seem to have so many responsibilities and so many people that are relying on us every day, that it can be easy to prioritise everyone else's needs before our own—even to the detriment of our own health and well-being. Day #1 of Women's Health Week was an important reminder to put ourselves back at the top of our list and make the time to do those very important checks that are required to keep us in optimal health. 
To join us on day #1, we had Dr Abigail Anderson—a young, female superwoman working at Townsville University Hospital—who's passionate about women's health and currently working in the areas of obstetrics, gynaecology and sexual health. Abi was kind enough to partner with us this week and start the conversation around screening and women's health checks, in particular cervical screening, STI checks, mammograms and colon cancer screening. You asked and Abi answered everything from how often we need to have pap smears and at what age should we get a mammogram.
Check out our post here for all of Abi's answers, and visit the Women's Health Week website for a detailed guide on what health checks you need and when.
Day #2 - Menopause matters
Menopause and perimenopause can bring up a lot of questions and cause confusion for many women, with a lot of misinformation around expected symptoms and how to manage them.
Day #2 of Women's Health Week was all around discussing this stage of life and navigating not just menopause and perimenopause but also sharing tips and offering support to women who struggle with PMS symptoms.
Dr Abigail Anderson answered our questions about menopause, in particular about when it starts and some of the side effects. Check out our post on menopause here for Abi's advice on all things menopause and perimenopause. 
Day #3 - Pelvic power
Strengthening our pelvic floor muscles can help prevent pain and discomfort for many women who may experience bladder leakage, painful sex or uncomfortable period pain. 
For day #3 of Women's Health Week, we were fortunate to have certified yoga and meditation teacher, Paula Lyle, visit us at Happy Way HQ, taking us through a gentle yoga session that was focused on our pelvic floor area, by not only strengthening the muscles but also releasing any tightness or tension.
With over 20 years of experience in the fields of health, fitness, yoga and well-being, Paula has discovered a passion for yoga and meditation and is an advocate for all of the benefits both of these practices can bring to our lives. Sharing her extensive knowledge with us at Happy Way, we were able to take some time out from our day to slow down and reconnect with our bodies and spirit.
Paula took us through a session of movement that not only calmed our minds but allowed us to pay attention to our body's needs and give it the love and attention it deserves. To get a quick snapshot of this incredible opportunity, check out our post here, and visit @paula.lyle_ on IG or visit her website.
Day #4 - Mind health
Caring for our mental health has become a huge focus in society today, with many people suffering from anxiety, depression and stress, even more so post-COVID. Nurturing our mental well-being is just as important as caring for our physical health, with many people looking to mindfulness practices such as meditation, breath work and getting out in nature to help soothe and relax the mind.
For day #4 of Women's Health Week, we reached out to clinical nutritionist, self-care advocate and founder of Good Day Wellness, Malissa Fedele, who shared her tips and ways to support ourselves through feelings of stress, anxiety and depression. Malissa explained the importance of nourishing our bodies with wholesome and nutrient-rich foods to support how we think and feel, setting up a great morning routine to start the day off with positivity and happiness, and taking a step back from the constant expectations and demands of life to check in with ourselves.
Malissa also introduced us to her Good Day Wellness Journal which she has created as a tool to support others in caring for their mental health. A big believer in the benefits of journaling as a mindfulness practice, Malissa's Good Day Wellness Journal is filled with journal prompts, nutrition tips, daily affirmations and trackers to monitor how you're feeling both inside and out. 
Check out our mind health post here and find Malissa on IG @malissafedele and @gooddaywellness_ or visit her website.
Day #5 - Move and improve
Our last day of Women's Health Week was all about moving our butts and the great benefits that daily physical activity has on both the mind and body. 
So, for day #5 of Women's Health Week, we were super fortunate to have fitness queen and Happy Way ambassador Triniti Jean, visit us at Happy Way HQ and take us through an afternoon workout to get us away from our screens and instead release some of those feel-good endorphins that can help alleviate stress and instead promote happiness. 
We often get so caught up in work and the demands of life that we forget the importance or struggle to make time for regular exercise. Whether we like to go to the gym, participate in group activities or prefer a solo run or walk, the simple act of moving our body can actually create more energy and feelings of motivation. 
For an insight into our afternoon sweat sesh with Triniti, check out our post here, and follow @triniti_jean for a heap of health and fitness tips and inspo!
Thanks so much for being a part of our Women's Health Week at Happy Way. We not only learned a lot but we connected with each other and ourselves—rediscovering the beauty of what it means to be a W.O.M.A.N.