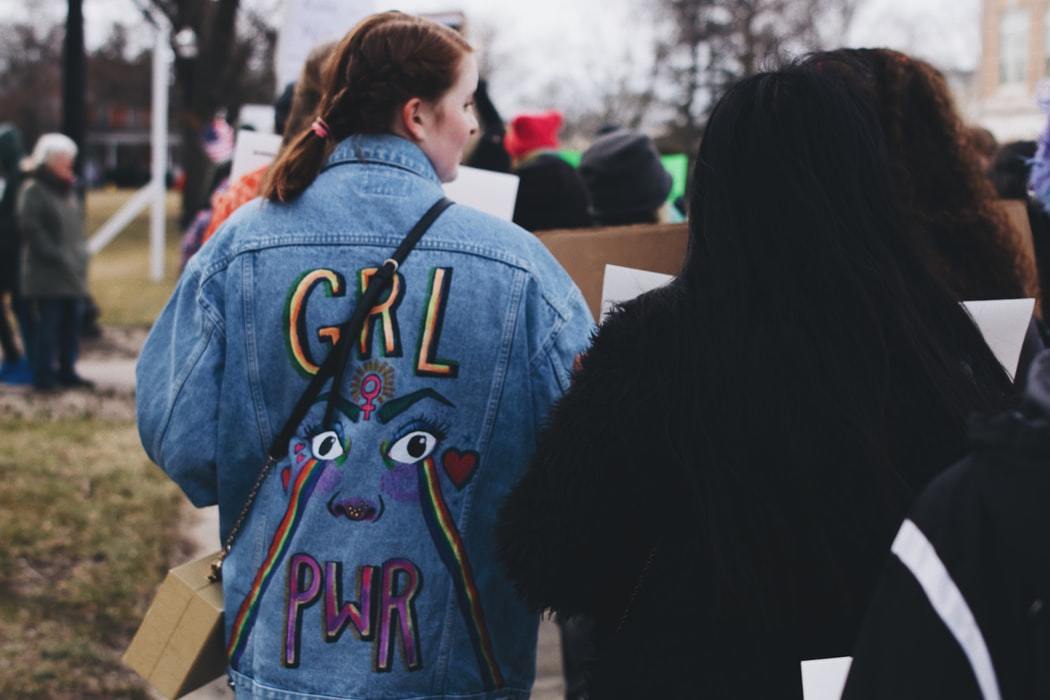 A Guide To Marking International Women's Day
With International Women's Day fast approaching the Happy Way team have been coming up with a definitive list of how to embrace, empower and celebrate our fellow girl gang today and every day. Now, if you have been following our account for some time now, then you would know that Happy Way exists to encourage, motivate and celebrate all that makes us unique, beautiful and individual, an ethos we want to highlight this IWD. So on Sunday, why not sit back, relax and enjoy some much earned 'me time' while celebrating your fellow superwomen. Why not light a candle and listen to a female-led podcast, or perhaps you may choose to give a female-owned business some love? Whichever way you decide to mark International Women's Day, we have you covered.  
Listen to a female-led podcast. 
If one of your 2020 New Year's resolutions was to start using your time during your morning commute more wisely, than listening to a podcast is the way to go. But we're not just about to suggest any old podcast, no. Why not give some pretty funny, empowering and savvy business accounts a follow because who better to motivate than your fellow girl gang? 
Have you ever wondered how other powerful women found their calling? Then Seize the Yay may be for you. Lawyer turned funtrepreneur Sarah Holloway leads the podcast, investigating how some of the world's most inspiring people found their "yay", whether it was through work, rest or play and any other pearls of wisdom they gained along the way. Prepare to get inspired. 
Having been voted as Australia's number 1 podcast in 2019, Shameless proclaims to be THE podcast for smart women who love dumb stuff. Tune in every Monday as journalists Zara McDonald and Michelle Andrews recap the week that was in the celebrity space. AND THEN (oh yes, there's more) every Thursday tune in for an "In Conversation" episode where the dynamic duo chats to some pretty inspiring and fascinating women.
Not sure what episode to start with? How about an episode on the rise and rise of author turned beauty entrepreneur Zoe Blake Foster… 
No Filter By Mia Freedman 
As the powerhouse behind Mammamia, Freedman has long been regarded as one of Australia's most celebrated Journalists. Back in 1996, at the age of 24, Mia became the youngest editor of the Australian edition of Cosmopolitan magazine. Her innate journalism skills and ability to make others open up with ease makes the 'No Filter' one of the most enthralling podcasts, tacking those tough questions and delving into the lives of fascinating individuals such as Meghan Gale and Angela Bishop. 
Cleanse Your Social Media Account 
If you feel like you have a love/hate relationship with social media and feel the pressure to look or act a certain way, then it may be time to give your social media a cleanse. What better day to inject some feel-good, girl power back into your feed than during International Women's Day. Whether you are looking for a little more diversity, some feel-good quotes or want to follow women who fight for 'your rights', we have you covered. 
Changing the face of the modelling industry, Ashley Graham tackles the media's preconceived notions of body image, giving power back to the female body and all that makes our fellow girl gang beautiful and powerful. For new time mums, she also shows that things aren't always glamorous and tackles conversations far too often swept under the rug. From adult nappies to children's nappies and all the fun stuff in-between, this is a superwoman you want to follow. 
Need a little fashion mixed with women's rights and all the empowering stuff in-between? Then Australia's very own Laura Brown is the account to follow. The New York-based InStyle Magazine Editor in Chief is the epitome of life goals. Not only is she one of the most powerful women in fashion, but she also happens to be one of the most down to earth. She is goofy, approachable, and incredibly intelligent and the kind of inspiration you need in your life pronto.  
A good quote can change your outlook, mindset and day and what better way to remind yourself of the goddess that you are than with an account that will do it for you. Indian-born, Canadian poet Rupi Kaur is a #1 New York Times bestselling author and illustrator, with a knack for making women feel understood, empowered and celebrated. Click the follow button and start celebrating all the amazing things that make women unique, wonderful and powerful. 
Netflix and chill with these female-lead performances   
Miss Americana 
Whether you're a Taylor Swift fan or not, there is one reoccurring theme in this documentary which will make you raise your fists in solidarity, and that is calling out sexual abuse and those in power who support it. Get to know a modern-day pop icon on a more personal level through a story, which all women can relate to. Tissues may be mandatory.  
Always be my maybe 
Let's be honest, if you grew up during a time when renting a DVD at Blockbuster was the best part of your weekend, then you would have gone through the 'romantic comedy' phase with men at the forefront of all leading roles. This International Women's Day why not watch a romantic comedy co-written, produced and led by the always funny and enthralling Ali Wong. If not from us, take the suggestion from her 11-year-old niece who was an 'on-set' regular with Ali taking her to work to show her what women in the entertainment business were truly capable of creating. 
Room 
If you're not after a tearjerker, then you may need to give this one a miss, however, if you're feeling ready to tackle all those tough topics such as abuse, survival and motherhood then boil the kettle, get the tissues ready and press play on 'The Room'. Enjoy Brie Larson's Oscar-winning role in this incredibly powerful, female-led ensemble.  
Lady Bird 
Directed by Greta Gerwig, this coming of age movie is the perfect way to spend International Women's Day with your mum. A moving and brilliantly funny film, Lady Bird explores all those glorious topics of growing up, motherhood, relationships and anxiety with a brilliant female ensemble. 
Host an International Women's Day Event at your house 
Why not invite your fellow superwomen over to join in on the fun. Spend the day celebrating all the women that inspire and empower you and all the things that make you unique, powerful and individual. Start with group yoga or exercise session and end it with a group cooking date, making the kind of treats your Netflix and chill night truly deserves. In the process, you can lend your support to a female-led business or collaboration.  
RECIPES 
Sophie Guidolin X Happy Way Banana Bread Recipe 
Ashy Bines Triple Choc Fudge Protein Powder X Happy Way Cookies Recipe 
Cass Olholm BCAA's X Happy Way Icy Poles Recipe