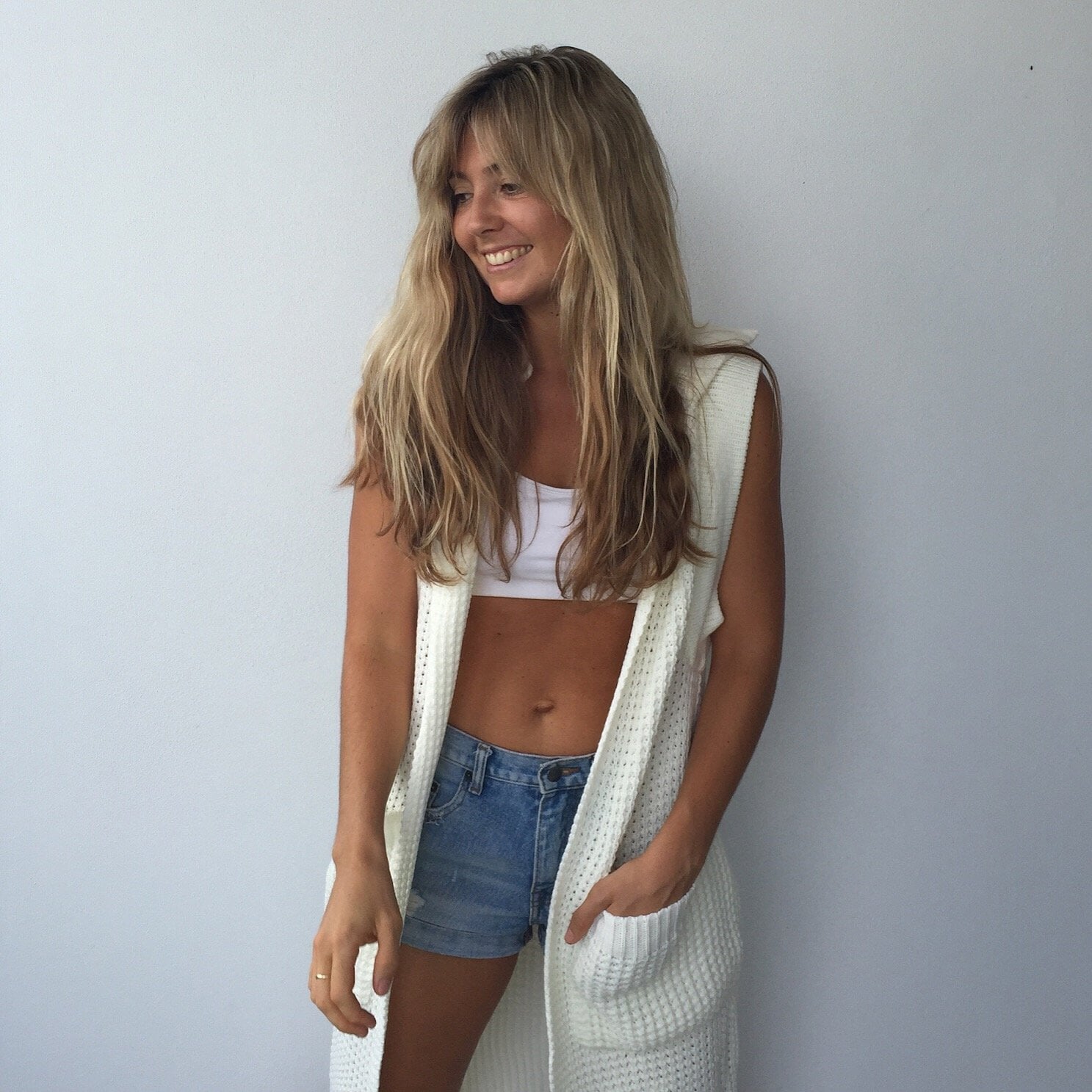 Behind the Gram: Happy Way team member Sam Bonnor talks health, fitness and confidence
Samantha Aitken nee Bonnor is a mother, wife, social media creative and health and wellness influencer.  As a role model for the thousands of women who follow her account, Sam does her best to represent a healthy and balanced lifestyle. Having battled her own body image issues as a teenager, she is all too aware of the pressures that women can place on themselves. A lesson she extends into her social media and life. For Sam, health and wellness is not about image or pressure, it's a way of being. It's about energy, enjoying the outdoors with her children and learning to be kinder to herself. 

Sam also happens to be part of the Happy Way work family, so it was only natural to include this go-getter in our confidence series.

 
When did you start working with Happy Way?  
 
In September 2018. 
 
What do you love most about your role?
 
I love working for a company that is looking out for women and their health. It's such an empowering brand who has such a strong female following who seem to all have each other's backs. Plus having a cupboard full of healthy and delicious protein powder isn't so bad either ;)
 
You also have a strong social media presence? What do you love about sharing your life on Instagram? 
 
I like being connected to people and being as real as possible. We are a pretty chilled out family who live in such a beautiful place, so it's hard not to share that with my followers. It's also nice when you are just being yourself and people contact you and say how much they like seeing our day to day life. My followers like seeing that we are just normal everyday people. They connect with that. 

 
Is there a certain level of responsibility that comes with this and how do you navigate around this?
 
I guess so. I mean I just have to remember the importance of being myself and posting my normal life and routine. It's about remaining authentic and not only presenting a curated feed of what I think people want. I definitely don't post things that I don't think are appropriate or brands that I don't believe in. I am also aware of when and how much I post about my two boys as they can be recognised now. Things like avoiding location tags when children are involved are just the necessary result of living in the digital age. But other than that, like I said above, I'm just a normal chilled out person who likes to post pretty pictures.
 
How do you navigate having a young family and sharing your journey with others?
 
I like to keep it as real as possible. I only post snippets of our life and a lot of that means capturing moments rather than being consumed with content creation. It's so easy to get caught up in social media and curating a life on there rather than living it. While it's a job for many, and a tool for my own research, I don't like to spend hours on my phone. I want to be as present as possible, especially when my children are so young.
What will you teach your boys about social media and living in a digital age?
My boys are only 5 and 3 so I still have some time up my sleeve before I have to have those kinds of conversations. But we limit screen time and make sure they aren't watching anything we don't approve of. I feel sad they won't get to grow up like we did without all the technology but ill be ready to have those kinds of talks with them when the time comes. For now, we do all that we can to keep them connected to nature and the outside world. We are hopeful that will build a god base for them. 

 
What advice do you have for other mums that may follow you and feel like they are not on the same journey and life isn't as perfect?
 
To all those mum's I would say, please remember that Instagram is just a highlight reel of people's lives. You are literally only seeing a small % of someone's day and life, and beyond that, you are only seeing what someone chooses to share. It can be so easy to fall into the trap of thinking that everyone else's lives are better or that people are doing better than you but you just have to stay grounded and be grateful for what you do have. At the end of the day, no matter the number of followers, job titles or pretty images, we're all learning, growing and working our way through life the best way we know how.
 
What is the most challenging part of being a mum and is there a fear you believe you share with all mums?
 
I don't know if there is a single challenging, but I feel like most mums, we have fears and things that we worry about. There are a few challenges such as hoping that you are raising nice and caring humans. There is always the job of balancing kids/work/social life and making sure that your children are healthy and happy. I definitely think we all share the same fears, no one wants their children to be bullied or to be the bully, that they are eating healthy foods (no easy task) and that they are happy. I am all for mums doing whatever works for them and their kids. Whatever helps you get through the day just do it. No competition is needed, we are all human and all kids are different and you just have to go along for the ride.
 
What is your approach to health and wellness?
 
Balance! I love being fit and healthy and it comes very easily to me. Working out is a daily routine and it makes me feel so much better. I actually notice that when I have a few days off my mood and mindset can begin to change. I love to train at the gym, go for runs and I like making up workouts to do at home with my sister. I also love eating healthy but don't get me wrong, lollies are also a common occurrence. I went vegetarian at the end of 2017 and have loved how I have felt ever since. It wasn't a huge change for me as I already didn't really eat meat but so far it's working for me and I am loving it. I think the minute you stop putting pressure on yourself to be healthy but rather look at it as a lifestyle change, it all becomes a lot easier.
 
How important is exercise to your overall mental and physical health?
 
Very important! I believe that when you are active and healthy, so is your mind. It's so common to hear people say how much better they feel when they start to exercise and stay active. It's beneficial for so many reasons. It's a commitment to yourself and your body. As a mum, it means taking that little time out to do something that makes me happy and feel good. It means more energy and endorphins. For me personally, it's a must.

 
What is the best piece of advice for women who want to embark on their own fitness journey and feel overwhelmed?
 
Start with small and tangible goals. My fitness journey began when I was 19 years old and my family bought a border collie pup. She motivated me to walk her everyday which then turned into running. She loved to go running with me and kept me motivated. Don't be scared to challenge yourself. Do your research. Ask for help. There is always someone out there who is willing to help you achieve your goals. Also a big one to remember is that it takes time. Fitness and health don't change overnight or even in a week. It takes time and perseverance, so be patient.
 
When women view influencers on Instagram there is a common belief that they have it all, body confidence included. Can you share with us something you wish to be more confident about?
 
Hmmm… good question. I wish I backed myself more. I have business ideas I would love to start but something keeps holding me back. I think failing is a big one. I used to say being shy was something I would love to work on (I still have my moments) but my sister has helped me to be more open and confident which has really helped me in all areas of life.
 
What are you doing to change this?
 
To be honest, at the moment I am not doing enough about it. But recognising that you have areas you want to work or improve on is the first step. I know that I need to start doing more research on my ideas, because as they say knowledge is power, and I need to back myself more. 

 
What is the one habit you abide by to practice self-love?
 
I try not to not talk negatively to myself. If you wouldn't say it to your friend, why are you saying it to yourself?
 
What is the one piece of advice you would give your younger self?
 
I think like many women, I would say be a little kinder and nicer to yourself. I was very hard on my body and myself when I was a teenager and I wish I could tell my younger self that there is so much more to life than that. With social media so dominant in many young women's lives now, I really hope that they don't lose sight of the bigger picture. The pressure to look a certain way would be even bigger on them now.
 
What does confidence mean to you?

It means being comfortable in your own skin but also allowing yourself to have average days. To not let the opinions of others affect you and to just keep doing YOU! I try to remind myself of this every day 

Can you share with us the best piece of advice you have ever received about self-acceptance and love?
 
The best piece of advice that I have ever received is not to let other people's opinions of you matter. What you think of yourself is what's important. When you figure that out, life becomes so much easier.
 
Who is an inspirational woman you look up to and why?
 
My sister Dani Bonnor is one of the most inspiring women to look up to. She has always helped me to strive to be better, to be confident, to not talk down on myself and to be proud of myself always. I am very thankful for her.