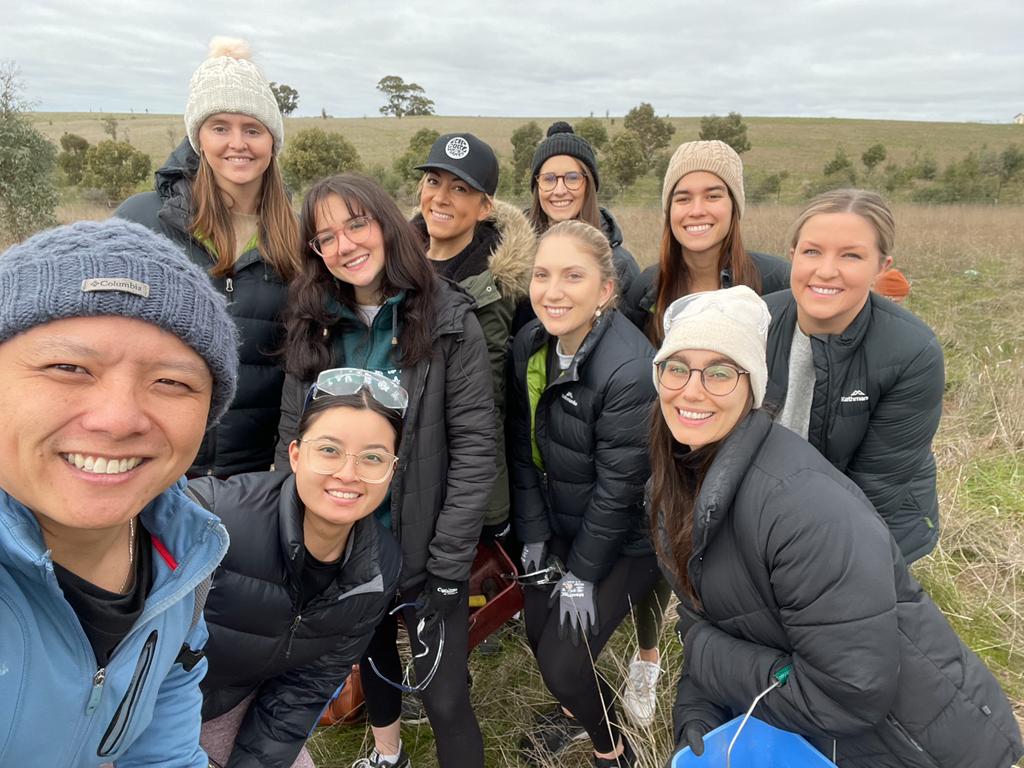 CELEBRATING NATIONAL TREE DAY!
July 31st is National Tree Day—a day where Australians unite by getting their hands dirty and planting trees to give back to the planet and their communities.
Since it was first established back in 1996, National Tree Day has become Australia's largest tree planting and nature care event and its impact is proven in the numbers.

5 million volunteers

10 million hours donated
26 million trees planted
Whilst Australian not-for-profit organisation, Planet Ark, suggests that every day can be a tree planting day, each year approximately 300,000 people volunteer and join forces to create change, educate fellow Australians and engage in environmental practices that protect and conserve the world around them. 
This month at Happy Way, we wanted to do our bit by giving back to the community and showing Mother Earth some well-deserved and much-needed L.O.V.E. We put our hand up to volunteer with local non for profit organisation, Trees For Life, spending the day with them out in the Adelaide Hills as a part of their Bushfire Recovery Program. 
THE BLACK SUMMER BUSHFIRES
In 2019/2020, South Australia experienced some of the most devastating bushfires ever seen in the state, destroying homes, land and livelihoods—particularly around Cudlee Creek and Kangaroo Island. Now known as the Black Summer Bushfires, dangerous weather conditions began in the spring of 2019 and continued into the summer of 2020, with catastrophic fire conditions forecast for December 20th 2019. On this day, after already experiencing extreme heat in the days prior, the state sweltered through super high temperatures, with the west of the state recording a high temperature of 49.9°C and most other areas reaching around 45°C or higher. 
Over 200 bushfires burned throughout South Australia on this day alone, with a large fire at Cudlee Creek in the Adelaide Hills spreading quickly and causing alarm in several neighbouring towns including Woodside, Mount Pleasant and Harrogate. Over the days that followed, around 23,000 hectares were on fire, with 84 homes destroyed along with 400 outbuildings and 292 vehicles. Over 1500 firefighters worked tirelessly to contain the fires, which destroyed approximately 40,000 hectares, injuring many workers and civilians and sadly taking the lives of several locals.
GIVING BACK TO OUR COMMUNITY
Despite the Black Summer Bushfires being almost 3 years ago, many locals of the Adelaide Hills and Kangaroo Island regions are still trying to recover what was lost and rebuild their homes, their land and their lives following the devastation. For us at Happy Way, getting involved with such an important cause was a no-brainer and the very least we could do was to help those who suffered during this time—showing our support and contributing however was needed. 
So, with our backpacks packed, jackets on and gardening gloves ready, the Happy Way team jumped on a minibus and made our way out to Harrogate—a small town in the Adelaide Hills—to help local landholders, Lee, Trevor and their two dogs Bentley and Lily, restore their land and plant trees to recover what was lost during the bushfires. 
Led by Randall and the Trees For Life team of gardening gurus, the Happy Way crew, along with several other volunteers, spent the first part of the morning getting the rundown on the plan and procedure for the day ahead, before getting acquainted with our new tools and safety gear. This included our flashy gardening goggles, gloves, and our very own bucket (personalised with our name on it) holding all of our gardening tools—ensuring we were being COVID safe at all times. 
Making the trek down the hill to our first tree planting location, we got straight into it, planting our first lot of trees and setting them up with their Trees For Life tree guards—protecting them from the weather whilst they grow their little hearts out! Now, the saying 'many hands make light work' was ever true on this day as the Happy Way team, along with the other volunteers, smashed out the task at hand, getting hundreds of trees planted and watered before lunchtime!
Following our lunch break, where we were able to soak up the sunshine (thankfully it wasn't raining on the day), take in the natural beauty of our surroundings, and enjoy some of the generous spread put on by Lee, we grabbed our buckets and continued working our green thumb magic, planting trees across several other areas. During the afternoon, Lee explained to us how the bushfires had destroyed all of their land before stopping at their back fence on the property. Thankfully, their new home had not yet been built, therefore they were lucky not to lose more in the tragic events. 
Finishing way ahead of schedule, we planted a total of 700 trees during our volunteer session, supporting Lee and Trevor in the rebuilding and restoration of their land. Our achievements and contribution on this day would have taken Lee and Trevor several weekends at least to do on their own—a task that along with all of their other responsibilities, was too overwhelming to comprehend. 
For us at Happy Way, it was an absolute pleasure to be involved and make such a positive difference to the lives of others. It was a day well spent—out of the office, enjoying nature and working together to give back to those who need it most. Fun, rewarding, fulfilling and wholesome are some of the words used to describe our day, proving that when you're giving to others, you're also filling your own cup too. 
HOW YOU CAN HELP
For more information on how you too can get involved and volunteer with Trees For Life, visit their website and connect with their team who will happily assist you. 
Don't forget to check out Planet Ark's National Tree Day website also, and do your bit to celebrate Australia's largest environmental event.
Happy National Tree Day!
Love, Happy Way xx