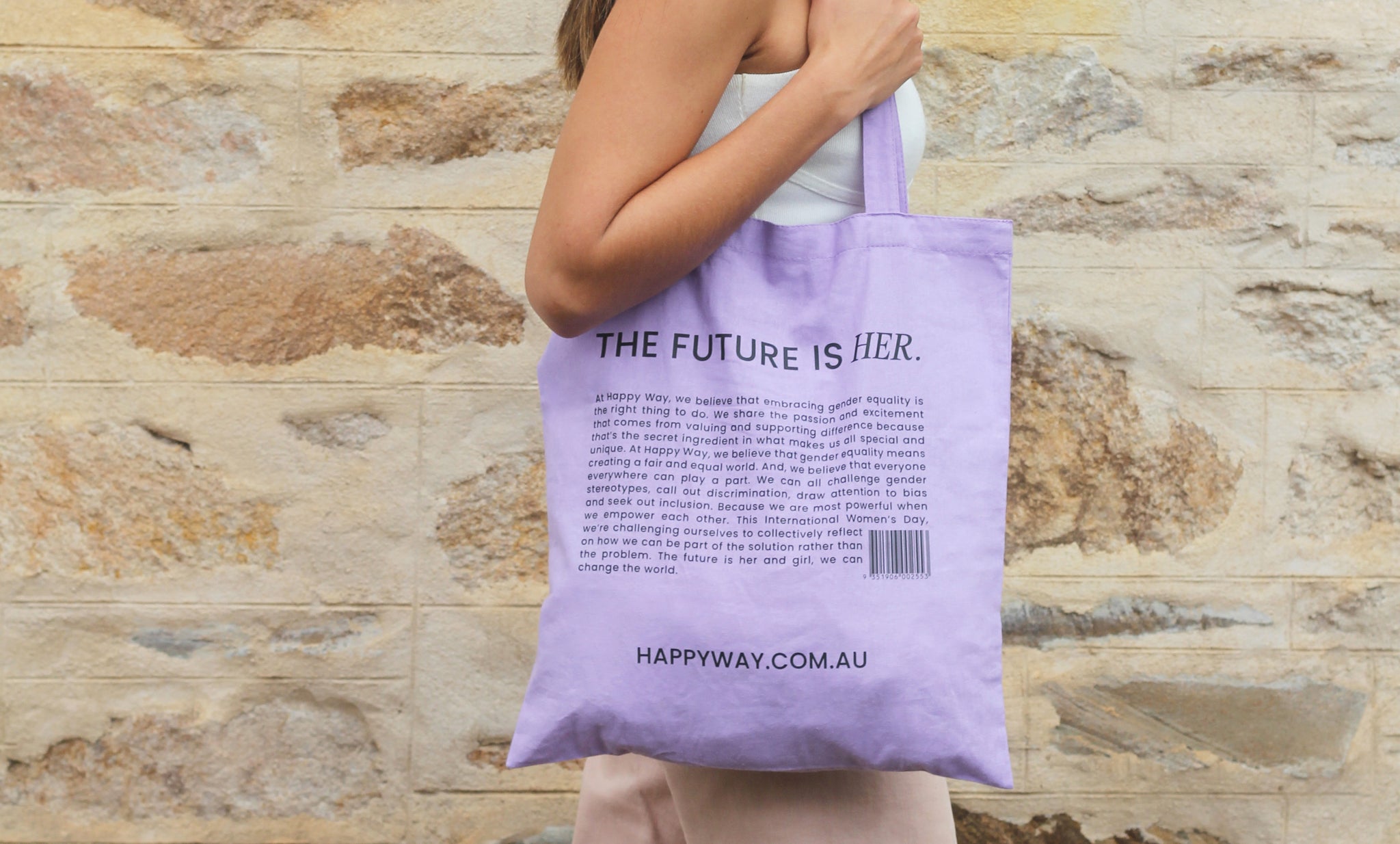 EMBRACE EQUITY THIS INTERNATIONAL WOMEN'S DAY!
International Women's Day is a time that brings into focus ways that, as individuals and as a collective, we can further celebrate and support women whilst identifying areas in society where we need to evoke change and expansion to create a positive ripple effect across the globe. 
The theme for International Women's Day in 2023 is #EmbraceEquity. Equity is not something that we should just think about. It's something we need to understand, practice and speak up about in our everyday lives, creating a world that embraces diversity and values inclusivity. 
At Happy Way, we're a team of passionate and dedicated females—each of us powerful and diversified in who we are—who support each other's uniqueness and celebrate our differences. Our strength lies in our unity and empowering each other, and we believe that by living and breathing these behaviours within our communities, we can be a part of the solution rather than the problem. 
This International Women's Day, we reached out to some of the team, to discover how we each embrace diversity and why inclusivity is important to us. 
LILY – VIDEO EDITOR/SOCIAL CONTENT & COPY CREATOR
HOW DO YOU EMBRACE DIVERSITY?
From the words of Mr Harry Styles, to embrace diversity is to treat people with kindness. I practise this by having an open mind, as diversity comes in many forms. It's important to fully embrace and value these differences by treating people how you would like to be treated and celebrating individuality instead of dismissing it. Being kind not only fosters a culture of diversity and inclusion but ultimately creates a safe environment where people can really be themselves.
WHY IS INCLUSIVITY IMPORTANT TO YOU?
Inclusivity is important because everyone deserves to feel like they are appreciated, valued and involved. At the end of the day, despite all of our differences—we're all just striving for a sense of community and belonging. There is nothing more powerful than community because we're stronger when we work together. So, it's important to challenge stereotypes, recognise the value of all opinions and have open conversations to ensure everyone and anyone is seen and heard. 
LIV– CUSTOMER HAPPINESS TEAM & SOCIAL CONTENT CREATOR
HOW DO YOU EMBRACE DIVERSITY?
I embrace diversity by curating my outside world with things that educate me, not only about my hardships as a woman but also about my own privilege. I try to follow people on social media that use their platform to educate about diversity, and I read books, listen to podcasts or even watch TV shows that touch on these topics, so I can connect with the meaning of diversity and work on my own self-awareness around the issue. As well as empowering myself, it's understanding that as a woman, it's ok to say no, it's ok to stand up for myself, and I'm capable of doing anything I choose—my sex doesn't change that.

WHY IS INCLUSIVITY IMPORTANT TO YOU?
Inclusivity is important to me because, without it, we are a world without connection and at a minimum, that's all we crave as humans. Especially for us chicas, we gotta stick together! So embrace all women of all shapes, backgrounds and sexualities because they're ALL beautiful, and WE are the strongest when we stick together. It's free to be inclusive, and feels amazing to open yourself to a community of unique souls, so why not right? 
STACEY – COPYWRITER/WHOLESALE & SUSTAINABILITY COORDINATOR
HOW DO YOU EMBRACE DIVERSITY?
I embrace diversity through continual learning, education and prioritising personal growth—this opens me up to new perspectives and options and allows me to embrace other individuals for their uniqueness and without judgement. Judgement against other people—for their choices, appearance, personal beliefs or experiences—is a quality or trait that I despise and struggle with in other people. I'm a big believer in valuing and celebrating people's differences, we all have a right to be who we are, and when people spend their time or energy criticising others, it speaks more about them and their level of evolution than it does of the individual. 
WHY IS INCLUSIVITY IMPORTANT TO YOU?
Inclusivity is important because it opens the door for connection and growth—which is why we're all here really! Life would be pretty dull if we only surrounded ourselves with people who looked like us, thought like us or had the same opinions as us, don't you think? As women, we've been fighting to be included or to be heard for years, and I think there is great strength when we come together as a collective, using our voices and supporting each other, no matter what our differences. If more people shifted their focus to the inclusion of others, we could create great change, and the world would be a better place. 
This International Women's Day, take the time to think about how you can embrace equity, reflecting on how you can help create a world where our differences are valued and celebrated.
Also, pick up your exclusive Happy Way 'The Future Is HER' tote bag, FREE with every AU$45+ purchase (tote added automatically at checkout).
Shop now while stocks last!