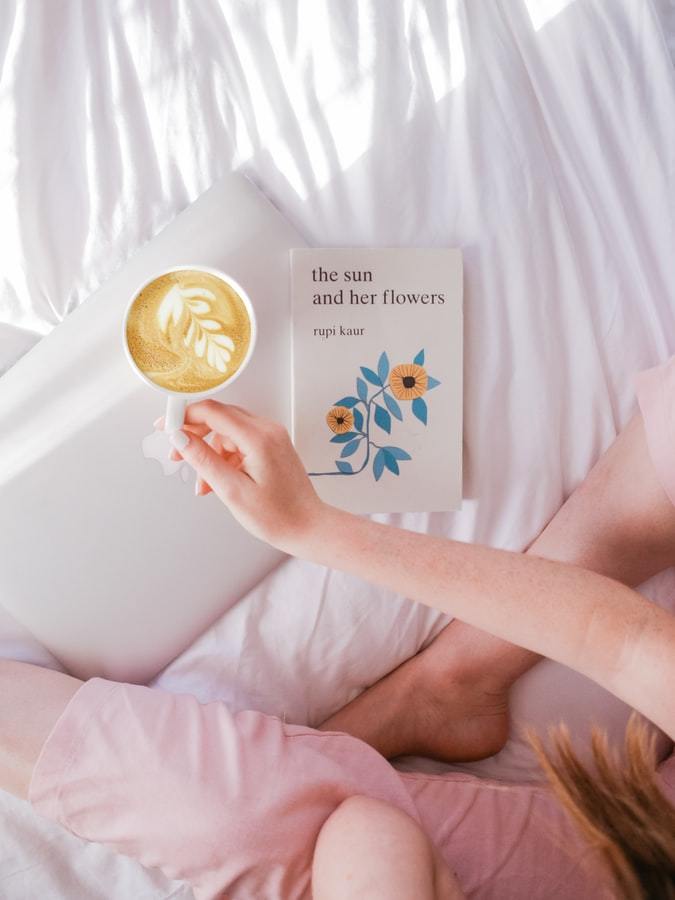 Energising Morning Routine - The Iso. Edition
With isolation in full swing, many of us are beginning to feel like our days are all blending into one long week of ground-hog day. So before we begin to get bogged down in the uncertainty of it all, it's time to wake up and start our days with intent. Rather than worrying about the things we cannot change, let's use this time to form some healthy morning habits and routines and wake up with a glass half full approach to life. For example, working from home means no morning commute and rushing out the door which leaves plenty of time and room for us to start our day with a relaxing routine which may even include a face mask and some time on the yoga mat. So if you're looking to make the most of your mornings spent at home and set yourself up for a productive day, ditch the phone and a double espresso and implement these feel-good steps instead.
Stretch 
Start your day with intent by moving your body and stretching. Science has shown that our psychology is heavily influenced by our physiology, which means that our positive outlook and cognitive health is dependent on us moving and nurturing our body. This doesn't need to be a huge feat and an hour-long yoga session. It can be as simple as 15 minutes on the mat with movements designed to get the blood flowing through your body. For some simple movements, see here. 
Dry Brush 
With the morning commute no longer on the list, there has never been a better time to spend a little time on you. With your morning stretch complete, why not spend another 15 minutes detoxing your body and draining your lymphatic system by dry brushing your body. An age-old remedy, dry brushing not only helps energise the body but more importantly, it helps rid the body of toxins, promotes smooth and supple skin and promotes a state of Zen. If you need a quick guide on how to achieve this, see here. 
Shower and put on your best outfit  
Whether you are working from home (WAH) or not, get ready with intent and put your best foot forward by getting out of your pyjamas and stepping into a feel-good outfit. The power of association is never more evident than during days spent lounging in our sleepwear so if you are planning on having a productive day, break the circuit and dress the part. The psychological effects of wearing lounge clothes can be very real so avoid a work slump by getting ready, as you would have any other day.
Quit social media and journal instead 
What is the first thing you do when you wake up? We can bet our morning smoothie it's checking your Instagram feed or going onto DailyMail. With our social media feed and news bombarded by talks of pandemics, the economy and all the uncertain stuff in-between, there has never been a more crucial time to limit social media use and learn when to switch off. Rather than bombarding your brain with negative news, start your morning with a positive outlook by practising mindfulness instead. Spend the time you would scroll through your feed by writing down three things you are grateful for and three things you wish to achieve that day instead. Only then should you reach for your phone. 
With less time spent in nature and in the sun, it has never been more important to give your body the energy it truly deserves. While coffee will wake you up, it won't provide sustained energy and focus on getting your work or tasks complete from home. Why not opt for a coffee smoothie instead. One packed with dense nutrients and gut-friendly ingredients. Do something good for yourself and set the tone for a healthy approach to food for the rest of the day with a protein smoothie which will promote satiety, focus and will ensure your blood sugar levels remain stabilised throughout the day.  
Practice a random act of kindness 
Enjoy your smoothie while completing a random act of kindness. This could be as simple as checking in on a friend to ask how they are doing, sending someone a message telling them you love them or leaving some biscuits at your neighbour's door. While this will help make someone else's day, science shows that during times of stress, random acts of kindness can boost our production of serotonin, the happy chemical in our brain. It's the perfect way to start the day with a positive outlook. 
Make lists
If you weren't big on making lists or using a diary, there has never been a better time to start. If you are working from home, homeschooling or simply want to add some routine to your days which seem to all be merging into one, making a list of your tasks and intentions for the day will help keep you motivated and on track. Start with small tasks such as checking your emails or even preparing breakfast for the family. Once you start crossing off your tasks, you are scientifically proven to keep more motivated throughout the day. 
Get some fresh air before you start your day
Social distancing and isolation are important and a common cause we all share for the greater good. However, it doesn't need to mean that we don't feel the sun on our face or breathe in fresh air for days on end. Spending time outside is scientifically shown to lower stress, blood pressure and our heart rates. In fact, as little as 20 minutes spent outside is enough to improve our well being and overall mental health. So rather than drinking your smoothie in front of the television set or laptop screen, grab your morning drink and sit in your backyard, front yard or on your balcony if space permits. Find a small and isolated space outside and enjoy some fresh air before you start your day. 
Image via Pinterest.