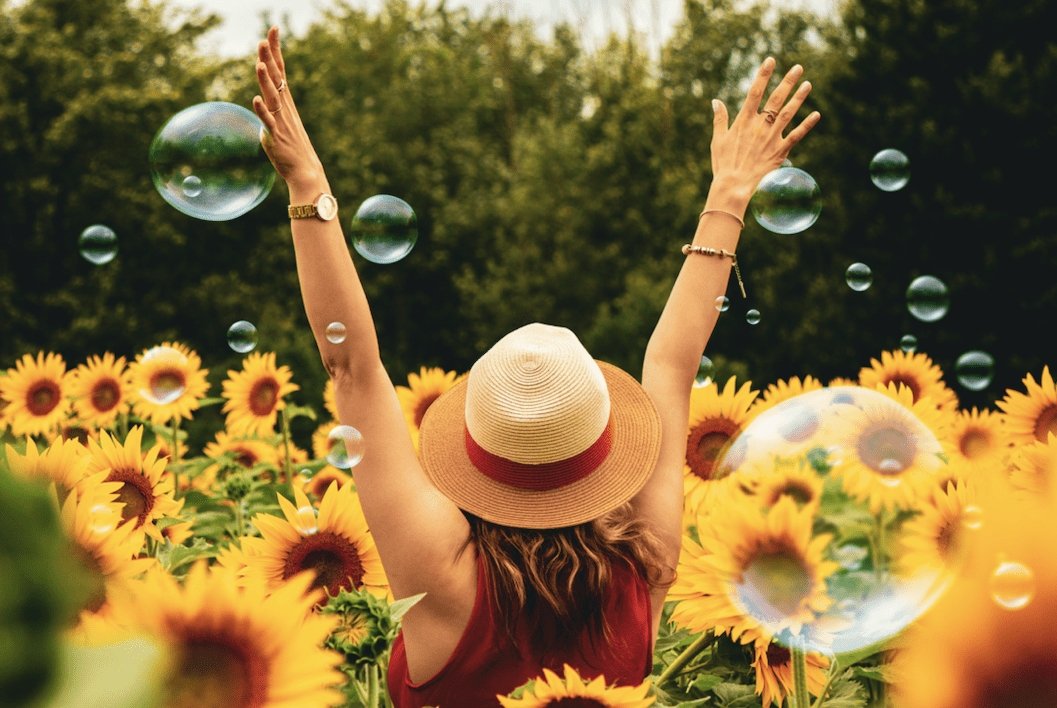 HOW TO STAY POSITIVE AND HAPPY AT HOME
During these unusual times, many of us have seen a lifestyle change at home, work, and in general day-to-day living. 
So many of us have been asked to work from home or stay inside as much as possible. 
It's been challenging; though, it's important to support ourselves and others around us.
Staying connected with our friends and family is so vital! And staying positive and happy is essential too. It can be challenging, which is why we've reached out to the community to share some tips. We hope their tips inspire you. 
During these times, please stay safe, healthy, and positive. An encouraging idea is to reach out to friends, family, and loved ones and people you trust! 
So, what are some ways of how to stay positive and happy at home?
Create a positive workspace:
A good idea is to organise your desk with stationery and belongings that inspire you. Speaking with Adana, she suggests working where there is some natural light. "Or, add some greenery in your line of sight," she says. Likewise, for Kate, she likes to create a light, open space that is free of clutter. "A clear, tidy space creates a clear, tidy mind!" She says. Anna, on the other hand, likes to frame inspiring quotes and keep them nearby. Reading them helps her to feel motivated and inspired.
Move your body:
Don't forget to get up and stretch your body. Adana says you could also do some squats right from home! "I try and get up off my chair every half an hour," says Adana. "Also, break up the workday by doing simple chores around the house that make you feel like you are not only winning at work but also at home!" This is great way of how to stay positive and happy at home!
Turn off the television:
The television can become quite noisy and distracting. It can also make you feel unproductive too! Adana suggests playing motivational tunes instead. Anna does this too while working from home. She finds that the music is peaceful and motivating.
Keep your day consistent:
Just like you would do at the office, set your start and finish times for your workday. Adana adds, "make sure you put on jeans or something you feel great in so you don't feel sluggish." Another great tip Adana suggests is to put a definite end to the workday. Also, by changing out of those clothes, you know it's time for rest. We really like this idea of how to stay positive and happy at home.
Exercise is key:
A great thing about working from home is that you can use your morning before starting work to get a workout in. If the weather is bright, go for a walk, jog, or run, which is what Adana likes to do! Anna has excellent workout apps on her phone, which help her feel motivated and inspired. "I love that there are apps one click away that can help keep the exercise up!" She says. Or, there are many great workout videos you may enjoy too!
We recommend checking out iso-workouts at home with our ambassadors. What's great is that you can do their exercises from the comfort of your home! Check it out here.
Or, workout with Malissa Fedele by completing her weekly workout challenges. There are also videos that offer fitness tips and stretching! View Malissa's channel here.
Embrace the video or phone meetings:
Adana says that she initially disliked video and phone meetings. But now she schedules at least one meeting a day. "It is a great way to feel connected, plus it will inspire you to put some effort in your hair or outfit," she says. A great way of how to stay positive and happy at home and incorporate that with work meetings so you feel you're at work!
Get some fresh air:
If possible, go outside for some fresh air. Eliana likes to have a cup of coffee on the balcony. "I make sure each day I get some sunlight," she says. Anna agrees - she too likes to sit outside with a cup of tea or lunch. Just like she would at the office, Anna takes her break outside, which offers her a moment to pause, reflect, and recharge. 
Listen to good music:
Music can sometimes have a way of lifting our mood. Eliana likes to have on in the background some upbeat music. This offers her a great way to stop for a moment and take a break. For Anna, she likes to listen to music on her lunch break; it helps clear her mind and focus on positive thoughts!
How to stay positive and happy at home is super important, isn't it? But how about keeping in touch with others?
Stay connected:
Eliana surrounds herself with positive people and ensures she keeps herself connected with her friends and family. Whether it is a video or phone chat, Eliana checks in with her loved ones, ensuring to pass on positive vibes. 
Anna makes sure she sends a message or an email to her friends and family, checking in to see how they're going. "We make sure we talk about other topics and have a good laugh," she says.
Self-care:
For Eleni, she looks forward to her weekly face masks. "I feel so refreshed afterwards and it puts me in a good mood for sleep." 
The same goes for Anna: for her, how to stay positive and happy at home, she schedules in meditation at least once a week. She finds it comforting, inspiring and motivating. 
Cook your favourite meals:
John keeps himself occupied and positive by cooking a delicious meal in the kitchen or by using his charcoal barbeque. "I like to experiment with different dishes, spices, herbs, and ingredients," says John. "After I finish work, I get in the kitchen and cook. It's fun, rewarding, and motivating. Most of all, it helps me to feel positive and happy."
Indulge in a good book:
After a productive day of work, Anna cosies up on the couch with a chai latte and a good novel. Getting lost in a story is just one of the things that helps Anna how to stay positive and happy at home. "It also helps me wind down. I take my book to bed with me too, which helps me switch off the mind and get a good night's rest," she says.
Redecorating:
Alana has found pleasure in redecorating her bedroom. "I've found some cute things for my room," she says. This has created an even more positive space for Alana, and it has kept her busy and feeling inspired. 
Anna has also taken this time to redecorate the house too. She has updated her cushions, clock, and has added dried flowers in the home. "I've also included extra greenery too, as this makes the space feel more positive," she says.
We hope these ideas help you in how to stay positive and happy at home. We wish you good health, happiness, and safety.