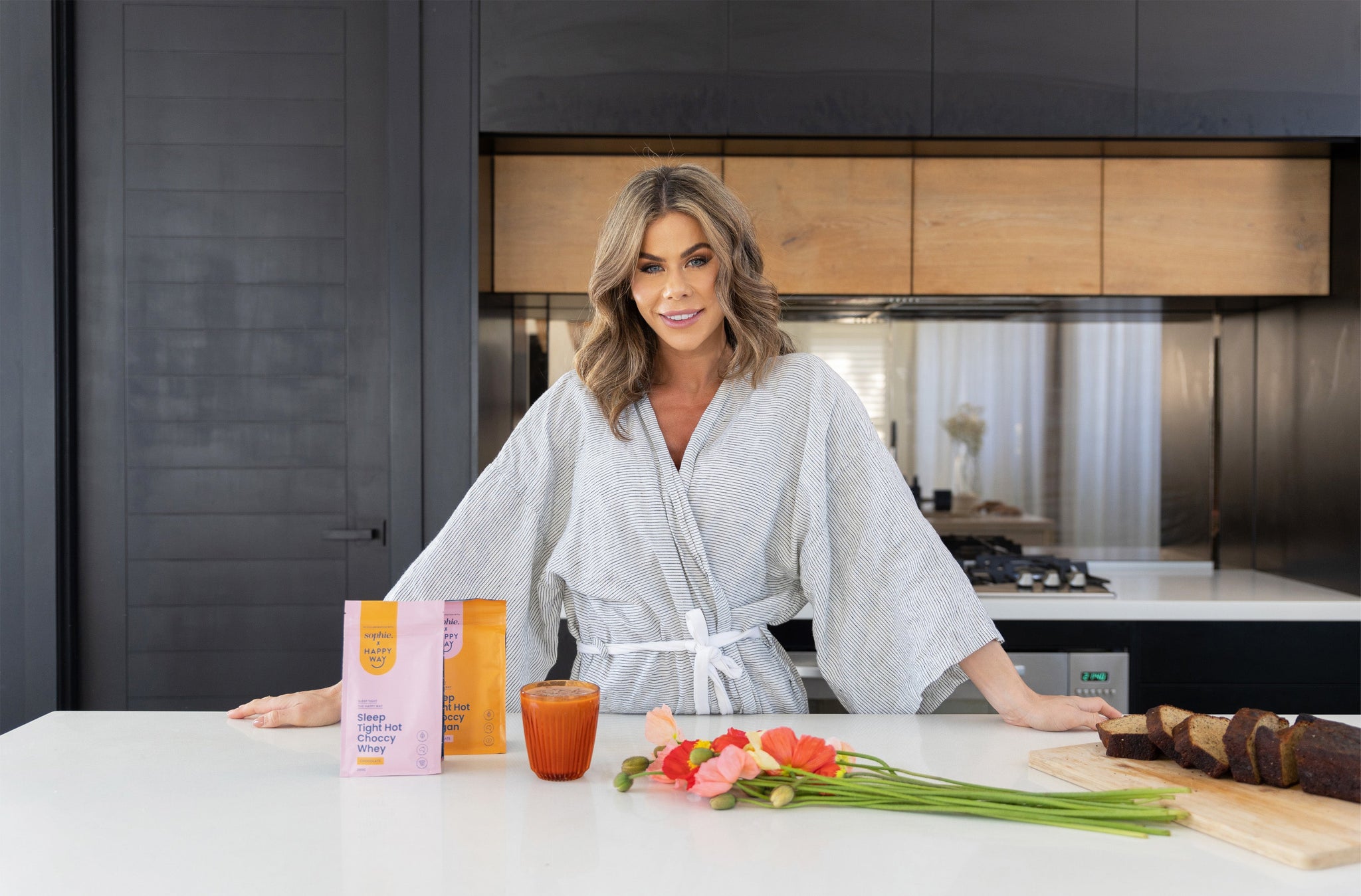 SLEEP TIGHT THE HAPPY WAY WITH SOPHIE GUIDOLIN
It's here! Pull up the bed socks, throw on a hoodie and grab your favourite comfy blankie because it's time to curl up and get ready for the best sleep you've ever had! Introducing our latest collab product with Happy Way ambassador Sophie Guidolin—SOPHIE + HAPPY WAY SLEEP TIGHT HOT CHOCCY.
Made to help you relax, unwind and drift into dreamland, this new nighttime essential is filled with all-natural ingredients that help calm the mind, warm the body and soothe the soul—plus it delivers a rich choccy flavour that's both comforting and sweetly satisfying.
We're thrilled to be partnering again with longtime friend Sophie Guidolin, who we joined forces with previously to create our best-selling pantry staple that literally changed the baking game—our Sophie + Happy Way Banana Bread Protein Mix. Soph's a super mama, fitness queen, published author and self-care advocate, amongst many things, and on top of it all, she's found time in her busy schedule to work with us on our dairy and vegan Sleep Tight Hot Choccy—refining the flavours and ensuring it delivers an abundance of benefits. 
We got in our comfies and sat down with Soph to get the inside scoop on her partnership with Happy Way, and discovered why health and wellness are so important to her and how she includes the Sleep Tight Hot Choccy in her nightly bedtime routine for both herself and her family. She even lets us in on a lil' secret about what's next for Sophie +  Happy Way (shhhh!).
So, kick back, get cosy and prepare to sleep tight the Happy Way.
You've been a beloved Happy Way ambassador for many years now—how did this collaboration come about, and why did you choose to partner with this SA health and wellness brand?
Being from Adelaide and knowing the owners of Happy Way, it really was a no-brainer for me when it came to this collaboration and making a decision that was right for me and my family. I loved that throughout my pregnancy and during breastfeeding, I was still able to use Happy Way products confidently, and I know they're safe to add to my children's smoothies too. 
When looking for a brand to partner with, I always look at the potential longevity of the partnership to ensure that as life happens and evolves, we can grow together and still share aligned values—Happy Way has certainly delivered in that sense.
Through the development of my famous banana bread recipe into our best-selling Banana Bread Protein Mix, to now a delicious hot chocolate drink—perfect for cosy nights in, cacao ceremonies and children's bedtime drinks—I'm so proud to be a part of such an incredible brand. 
You've got lots of things on the go—you're a mum, girl boss, published author, podcast host, fitness model, nutritionist and wellness advocate. Where do you get the energy to support your busy schedule, and how do you prioritise time for you?
I certainly do have a lot going on, and at times, I look back on my achievements thus far, and I cannot believe that I've been able to cram so much into my 34 years! 
I prioritise my nutrition and health—meaning my supplementation, hydration, and self-care practices like meditation and exercise are super important to me. I'm also huge on a healthy sleep routine, ensuring that I get in my non-negotiables—8 hours of sleep, hydration, nightly meditation etc. 
But in the mornings, when I feel a little more on the sluggish side, I love using Happy Way's Charge Up powders—they help get me goin', that's for sure!
How important is it to you to eat a well-balanced diet that's rich in nutrients but still full of flavour? What are some of your daily essentials? 
Nutrient-rich foods make up most of my diet. However, I try to balance it with all-natural supplementation where possible to ensure I hit my required macronutrients. I'm a huge foodie, so for me, I need my food to taste delicious—flavour is something I will NEVER sacrifice! 
My favourite way to start my day is with a banana smoothie that I share with the kids. My go-to recipe is MCT oil, banana, chia seeds, cacao nibs, almond milk and Happy Way's Banana Bonanza Whey Protein Powder. It's definitely the most popular with the kids, with Deja Brew Coffee Whey Protein Powder still being my total favourite. 
I like to include a variety of nutrients (micro and macro) into every meal and love that my protein powders can be added to most of my creations too! 
When you're not busy running your business or being a super mama, you love to be in the kitchen creating delicious treats and meals for your family—what are some of the essentials in your kitchen and favourite creations in your household? 
Oh gosh—haha, where do I start?! 
Banana bread is obviously our favourite, and I make it all the time! I also make a lot of protein balls and brownies, and I often add the Happy Way Flavourless Whey Protein Powder into dips and savoury dishes now too!
I love trying trending TikToks with the kids and experimenting with new dishes. 
I usually cook without a recipe and make it just by taste, so for me, it's really important to have that freedom to just cook and create—usually it's a hit! 
You've created one of our all-time best-selling products, and let's face it, it's a household favourite, Banana Bread Protein Mix. Why Banana Bread? 
Yes! I couldn't live without this product, and know many other families are the same. My first collab product with Happy Way—Banana Bread Protein Mix—really is so good. It essentially makes the perfect banana bread every time and takes out all the guesswork. You get to keep in all the nutrients, using fresh bananas and your milk of choice, and it delivers a flavour that hits the spot with every bite. It really couldn't be any easier and is a favourite with my kids!
We're super excited to announce your new collab product with Happy Way—Sleep Tight Hot Choccy. Tell us how this came about and why hot chocolate.
When I started Flourish & Fulfilled, I began drinking hot chocolate whilst journaling as a part of my bedtime routine, and each morning, the twins would snuggle up and have a hot choccy too. It's become a staple in our day-to-day, and I'm so excited to share my love for this with the Happy Way community too. 
I find that hot chocolate is a really wholesome way to bring the family together and also relax and unwind at night. Typically, sugar-loaded chocolate before bed is not a great idea for the mind or body, so having something that provides a delicious flavour and is nutritious for the whole family is incredible.
What are some of the benefits of Sleep Tight Hot Choccy, and what makes it different to other hot chocolates out there? 
The Sophie + Happy Way Sleep Tight Hot Choccy has been developed with all-natural ingredients and has no artificial flavours or sugars. We created two versions—a dairy-based and vegan-friendly formula—and included a herbal blend of Chamomile, Dandelion and Passionflower, which delivers many calming benefits, making it ideal to enjoy after a busy day. It's great for all ages and a  perfect addition to any nightly bedtime routine.
How do you like to enjoy the Sleep Tight Hot Choccy? 
Here is my perfect blend…
I add two teaspoons into a cup with almond milk, stir, then add in boiling water. 
For the kids, I will often microwave oat milk first, then stir in two teaspoons and, if they're lucky, I'll add a marshmallow or two on top.
You're a lover of foods that comfort the soul, is hot chocolate one of those things for you? 
Chocolate as a whole is definitely a favourite, so to me, this is perfect for my soul—I find it warms and comforts me from the inside out. Whilst journaling at night, I feel it helps me get my thoughts out onto paper, plus I love being able to give it to the girls in the morning—it's like love in a mug! 
Banana bread and hot choccy are definitely the way to my heart.
Can anyone drink Sleep Tight Hot Choccy?
YES!!! I'm super proud that we've made it available in both dairy and vegan formulas, so it's suitable for everyone, no matter their dietary needs or preferences. It's safe for children and pregnant women, but we always recommend checking with a healthcare professional before consuming it if you have any questions or concerns.
What do you love about Sleep Tight Hot Choccy?
I love that it's a healthy alternative to other hot chocolates on the market and that it also has added herbal ingredients which provide benefits to support a good night's sleep. It allows my mind to switch off, reduces any feelings of anxiety, and helps me to unwind right before bed. I also love that it brings my family closer together, the same way that baking banana bread does too. 
Are there any other collab products with Happy Way we can look forward to in the near future?
I'm sworn to secrecy! I will say we're working on something that's an absolute favourite with my kids, and it'll definitely be another pantry essential. Think warm, rich and delicious. 
So, what are you waiting for? Grab a stash of Sophie + Happy Way Sleep Tight Hot Choccy today and fall in love with this new bedtime staple—it's the stuff dreams are made of.