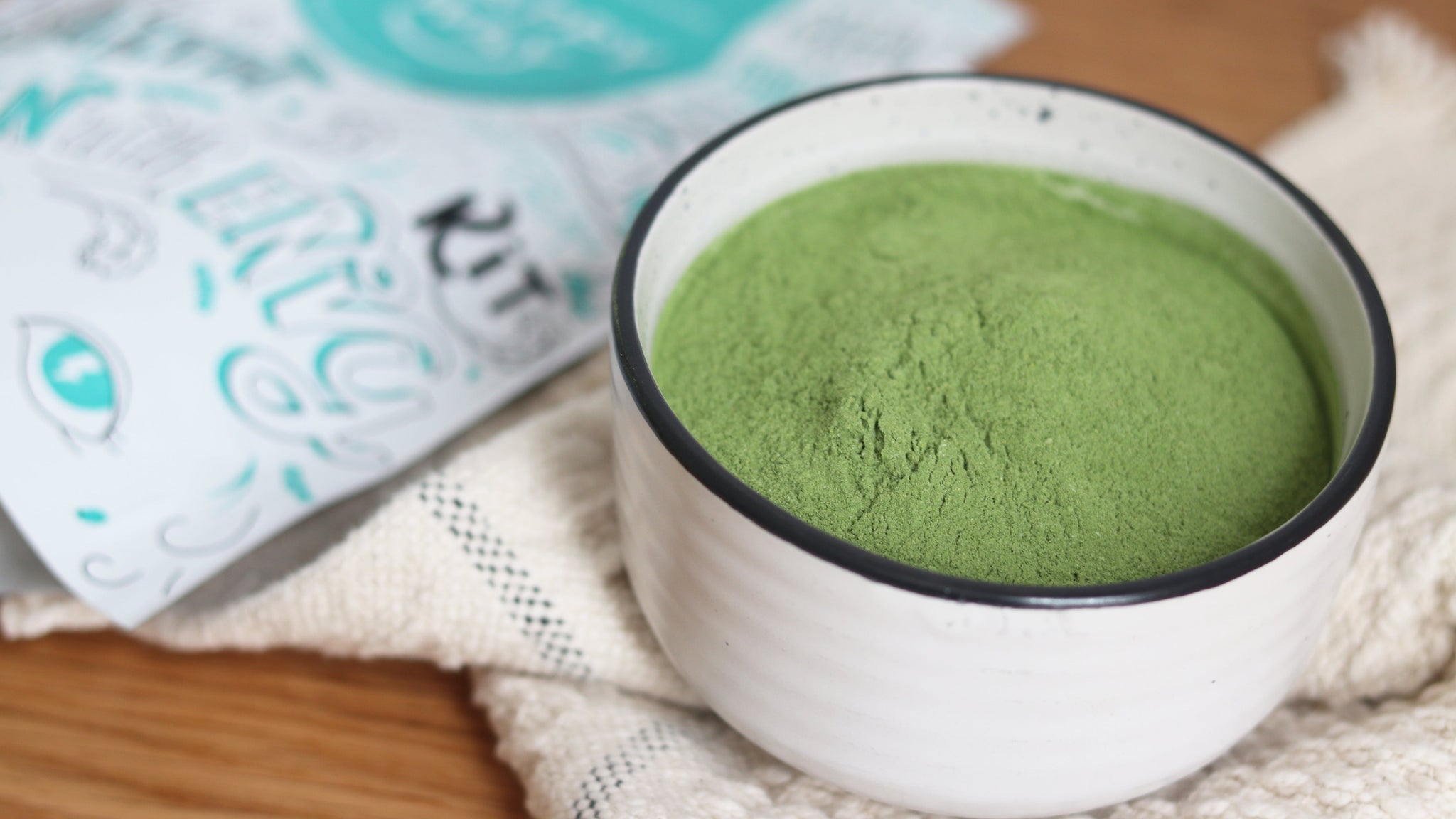 SUPER GREENS POWDER: 5 REASONS TO INCLUDE THEM IN YOUR DIET
Let's face it, even with the healthiest of diets, most of us fall short when it comes to consuming the right amount of leafy greens (we're guilty too!).
This is where green superfoods such as our Happy Way Green With Envy Super Greens Powder comes in handy. Our Super Greens Powder makes it more convenient to maintain your intake of greens on a regular basis, so you and your body receive just the right amount of vitamins and minerals—it does the hard work for you so you can be your best self! 
WHAT ARE SUPER GREENS?

Greens are powdered supplements made from a variety of leafy greens. They're called a superfood because they contain ingredients that are naturally rich in nutrients such as antioxidants. 
Made from a concentrated blend of dehydrated vegetables, fruits, algae and plant foods, our Super Greens Powder is specially formulated to boost your immune system and make you feel like Superwoman (or Superman). 
For an ingredient breakdown and to find out more about their individual benefits, visit our blog here.
5 BENEFITS OF SUPER GREENS POWDER

1. NATURAL ENERGY BOOST
Living a busy and fast-paced lifestyle fuelled by caffeine, energy drinks, and sugary foods have become the norm in today's society. Although these are convenient remedies for when you need that quick fix, overconsuming these products can affect your health in the long run. 
Need an afternoon pick-me-up? Have a Super Greens instead! Made from 100% organic ingredients, our Super Greens Powder is an all-natural energy booster. Not only is it healthier than your average cuppa, but it fuels your body with a longer-lasting supply of energy, minus the caffeine crash.
2. HEALTHIER IMMUNE SYSTEM
Your diet plays a major role in the maintenance of your immune system and incorporating a super greens powder into your diet could give you the boost of immunity you've been missing! 
Besides their superhero qualities, greens powders are powerhouses for vitamins and minerals that you need to maintain a healthier immune system. Rich in vitamins A, C and K, our greens powder is the missing ingredient when it comes to fighting off pesky colds and diseases and protecting your body from muscle and nerve damage. 
3. WEIGHT LOSS 
Looking for a super greens supplement that will help you meet your body's nutritional needs without sacrificing your calorie intake? Happy Way's Super Greens is your best bet. 
Made with organic kelp, our powder is rich in iodine—a mineral essential for thyroid health. Why is this important? Your thyroid gland is responsible for regulating and maintaining your metabolism and weight management. 
On top of this, our Super Greens Powder also contains a high source of fibre. This means consuming our greens powder in-between meals will leave you feeling fuller and satisfied for longer. 
It's important to note that super greens powder supplements should be consumed as part of a well-balanced diet with regular whole vegetables and fruits. They're not a substitute but a way to fill in the gaps to ensure you're getting all the superfood superpowers that may be lacking in what you eat.
4. CONSTIPATION RELIEF 
Just in case you're not convinced by our Super Greens Powder yet, we go one step further and include pre and probiotics to support your body with digestion and the development of better gut health. No more struggling—chug a super greens drink and help your bowels run smoothly (you can thank us later). 
5. MANAGE AND REDUCE BLOATING
We hear you loud and clear—we're tired of feeling uncomfortable after a hearty meal too. The good news is that you can relieve your bloating with a tall glass of super greens, as it's full of powerful enzymes that help with the digestion of food.
HOW DO I CONSUME A SUPER GREENS POWDER? 

Super Greens can go in just about anything. They're the perfect addition to your smoothies, mix great with water and make an easy pre or post-workout snack. When your greens powder delivers a tropical flavour that's out of this world delicious—like our Happy Way Super Greens Powder—any of these preparation methods will do the trick! 
Here's some inspiration to get you started: 
Organic Green Goodness Smoothie 
Energy Boosting Tropical Smoothie Bowl 
WHEN SHOULD I HAVE MY SUPER GREENS?

When it comes to deciding when you should take your Super Greens Powder, the choice is yours! As a rule of thumb, we recommend consuming a serving of greens first thing in the morning to kick start your day and in the afternoon for when you need an extra boost of energy. In saying this, there's no right or wrong time to take your Super Greens Powder. No matter how you prefer to enjoy your greens powder, find the time of day that works best for you and gives you the best results. Another bonus is that our Super Greens Powder is also caffeine-free, so you can enjoy your greens in the evening without the fear of being buzzed or up all night!