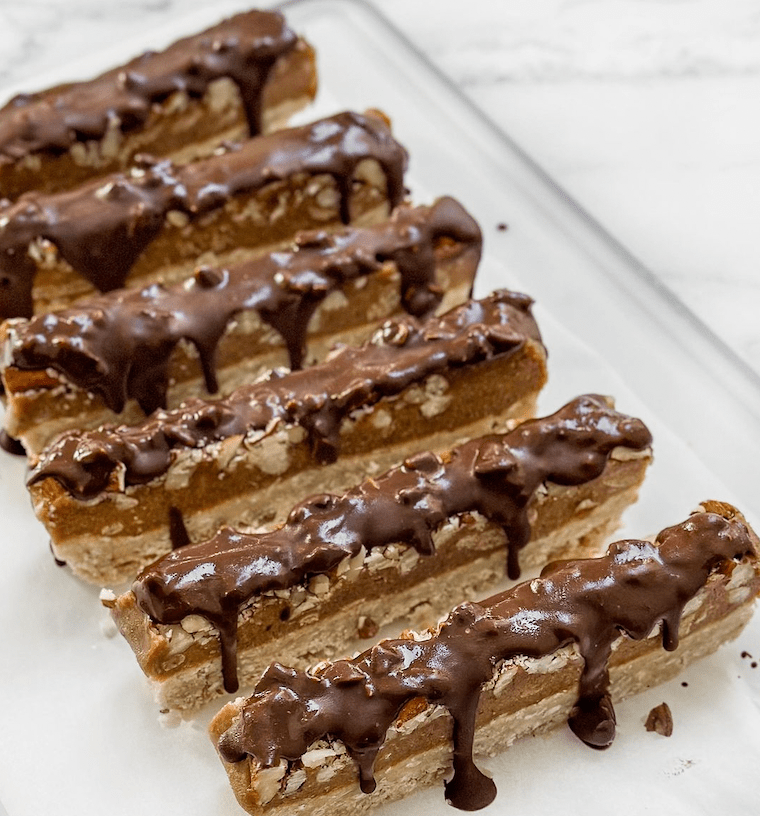 BASE INGREDIENTS
3/4 cup almond flour

1/4 cup quick oats

2 tbsp pure maple syrup

3 tbsp melted coconut oil

Vanilla (extract or vanilla sugar)

Pinch sea salt

CARAMEL INGREDIENTS
3/4 cup almond butter (I used half almond & half roasted peanut butter)

5 tbsp pure maple syrup

2 tbsp melted coconut oil

Pinch sea salt

1/2 cup chopped roasted almonds

CHOCOLATE
110g chocolate, melted (I used a dark almond choc)

2 tsp coconut oil
Preheat oven to 180 degrees.

Line a container with baking paper (I used a glass container).

Mix base ingredients together then press flat into lined container.

Bake for 10 mins or lightly golden brown.

Freeze for 20 mins or until complete cooled.

Mix caramel layer together and place on top of cooled base.

Freeze for 2 hours or until firm.

Cut into bars.

Melt chocolate with coconut oil then drizzle over the top of the bars (you can fully coat them if you like, just melt more chocolate).

Place in the freezer for 2 hours or until set.

E

NJOY!!!! These are INCREDIBLE!!!!
Recipe by @diannayota