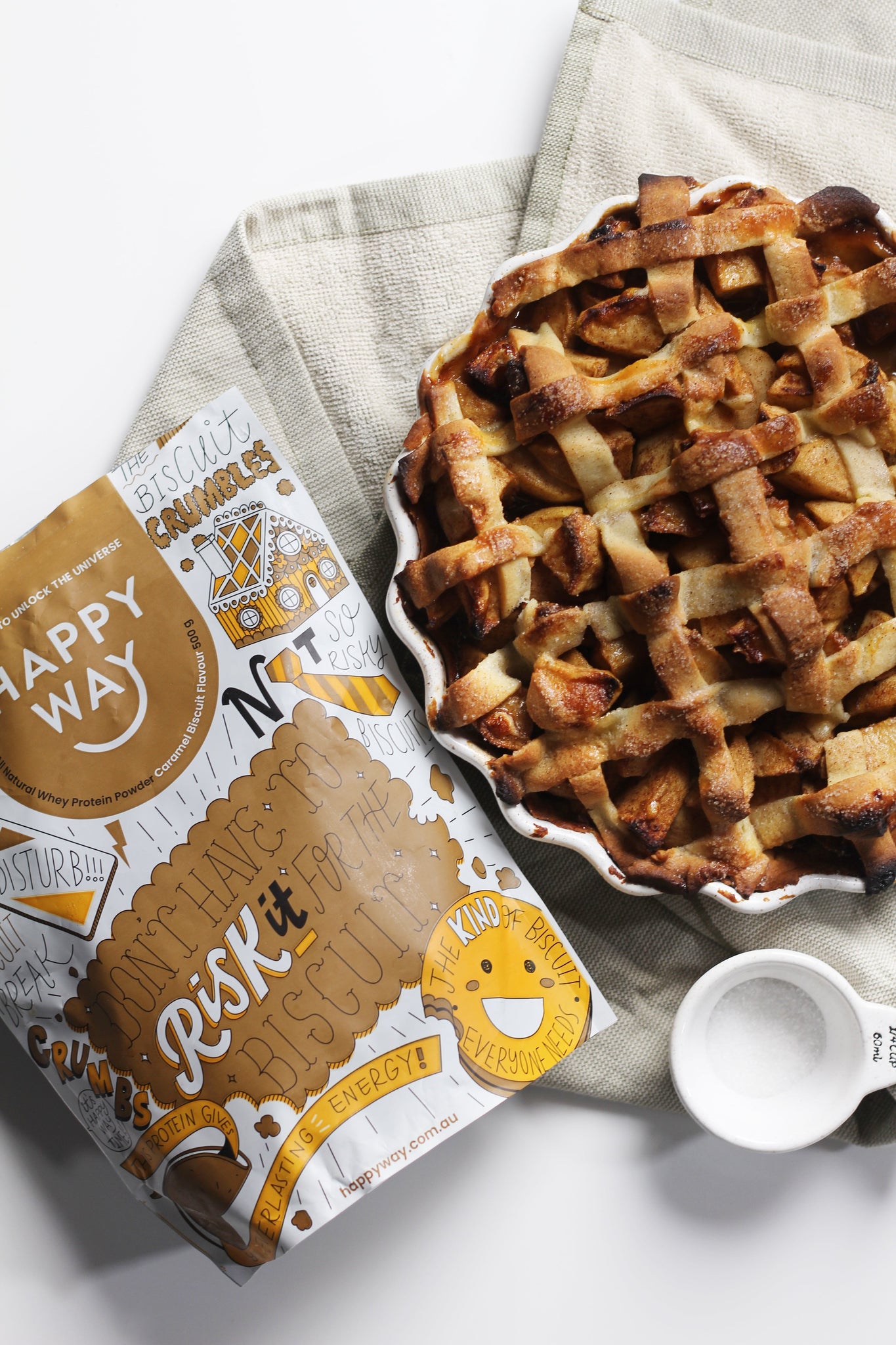 CARAMEL BISCUIT APPLE PIE
INGREDIENTS
Shortcut pastry* (see note at bottom)

1 kg Granny Smith apples, cored, peeled and sliced

1 cup brown sugar 

1 tsp ground cinnamon 

1/2 tsp ground ginger 

1/4 tsp ground nutmeg

1/2 scoop (15 g) Happy Way Caramel Biscuit Whey Protein Powder

1 tsp unsalted butter 

1 egg, beaten 

1 tbsp white sugar

Sprinkle cinnamon sugar 
METHOD
Preheat the oven to 180°C.
Peel and slice the apples into small cubes. 
In a large bowl, add the apples, brown sugar, cinnamon, ginger, nutmeg and protein and mix together with your hands. 
Line two baking trays with baking paper and lay out the coated apple making sure they don't stick together. 
Cook the apple slices in the oven for 20 minutes 
While apples are baking prepare your pastry in a pie dish. Make sure to save some pastry for the top! 
Remove the trays from the oven. Drain off the excess juice from the apples into a saucepan. 
Add the butter to the saucepan and simmer on a low heat until it reduces to ⅓ of a cup, becoming syrupy. 
Remove the syrup from the heat and allow it to cool. 
Increase the oven temperature to 200°C. 
Using a spatula, layer your apple slices into your prepared pie dish with your pastry already in. 
Drizzle over your syrup, you may not need to use it all. 
Top your pie with the remaining pastry—make it pretty! 
Brush the pastry with your beaten egg and sprinkle with white sugar and cinnamon sugar. 
Place in the oven for 45 minutes or until the pastry is golden brown and you see the syrup is bubbling. 
Allow to cool slightly before serving 
Top with ice cream or cream and ENJOY! 
Note:
If you aren't using store-bought shortcut pastry make sure you prep the pastry prior and keep chilled. You can make your own shortcut pastry however we took an extra 'shortcut' and used Crema Vanilla Bean Sweet Shortcut Pasty from our local independent supermarket.