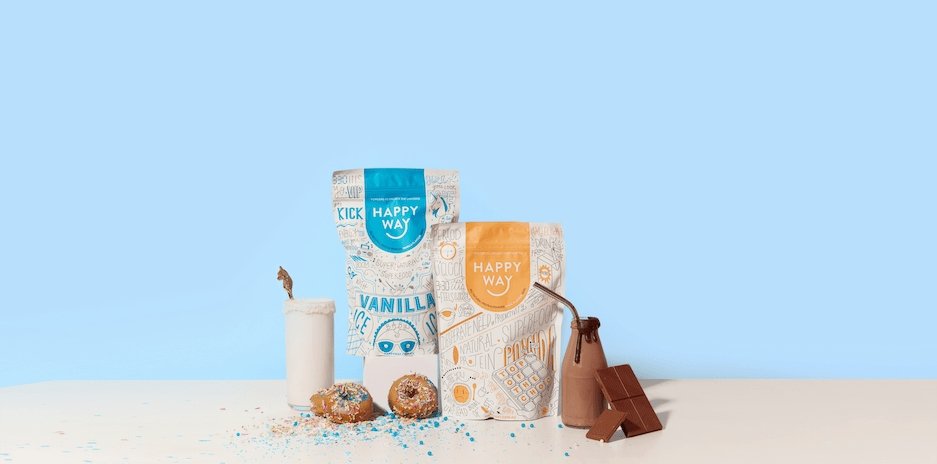 One of our priorities at Happy Way is to provide you with products that support your health and well-being. We're always looking at how we can grow and improve, and ensuring our products are made with only the best quality ingredients is one of our commitments to you as a brand.
Earlier this year, we let you know about a change of ingredients with our new 1 kg Vanilla and Chocolate flavoured protein powders, with MCT oil powder replacing coconut flour and thaumatin added to balance out the flavour of stevia. We chose to make this change to enhance the flavour and nutritional value of our products—we can assure you that this will not impact the deliciousness factor of the flavours you know and love—if anything, these new ingredients make our proteins taste even better and provide you with more benefits!
We explained that although this change was currently only happening with our 1 kg bags, it would be something that would roll out to our other flavours over time. Our reasoning for delaying this process and not changing the ingredients across all of our protein powders collectively was that we still had a lot of 500 g pouches with the existing ingredient list sitting with our manufacturers and we didn't want to create a heap of unnecessary waste for the planet—it would be going against our sustainability values as a brand. 
Fast forward several months and we now have two whey protein powders that are ready to join their big siblings with the upgraded ingredients—our Vanilla Whey Protein Powder and Top Of The Choc Whey Protein Powder now have the added benefits of MCT oil powder and thaumatin! Throughout this transition (and whilst we're depleting down on all our current pouches), there may be vanilla and choc proteins out there still with the previous ingredient list, but you will start to notice the upgrade more frequently when these Happy Way faves arrive on your doorstep. 
So what are MCT oil powder and thaumatin and what are the benefits?
MCT OIL POWDER 
MCTs, or medium-chain triglycerides, are naturally occurring fatty acids that provide a tonne of health benefits. Most commonly sourced from coconuts, like coconut flour, the MCT oil we use is extracted from coconut oil and is combined with a carrier powder to make MCT oil powder. MCTs break down and are absorbed into the body at a faster rate than LCTs (long-chain triglycerides), metabolising differently by going straight into the liver where they're used as energy or turned into ketones. Being that MCTs are digested quicker than LCTs, they're more likely to be used as energy first, with any excess stored as fat. MCT oil has little to no flavour or smell, making it a great ingredient to mix with foods, drinks, or even to use in cooking. 
Some of the benefits of MCTs include:
Increased energy

Improved brain function and focus

Assists with weight management

Promotes good gut health

Supports blood and heart health. 
For a detailed list of benefits and further info on MCT oil powder, check out our blog 'What Are MCTs & What Are The Benefits?'.
MCT oil powder is already in some of our existing flavours including our Ashy Bines Choc Caramel and Choc Coconut, plus our Caramel Biscuit, Chocolate Hazelnut and 1 kg protein powders. 
Shop our protein powders here. 
THAUMATIN
Thaumatin is sourced from an African fruit called katemfe fruit, found in the rainforests of West Africa, and is a natural sweetener that's used to add flavour to a variety of foods and drinks. Considered a protein and not a carbohydrate like a lot of other sweeteners, thaumatin has a very concentrated level of sweetness—it's 2000-3000 times sweeter than sugar, with only 4 calories per gram. Although it's quite potent, it's a flavour that does build gradually without leaving that lingering aftertaste that stevia does. Very little thaumatin is needed to get the desired sweetness and it's often used in various foods and drinks to balance out flavours. 
We're using thaumatin in some of our products because it's all-natural and delivers a sweet flavour whilst still providing nutritional benefits to the body. As mentioned above, thaumatin doesn't have the same aftertaste that stevia has, and this was something that was noticed and preferred by the Happy Way team when we tried the 1 kg protein powders. 
Some of the benefits of thaumatin include:
All-natural sweetener.

Low in calories.

Boosts energy.

Doesn't impact blood sugar levels or body weight.
For further info on thaumatin, check out our blog, 'What exactly is thaumatin?'.
You will find thaumatin in our Ashy Bines Choc Caramel and Choc Coconut flavours, as well as our Caramel Biscuit, Chocolate Hazelnut and 1 kg protein powders too. 
Shop our protein powders here. 
As always, we will keep you updated on any changes across our other flavours as they develop. If you have any further questions about this change, please reach out to our Customer Happiness team via support@happyway.com.au
Live life the Happy Way!