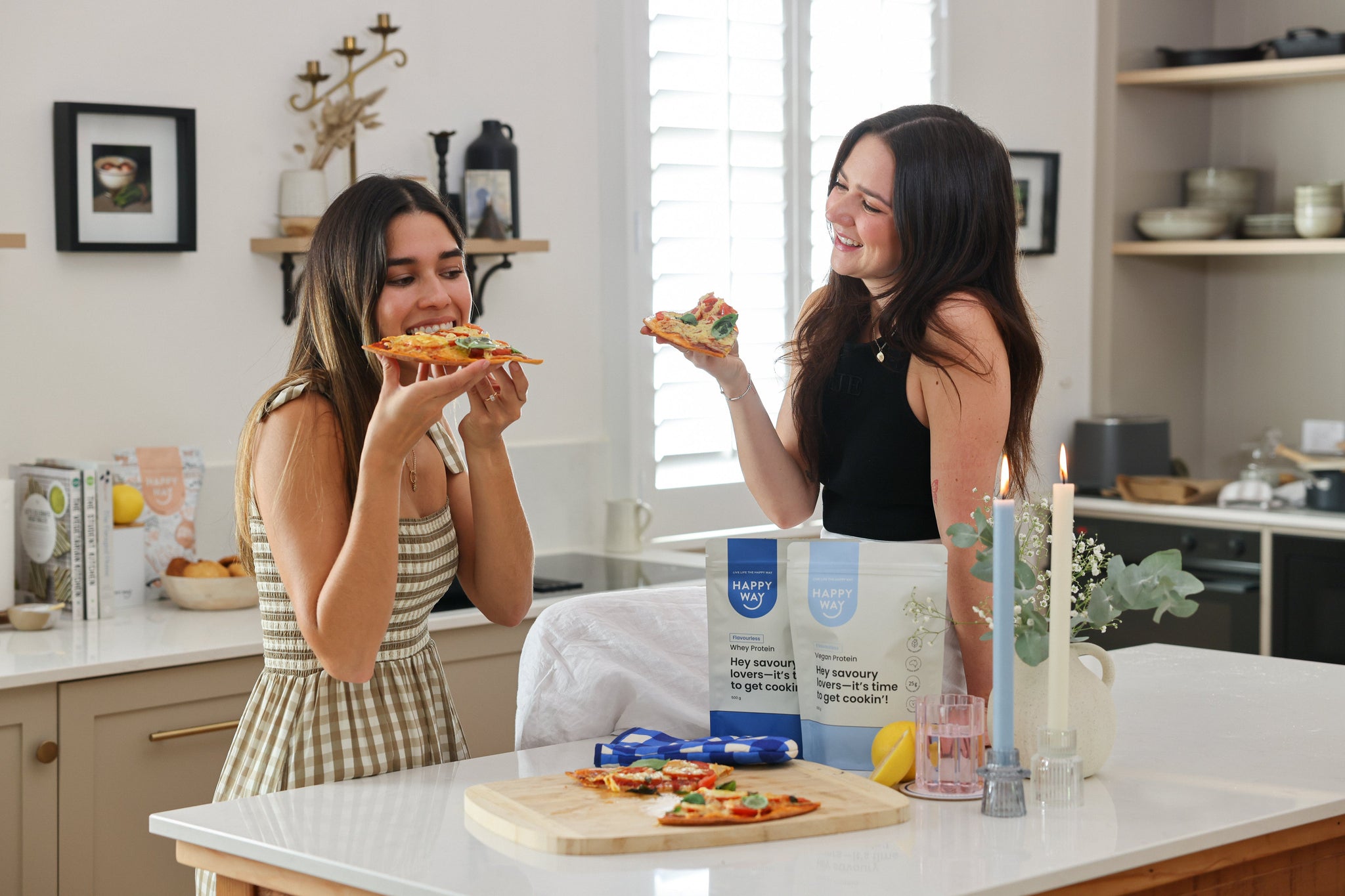 INTRODUCING FLAVOURLESS PROTEIN POWDER!
Whether you're a protein powder newbie or use it daily by adding a scoop to your smoothies, shakes and snacks, there's no denying that protein powder offers many nutritional benefits that positively impact both the mind and body. There seems to be a flavour for everyone too—everything from the favourite chocolate and vanilla to banana, coffee and salted caramel. And whilst these are all delicious and can help to curb many cravings, sometimes you just want a protein powder that you can add to any dish or recipe without affecting the taste. 
Well, get excited because your wish has been granted—meet your new kitchen essential, Happy Way's Flavourless Protein Powder! Available in both whey and vegan varieties, our new Flavourless Protein Powders are designed to amp up the nutrient levels of any sweet or savoury recipe with just a single scoop (or two?), and because it's minus the flavour, the options are endless!
Get the full breakdown of this pantry staple, including what it's made of, what the benefits are and how to use it. 
WHAT IS FLAVOURLESS PROTEIN?
Just as the name suggests, our Flavourless Protein Powders are a tasteless protein powder that still provides the convenience and nutritional benefits of our flavoured protein powders. Because they have no flavour, they're a single-ingredient protein powder. Our Flavourless Vegan Protein Powder is made from yellow pea protein sourced internationally, and our Flavourless Whey Protein Powder is made from whey sourced from a dairy farm right here in Australia. Both protein powders are packed with essential amino acids and are high in BCAAs (branched-chain amino acids), which deliver numerous benefits. 
BENEFITS OF FLAVOURLESS PROTEIN
There are many benefits to using our Flavourless Protein Powder in your day-to-day, the obvious one being that because it's a tasteless protein powder, you can add it to almost any recipe without affecting the flavour, yet still boosting the nutritional value. Sweet or savoury, breakfast, lunch or dinner, there are limitless options to where you can use your Flavourless Protein Powder. Adding a protein powder to your daily routine is also a convenient way to meet your required protein intake and get the support you need to achieve your goals. 
In Australia, the guidelines for the recommended daily protein intake for individuals aged between 19-70 are as follows. 
Men – 0.86 grams of protein per kg of body weight per day. 

Women – 0.76 grams of protein per kg of body weight per day. 
Both our vegan and whey Flavourless Protein Powders contain around 25 grams of protein per serving, so it's super easy to hit the recommended average daily protein intake of 46 grams for adult women and 56 grams for adult men. 
As mentioned earlier, our plant-based Flavourless Protein Powder is made from yellow split peas. See the nutritional benefits below. 
100% natural.

High in iron and rich in BCAAs.

Low allergen and gluten-free. 

Easily digestible.

Has a smooth texture which makes it easy to blend and mix. 
Our whey Flavourless Protein Powder also comes with stacks of nutritional benefits. See a quick rundown below. 
100% natural.

Considered a complete protein and a rich source of BCAAs. 

Gluten-free. 

Provides a smooth, creamy texture that allows it to blend and mix well. 
Because our Flavourless Protein Powders are both rich in BCAAs, they also provide numerous physical and mental benefits and are great if you have personal health or fitness goals. Some of these include…
Increases energy and endurance. 

Improves strength and performance. 

Helps to build and maintain lean muscle mass. 

Supports recovery and repair of muscles post-exercise.

Boosts immunity. 

Can assist with weight loss. 

Improves focus and delays fatigue.
HOW TO USE FLAVOURLESS PROTEIN
Just like our existing range of dairy and plant-based protein powders, our Flavourless Protein Powders can be used in smoothies and even shakes if you want a pre or post-workout energy boost without the flavour. To make a protein shake, simply combine 30 grams of Flavourless Protein Powder with 250 ml of water or milk in a shaker and shake well to mix. For a smoothie, add 30 grams to a blender with water or milk and include your favourite fruits, nuts, yoghurt or oats to create a delicious and healthy meal alternative. 
The fantastic thing about having a tasteless protein powder is that you can add it to so many recipes to increase the nutrient level, and they don't all have to be sweet either! Whether you mix it in a cake batter, stir it through soups, or add a scoop to a homemade pizza base, there are many ways to use our Flavourless Protein Powder. See our suggestions below. 
SWEET
Desserts and sweet pastries.

Baked cakes, muffins, slices, brownies, cupcakes.

Protein balls.

Shakes and smoothies.

Morning oats, porridge or yoghurt.

Pancakes or waffles. 
SAVOURY
Breads, muffins and slices.

Quiches and savoury pies or pastries.

Pizza bases or pasta.

Soups and stews.

Curries or rice dishes. 

Scrambled eggs or omelettes.

Dips.
THE WRAP UP
Our Flavourless Protein Powder is a game changer and a pantry staple when it comes to creating deliciously healthy, sweet and savoury recipes. Available in both dairy and plant-based formulas, it's designed to give you a boost of nutrients without the flavour, making it an essential ingredient in your smoothies, baking and cooking. 
Grab your stash of Flavourless Protein Powder today—you'll wonder how you ever got by without it.