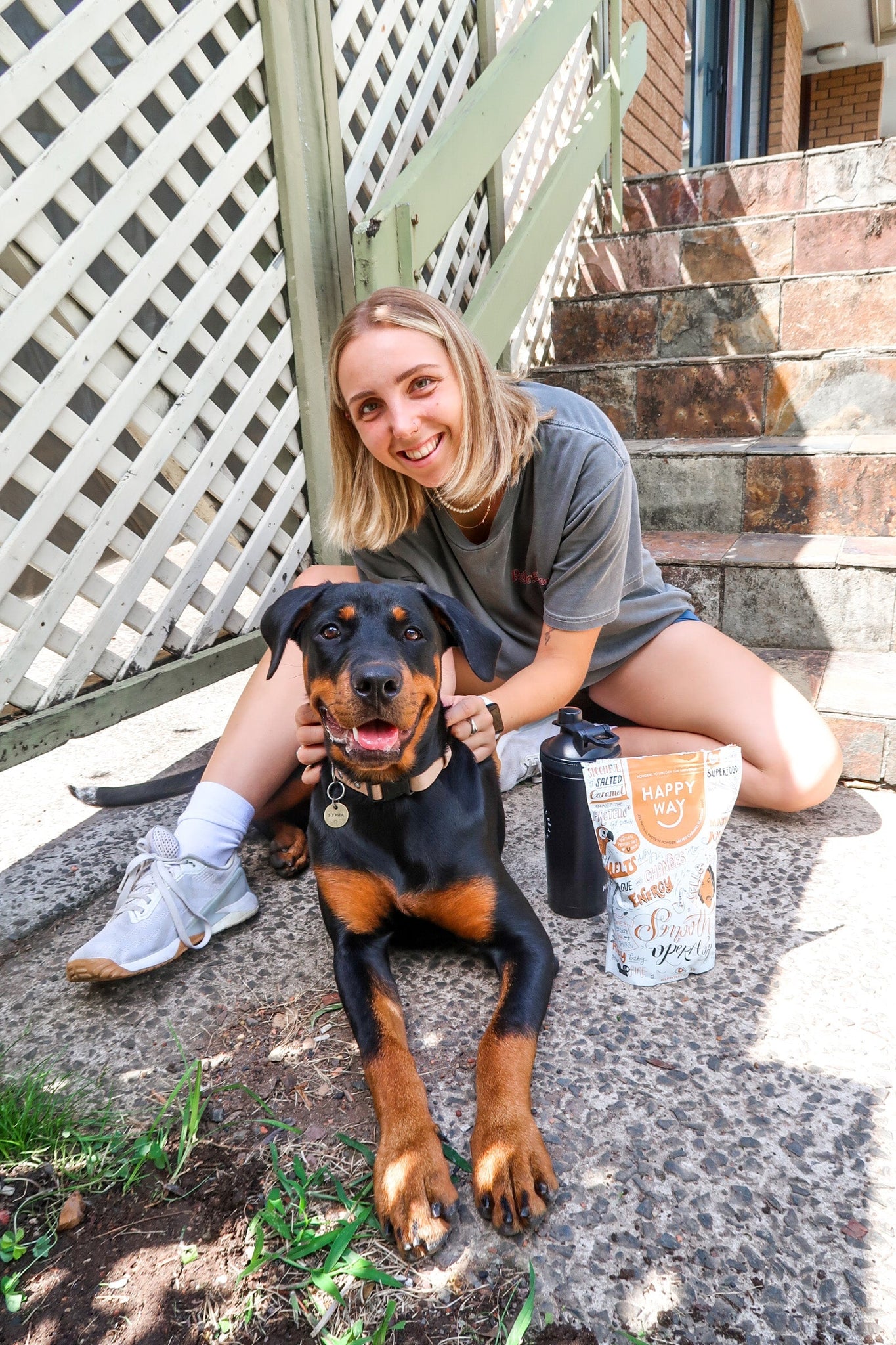 HOW TO INCLUDE PROTEIN IN YOUR DAY WITH @DIETITIANTIARNA
Incorporating healthy routines into your day-to-day can definitely have its benefits. Morning meditation, daily workout, and enjoying your favourite protein smoothie on the way to work. But whilst we often feel comfortable with the familiar and sticking to the same routine, day in and day out, it can often do us good to change things up—especially when it comes to our diet and what we consume throughout the day. 
Meet Tiarna Foster—Aussie dietitian, nutritionist and personal trainer who has a no BS approach to health and fitness. Tiarna believes that being healthy should be fun, and on her Instagram @dietitiantiarna, she loves to dispel nutrition myths and share delicious recipes so that living a healthy lifestyle can be both accessible and attainable. 
We reached out to Tiarna to find out how she includes protein in her daily routine and her tips to get the most out of your diet, and we discovered what her 'can't live without' Happy Way products are. Thanks Tiarna!
WHAT ARE YOUR FAVOURITE HAPPY WAY PRODUCTS?
I love using Happy way products as they make for a convenient source of protein to add to meals, helping me to stay full throughout the day and supporting my recovery after training. They're also one of the few protein powder brands that actually tastes amazing—they're made with all-natural ingredients, no artificial flavours or sugars, just all round goodness in every scoop. I love that the brand focuses on health over aesthetics and that it's Australian too! My favourite products are the Smooth Operator Salted Caramel Whey Protein Powder and the Banana Bonanza Whey Protein Powder (it tastes like a milkshake!). I use them in everything from smoothies and shakes to protein balls and baked treats. 
HOW DO YOU INCORPORATE PROTEIN INTO YOUR DAY-TO-DAY?
I use my Happy Way protein powder most mornings as a key ingredient in my breakfast. Not only does it provide beneficial nutrients to kick-start my day, but it also creates a more satiating meal that keeps me feeling full throughout the day. 
Because I don't eat any meat, I also find that including protein powder in my diet is a great way to boost my daily protein intake, which will help aid in my recovery and assist with muscle repair post-training. My favourite way to use Happy Way protein powder is to mix a scoop with yoghurt to enjoy on top of some french toast in the morning (see recipe below) or make a smoothie bowl with extra fruit!
TOP TIPS FOR GETTING ENOUGH PROTEIN IN YOUR DAY
Instead of trying to get your daily protein intake in one sitting, try distributing it evenly in your meals throughout the day. This will allow for maximum absorption, therefore, delivering optimal benefits such as support in building and maintaining lean muscle mass as well as post-workout recovery.

Use protein powder as an addition to eating a well-balanced diet of whole foods and nutritious meals. A protein shake is not a meal substitute, but it can be a healthy snacking option to curb cravings and boost energy. 

Making a protein smoothie with a source of carbs and healthy fats, such as a banana and peanut butter, is a great way to get added nutrients in your diet. Get creative and add your favourite fruits, oats, yoghurt and either water or your milk of choice for a nutritious smoothie to enjoy on the go. 
PROTEIN FRENCH TOAST
INGREDIENTS
FOR THE TOAST:
Bread slices

1 egg

¼ cup milk of choice

1 tsp cinnamon
FOR THE TOPPING:
100 g yoghurt of choice

1 scoop (30 g) Happy Way Vanilla Whey Protein Powder

Berries (I use strawberries and blueberries)

Sprinkle of cinnamon

Drizzle of sweetener of choice (maple syrup or honey)
METHOD
Add all the ingredients for the toast (minus the bread of course!) to a bowl and mix until well combined. 

Soak the bread in the mixture, coating on both sides.

Heat a pan over medium heat and place the bed in the pan, lighting frying on both sides until crisp and golden.

In a separate bowl, mix the yoghurt with the protein powder.

Remove the bread from the heat and add the protein yoghurt, your choice of fresh fruit and a drizzle of maple syrup and enjoy!
Follow @dietitiantiarna for more delicious recipes and helpful nutrition tips.