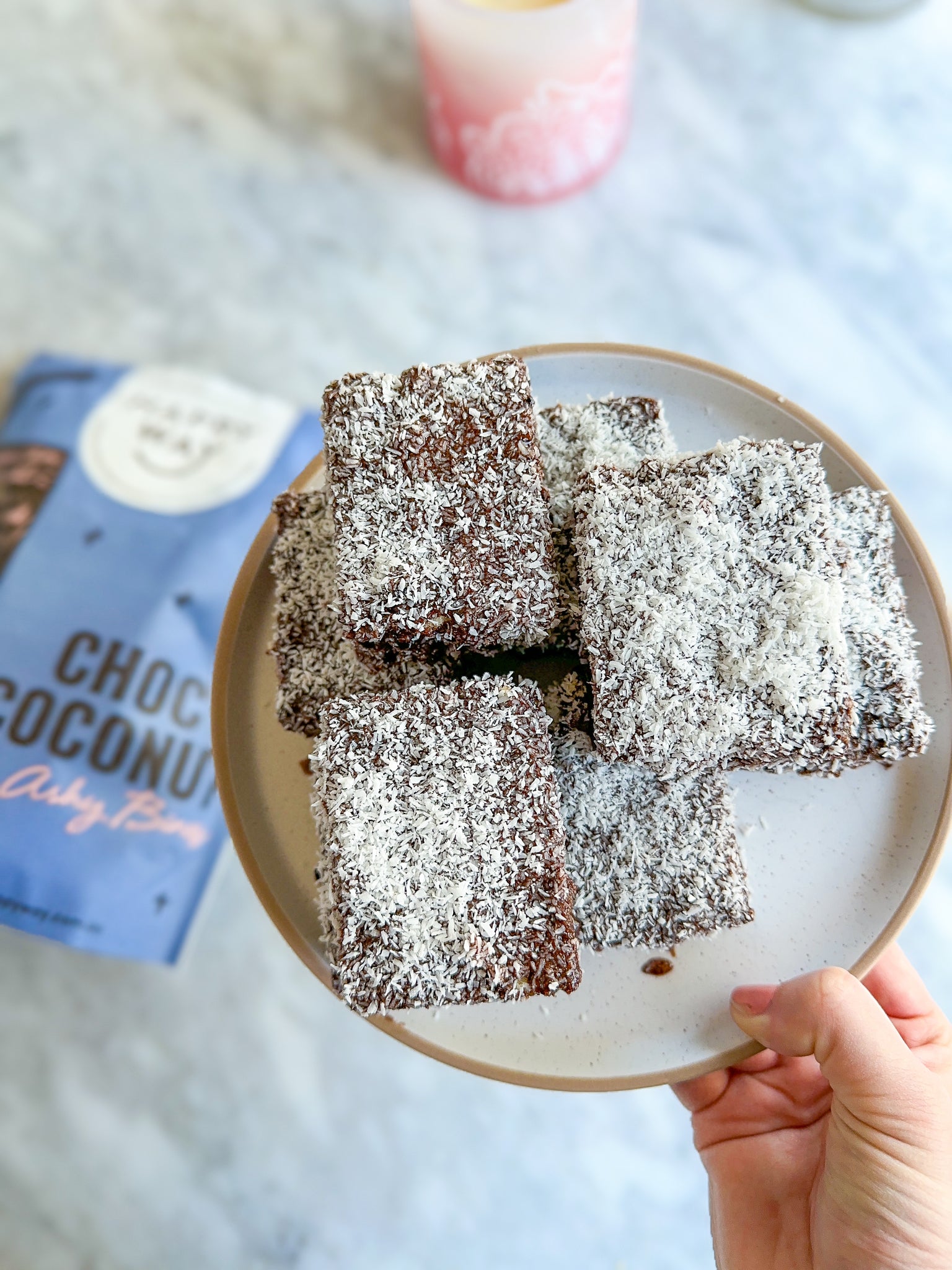 These little squares of luscious lamingtons are perfect for weekend baking 👩🏼‍🍳 enjoy one with a cup of tea or coffee. I like mine soft and plain in the centre, but you could also add jam and cream in the middle.
Makes 12-15 slices 
INGREDIENTS
Sponge: 
1 and 3/4 cups plain flour 
1 cup caster sugar 
3 and 1/2 tsp baking powder 
125g butter, softened 
1/2 cup milk of your choice 
3 whole eggs 
1 tsp vanilla extract 
Choc icing: 
3 cups icing sugar 
2 heaped tablespoons Dutch process cocoa 
1 tablespoon coconut oil, melted 
3/4 cup boiling water 
Topping: 
2 cups desiccated coconut 
METHOD
Preheat your oven to 160 degrees fan forced.
In a large bowl, sift the flour and baking powder together.
Line a 20cm x 30cm tin with baking paper.
Beat the butter, sugar and vanilla with an electric mixer for 1-2 minutes until fluffy.
Add the eggs one at a time, whilst beating until the mixture is smooth.
Add half the flour and fold in, then stir in half the milk. Repeat with the remaining flour and milk.
Pour the mixture  into the baking tin and bake for 25 minutes or until cooked through.
Meanwhile, combine the the choc icing ingredients in a heatproof bowl and mix until glossy and smooth.
Remove the sponge from the oven and rest for 5 minutes then transfer to a cooling rack.
Once cool, cut the sponge into rectangle pieces.
Pour the desiccated coconut onto a large plate.
Using two forks, place one slice of sponge into the choc icing to coat, then quickly roll into the coconut and set aside to set.
Repeat with remaining slices of sponge, set aside for at least 1 hour to set before serving.
Enjoy! 
Recipe by @bodylovenutrition_