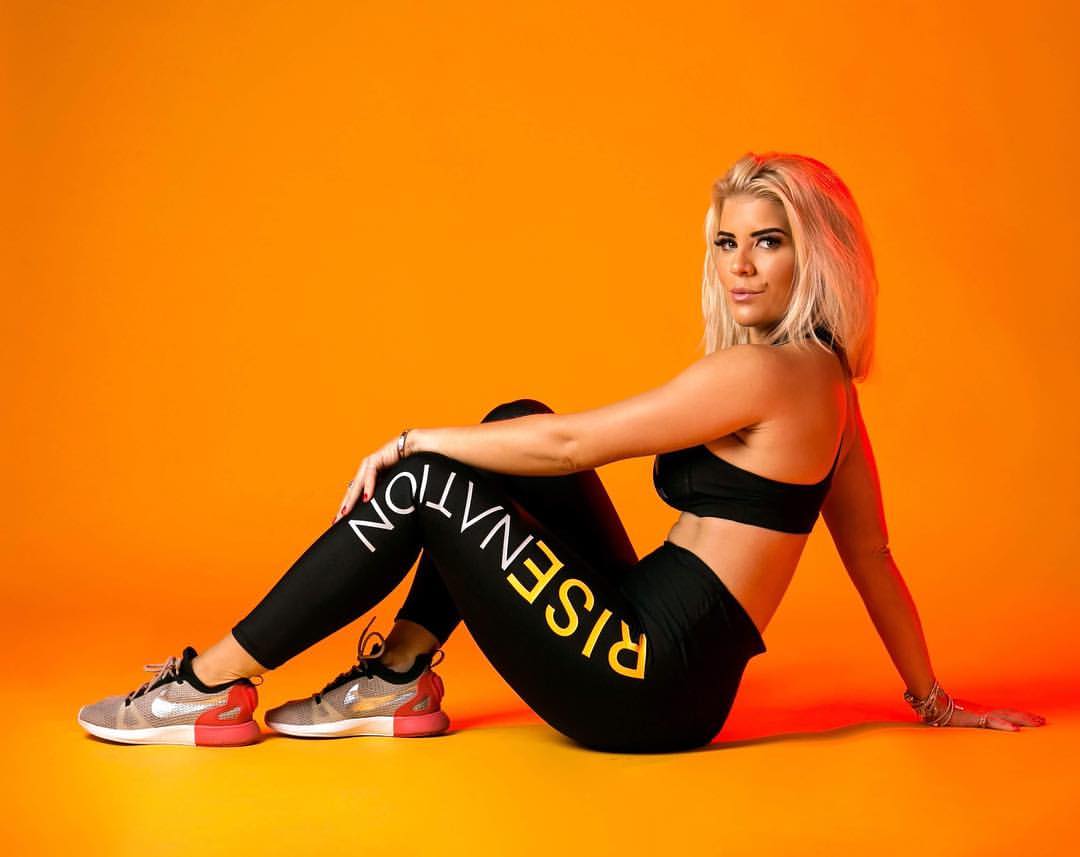 A Day in the life and on a plate of fitness entrepreneur Silvia Kramska
Silvia Kramska is a force to be reckoned with. If you follow the fitness set of Melbourne or are up to date with the latest fitness news taking place in Australia then chances are that you have already come across this name. The former professional tennis player turned coach and fitness competitor is nowadays the CEO of Australia's freshest fitness club to watch – RISE NATION. But let us take you back a little.
Prior to bringing Hollywood's best-kept secret to our shores, Silva was steadily building her career as a certified life coach, sports nutritionist and a strength and conditioning coach. In between helping others transform their mindsets and bodies, Silvia was also busy completing her Diploma in Business, bringing it full circle when it comes her fitness and entrepreneurial pursuits.
 
Coming across Rise Nation during a trip to L.A. two years ago, Silvia fell in love with the popular fitness class, which she says left her on a high for hours after she walked out the door. Not one to sit back and wait for opportunities to come her way, Silvia sought out founder Jason Walsh who she swiftly built a working rapport with. Before long talk shifted to bringing the unique classes to Australia. Fast-forward two years, and Rise Nation is one of the hottest tickets in Melbourne (also soon to be Sydney).
A natural motivator, innovator and entrepreneur, we simply had to ask Silvia to share her day with us. Here she shares what it really takes to wear many hats, and wear them well. Girls if you are prone to making excuses for not finding time to exercise, you may want to look the other way. 

 
I usually wake up at: 5 am every day! 
 
The first thing I do when I wake up is: I take few deep breaths to ground myself. I then drink lemon water to wake my mind and body up slowly and then I sit down to look over my emails before I head to my Rise Nation studio. 
 
To get inspired for the day: I always start with positive thoughts. It really helps change my entire outlook for the day and puts things into perspective. I also set my 'to do list' which is so important when juggling so many different things in your life.
 
My morning fitness routine: always consist of Rise Nation first thing in the morning. It leaves me on a high and focused for the rest of the day.

 
My go to breakfast: is celery juice and then I will usually have gluten free muesli with almond milk.
 
Coffee looks like: I don't drink coffee anymore and If I do on the odd occasion it will be a long black. Exercising in the morning gives me all the energy and endorphins that I need for the day without leaving me feeling flat after a few hours.
 
If I am having a smoothie it's usually made with: Coconut water, natural protein, peanut butter and some greens.
 
I never leave the house without: My vitamins and my laptop. Never underestimate what a good vitamins range and routine can do for your immune system, energy and overall health.
 
My first appointment for the day: I open my gym at 5.30 am each morning, train and then work for most of the day until around 8 pm with meetings in between classes. I think exercise and being surrounded by so much energy at Rise Nation really helps keep me focused and on top of my business activities.
 
My next stop: is usually a meeting or training session. I recently started yoga and I make sure I get to Alchemy Cryo al least 3 times a week.

 
To keep motivated throughout the day: I surround myself with positive people. It's so important to surround yourself with likeminded people who share your passions. I love meeting new business associates and expanding my knowledge in that area as much as I love interacting with our Rise Nation clients who come to each class with a positive outlook and mindset to better their lives.
 
My go to lunch spot in Melbourne are: Fourth Chapter, Lilly Daly and this yummy Japanese haunt around the corner from Rise Nation.
 
I will usually order: Salad or if I go Japanese ill get chicken don. 
 
Next: I will usually go home to spend some time on emails and updating my social media. I think its important to block off times that require you to do those at times mundane tasks like emails. 
 
If I need a healthy snack: I will usually reach for a banana.

 
My last appointment for the day: is usually an Infrared sauna session at Rise Nation. As you can tell, it's my base and where I pop in and out of the most throughout the day.

To wind down: I take a bubble bath every night without a miss! Even if I travel I make sure the hotel room has a bath, as it's my nightly routine. It helps me decompress, helps my muscles recover and just really puts me in zen mode and ready for bed. Because I am on an energy high all day, a bath really helps me slow down and just relax.
 
My signature dinner is: always different, but I always make sure I have heaps of veggies and protein. Last night I made chicken broth.
 
My guilty indulgence: Is an acai bowl with extra peanut butter from Green Cup.

 
My current Instagram stalks are: oh there are heaps, as I run my personal Instagram and also Rise Nation I am on social media a lot!
 
The last book I read was: POWER
 
The last thing I do before I go to bed: is check my emails, make sure all bookings are allocated for the morning classes and then I set my alarm for a 5am start. I always set two alarms just in case. 
 
Life motto: Surround yourself with people who want to see you win.
GET SOCIAL 
Follow Rise Nation AUS on Instagram @RiseNationAu