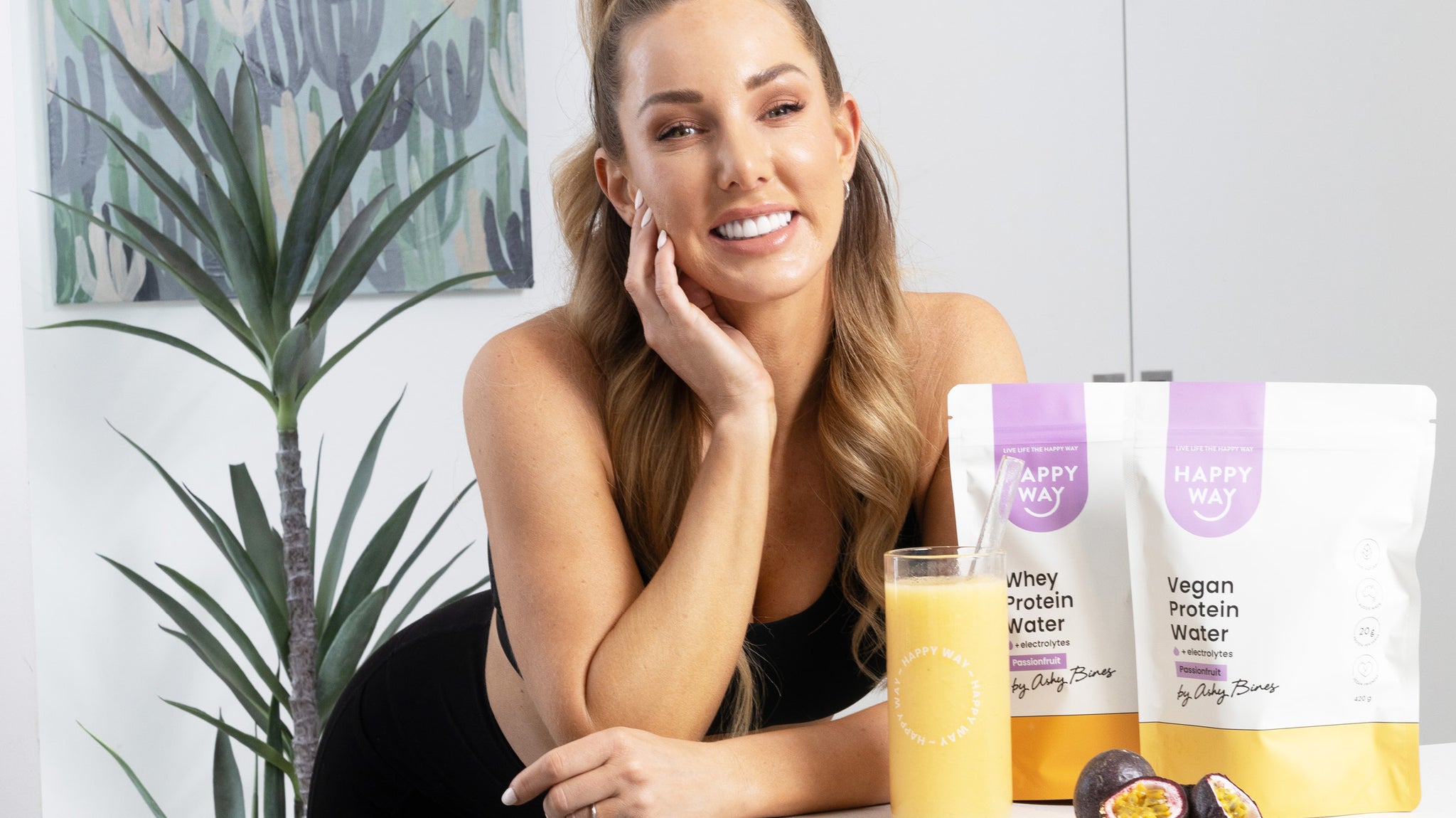 THE SCOOP ON ASHY'S PASSIONFRUIT PROTEIN WATER
Hold onto your taste buds because our protein water just got a whole lot more exciting! Say hello to our latest hydration sensation - the Ashy Bines X Happy Way Passionfruit Protein Water! Rumour has it, it's making waves as our most REFRESHING and DELICIOUS product of the year, and it's no mystery why. Made with 100% natural ingredients and packed with nutritional goodness, it's also bursting with a fruity passionfruit punch that'll whisk you away to a sun-soaked beach with every sip! - It's basically a holiday in a bottle. 
Plus, when Ashy's involved - you know it's gonna be a flavour sensation like no other! As we approach the launch of our BRAND NEW Passionfruit Protein Water, we couldn't resist spilling the tea with our much loved ambassador Ashy Bines! Discover the juicy deets behind this exciting collaboration, how it elevates her daily routine, and why it's your next must-have (*cue happy dance*).
Hey Ashy, we're so excited we've reunited to create Passionfruit Protein Water! Why did you choose Passionfruit as your second Protein Water flavour? 
After the success of Grape Bubblegum, we knew that we wanted to release a zesty, summery flavour. So, I spoke to my whole team, friends and family and asked what their favourite 'summer' flavour was and 18 out of the 19 I asked said passionfruit! From that moment on, I knew this had to be my next protein water flavour with Happy Way. 
We know you're a fitness queen, activewear designer and super mama… so how and when do you plan to use this product when you're on-the-go?
DAILY! The thing about protein water is that it can be used post workout, as a snack or just when I'm craving something fresh, fruity and YUM! I enjoy Passionfruit mainly on its own because it's so delicious! You really don't want to add anything extra and not have the full experience of every sip of this flavour! - IT'S THAT GOOD! 
Just like our previous collaborations with you (check them out here!), we always make sure to cater to both our whey and vegan lovers out there! Out of the two, do you prefer whey or vegan in this flavour? 
YES! It was extremely important for me that we created both a whey and vegan option to cater to everyone's needs and preferences. With Grape, I much prefer the vegan but with this one I can't choose! 
Okay, let's get down to the nitty gritty. What are the benefits of Passionfruit Protein Water? 
With any Happy Way product you can confidently buy knowing it's 100% all natural, gluten free, contains no nasties and tastes amazing. Passionfruit Protein Water is so hydrating and amazing for anyone who doesn't love milky proteins or struggles to eat enough protein. Plus, if you're like me and struggle with those pesky 3pm sweet cravings, this will be your new bestie! 
Any last comments before we release Passionfruit to the world? (eek!)
I have a feeling this will be Happy Way's newest top flavour. Everyone that's tried it can't believe how good it is, it reminds them of a soft drink yet it's healthy! I'll definitely need a stash at home, in my gym bag, at the office, and even at all my friends' places. I can't risk missing out on it, and I've got a feeling it'll be a daily craving!
So, what are you waiting for? Elevate your H2O game by joining our VIP list and get first dibs before everyone else on our Ashy Bines X Happy Way Protein Water. You don't want to miss out on this must-have addition to your daily routine!