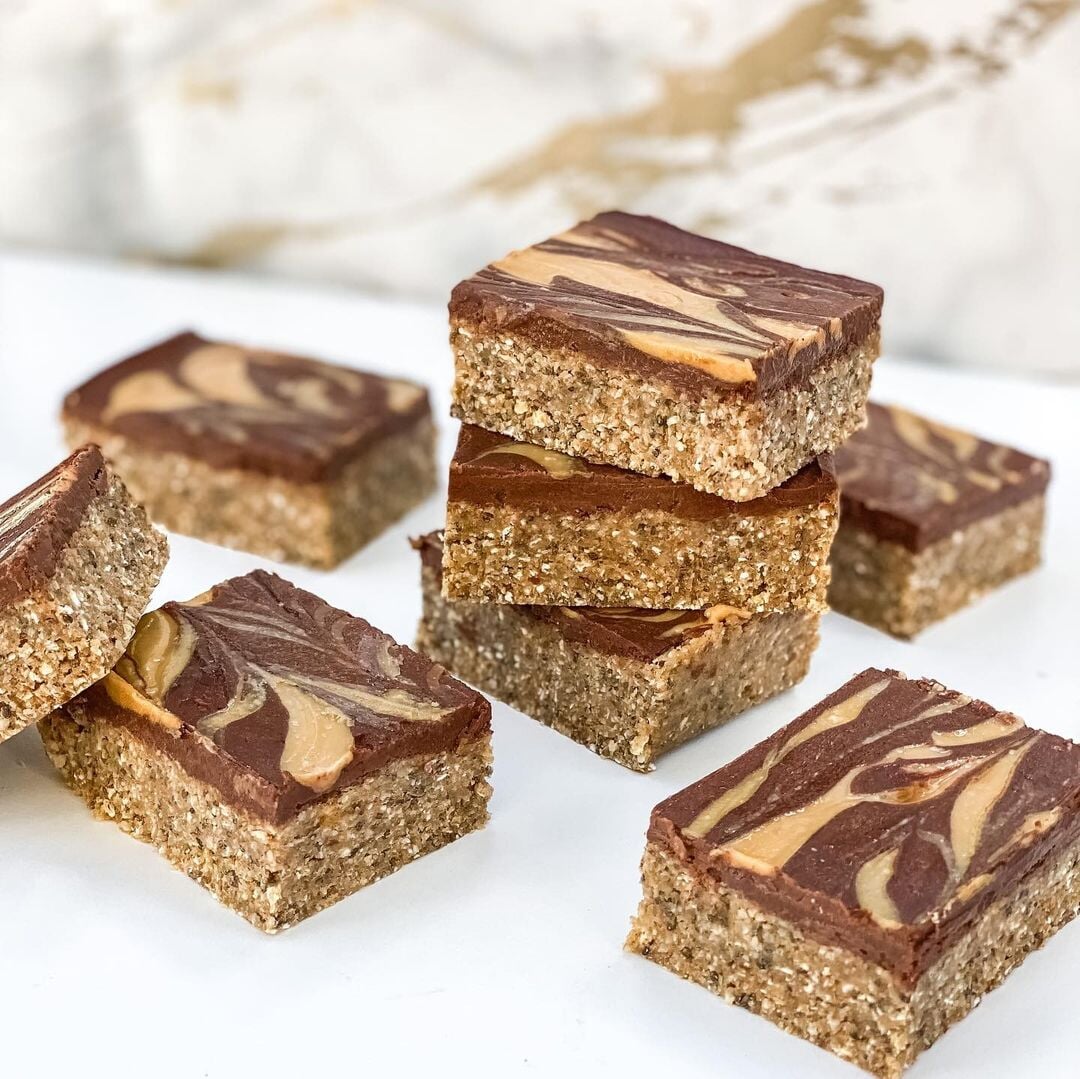 CARAMEL PEANUT BUTTER BARS
These bars are so easy to make and the peanut butter swirl on top looks so effective! They're made up of a caramel base with a chocolate topping, with an added peanut butter swirl 😍

INGREDIENTS
FOR THE BASE:
1 1/2 cups almonds

1 cup desiccated coconut

1 cup gluten-free oats 

2 tbsp chia seeds, soaked in 4 tbsp of water to thicken

10 dates, soaked in boiling water for 10 minutes

1 tsp vanilla extract

2 tbsp unsweetened maple syrup
FOR THE TOPPING:
METHOD
Line a baking tray with baking paper (we used a 20 cm x 20 cm tray).

To make the base, place the almonds in a food processor and blend until crumb-like.

Add in the oats, coconut, protein powder, chia seeds and vanilla and process until combined.

Add in the dates and maple syrup, and process until the mixture sticks together and is dough-like. If the mixture seems too dry, add 1 tablespoon water at a time to get it to the right consistency.

Transfer the mixture to the prepared tray and press down with a spoon. Place in the freezer for 30 minutes.

To make the choc topping, whisk the coconut oil, cacao and maple syrup in a small bowl until smooth.

Melt the peanut butter in the microwave for approx. 20-30 seconds until smooth.

Spread the choc topping over the slice evenly and drizzle the melted peanut butter on top, creating swirls with a skewer.

Freeze for 1 hour or until set then slice into squares and enjoy! 
Recipe by @nourished_by_leesh