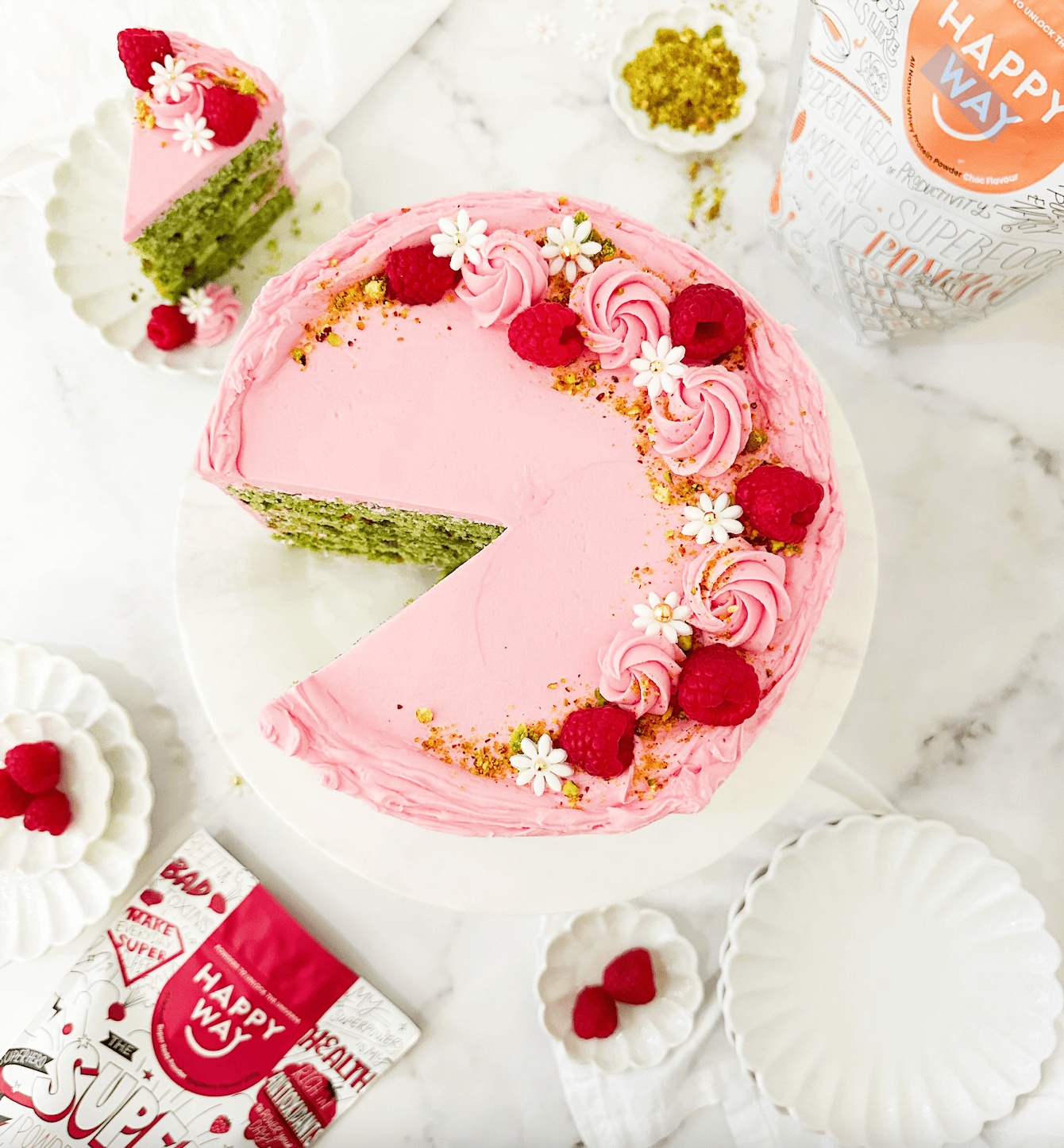 HAPPY WAY PISTACHIO RASPBERRY BIRTHDAY CAKE
To celebrate out 8th birthday we partnered with Tori from Ever So Fit to create this beautiful layered Pistachio and Raspberry Birthday Cake. 
INGREDIENTS
Pistachio Cake:
185ml milk or milk alternative
2 eggs
100g sugar
50g melted butter
1 tsp. pistachio extract
2 tsp. natural green food colour
150g oat flour
140g shelled roasted pistachio
1 tsp. baking powder
1 tsp. baking soda
1 tsp. sea salt
Super Reds Raspberry Jam Filling:
300g fresh or frozen raspberries
50g sugar or low calorie sweetener
1 tsp. lemon juice
2 tbsp. corn flour
6 tbsp. water
*Can substitute recipe with store bought raspberry jam
Pistachio Ganache:
300g white chocolate
150ml heavy cream
150g pistachio butter, paste or spread
1 tsp. natural green food colour (optional)
Pink Buttercream Frosting:
430g icing sugar
1/4 tsp. almond or pistachio extract (optional)
2 tsp vanilla extract
2-4 tbsp. Heavy cream
1 tsp. sea salt
330g unsalted butter softened
1-2 tsp. baby pink natural food colour
Raspberries & crushed pistachios to decorate cake
METHOD
Pistachio Cake:
1. Preheat oven to 175 degrees C.
2. Line a 8" cake pan with baking paper and spray the inside of the pans with cooking spray.
3. Add pistachios to a food processor or blender and process on medium to high speed for about 45 seconds until the pistachios are finely ground. Set aside.
4. In a large mixing bowl add ground pistachios, oat flour, baking soda and salt. Whisk together until well combined.
5. In a separate large bowl, whisk together milk, melted butter, sugar, pistachio extract, and eggs until well combined. 
6. Add dry ingredients to wet ingredients and stir until combined.
7. Divide batter evenly into 3 lined cake pans.
8. Bake for 35-45 minutes or until golden brown and cooked completely through.
9. Transfer to a wire rack to cool for 1-2 hours.
10. Cover cakes with plastic wrap and place in fridge or freezer
11. Allow to completely cool before decorating.
*Cakes are best to decorate when slightly frozen or have been set up in the fridge for at least 24 hours.
Super Reds Raspberry Jam Filling Method:
1. Place raspberries, sugar, and lemon juice in a small saucepan. Cook on medium heat until reaching a soft boil, stirring occasionally.
2. Dissolve the corn flour and Happy Way Super Reds powder in cold water and mix well. Allow to sit for 1-2 minutes.
3. Add Reds mixture to the pan of cooked raspberries and cook for 1 minute until the jam is thick.
4. Pour raspberry mixture into a small bowl, allow it to cool in the fridge until completely chilled.
Pistachio Ganache Method:
1. In a microwave safe glass bowl boil heavy cream
2. Heat up the milk until 175ºF, or until boiling in the microwave.
3. Pour boiling cream over the white chocolate and let sit for 1 minute.
4. Begin stirring mixture until mixture starts to thicken.
5. Gently fold in pistachio butter to chocolate mixture until well combined.
6. Add optional green food colour and mix until filling becomes desired green colour.
7. Allow ganache to cool down to room temperature.
8. Whip the ganache mixture before filling the cake.
Pink Buttercream Frosting Method:
1. In a large mixing bowl with an electric mixer mix together icing sugar, almond or pistachio extract, vanilla extract , sea salt and heavy cream. Mixture should be a thick sticky consistency.
2. Slowly add in cubed butter and whip until mixture is light and fluffy. This process is approximately 7-12 minutes.
3. Can add more liquid or butter if consistency is not to your liking.
4. Whip in baby pink food colouring until frosting reaches desired colour.
Cake Assembly:
1. Place a small amount of buttercream on a cake plate. This will glue down the cake.
2. Place pistachio cake layer on the cake plate. Pipe a ring of pink buttercream around the edge of the cake to create a barrier for filling.
3. Pipe the pistachio ganache on a spiral and then pipe the jam inside the ganache filling,
4. If you do not feel comfortable piping the ganache and jam you can spread the ganache on the bottom and then spread the jam on top.
5. Top with another cake layer and repeat the filling process
6. Top with the final pistachio cake layer and spread a generous amount of frosting on top and sides of the cake.
7. Smooth buttercream with an offset spatula and smooth until the cake is covered evenly with frosting.
8. I piped some buttercream rosettes on top of the cake and decorated it with raspberries, chopped pistachios and fondant daisy flowers.