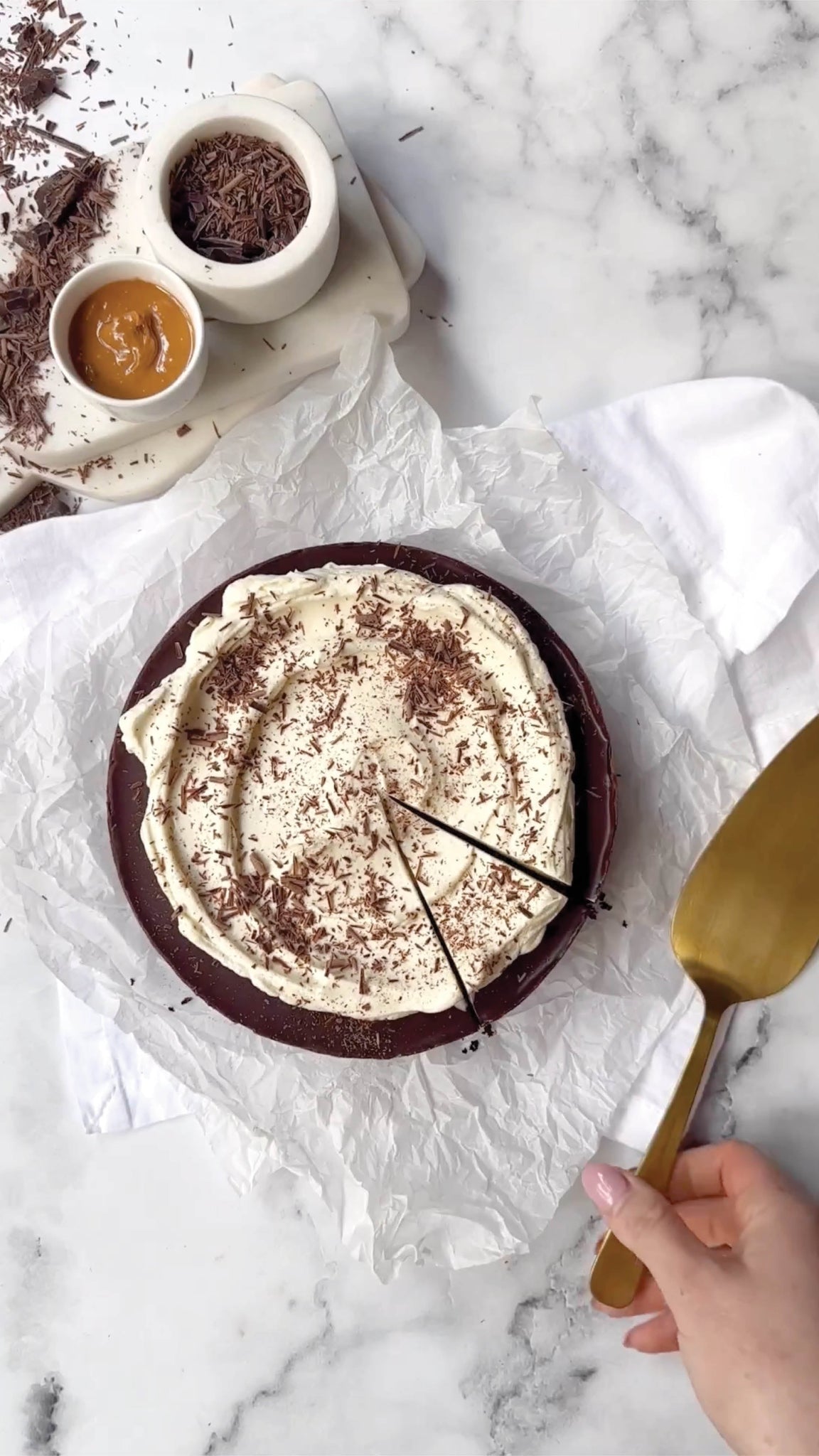 TRIPLE CHOCOLATE CHEESECAKE
INGREDIENTS
For the cookie base:
35 g almond flour

100 g almond butter

30 g cup coconut sugar

2 tablespoons coconut oil

75 g pure maple syrup

1 teaspoon vanilla bean paste

1 teaspoon baking soda

1 teaspoon sea salt
For the cheesecake layer:
2 8 oz (225g) package fat free or light cream cheese

180 g high protein vanilla yogurt

200 g dark chocolate (melted)
For the chocolate ganache topping:
75 g dark chocolate

35 g heavy whipping cream
METHOD
Cookie base method:
1.Place all ingredients into a medium mixing bowl and mix until well combined.
2.Press into the base of a lined 9" spring form pan.
3.Bake for 10-15 minutes at 160°C or until top is golden brown.
4.Remove from heat and allow to cool.
Cheesecake layer method:
1.Place the cream cheese and @happywayau vanilla protein in a large mixing bowl.
2.Using an electric mixer, whip the cream cheese and protein powder until light and fluffy.
2.Fold in vanilla high protein yogurt and continue to stir the mixture until it reaches a smooth and creamy texture.
3.Set aside.
4.In a small glass bowl, melt dark chocolate. This can be done in small bursts in a microwave (watch it carefully) or using the double boiler method.
5.Allow melted chocolate to cool slightly and then fold it into chocolate cheesecake mixture.
6.Pour cheesecake mixer on top of cookie base and smooth top.
Chocolate ganache topping method:
1.Boil heavy cream (in microwave).
2.Stir chocolate into boiling heavy cream until mixture reaches a thick chocolate consistency.
3.Pour chocolate mixture over cheesecake and place in fridge to set up!
4.Top with whipped cream and chocolate shavings before serving.
Macros for 1 serving (100 g slice)
19 g protein, 2 g carbohydrates, 12 g fat
Recipe by Tori @ever_so_fit