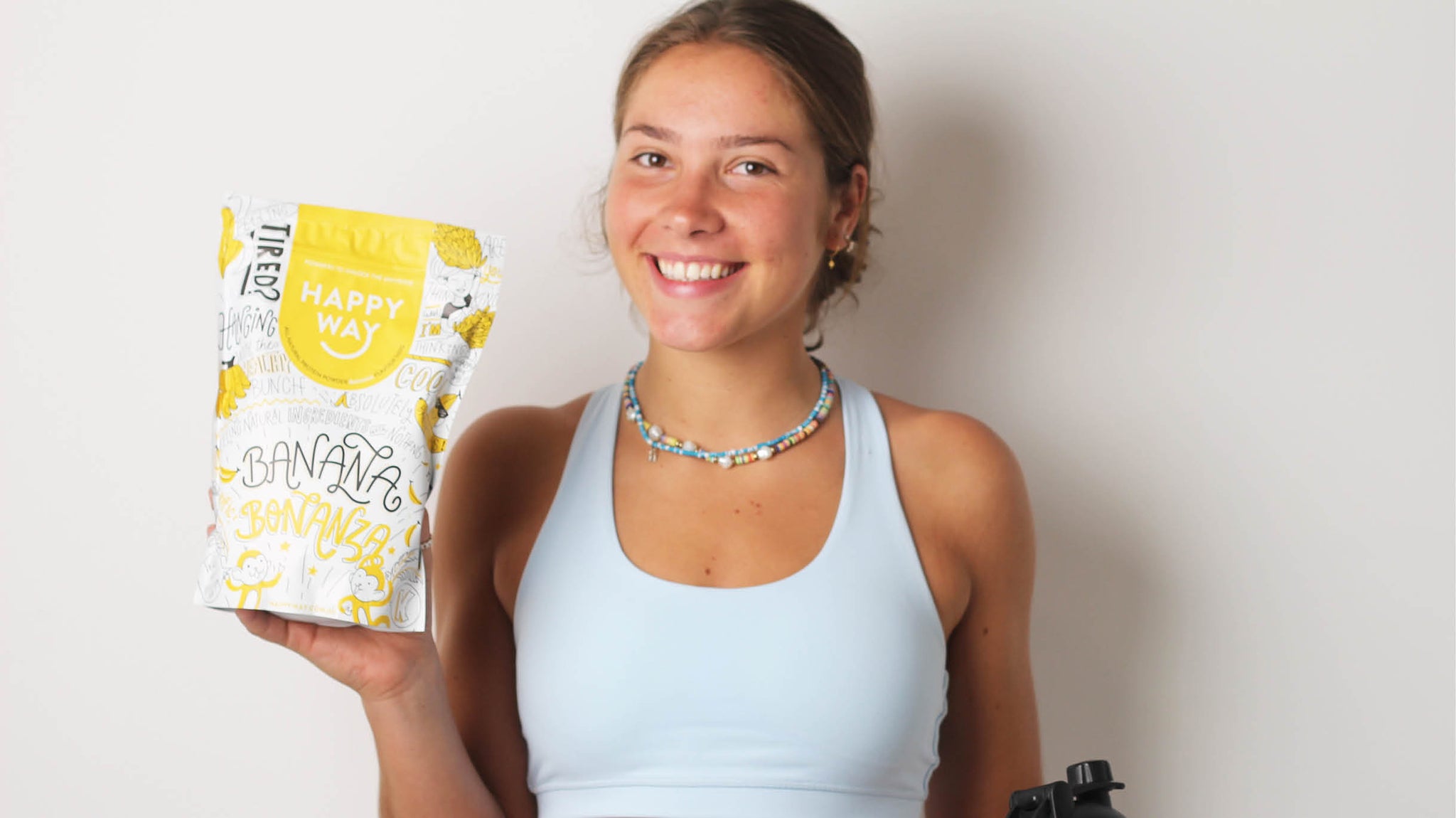 A QUICK GUIDE TO HAPPY WAY NUTRITION
You might be a Happy Way newbie, or perhaps you're just ready to explore and add more of our health and wellness supplements to your daily routine. Whatever the case, it can be tough to know where to start and understand which products are going to best support your health and fitness goals as well as meet your dietary needs. 
At Happy Way, we believe we've got something for everyone, and whether you're a gym junkie or just want a lil more oomph outta your day, we have a bunch of goodies that are not only filled with wholesome, nutritious ingredients but they're also packed with stacks of flavour and FUN too!
With the help of Happy Way nutritionist Rach, we've put together a quick guide to our Happy Way products and have included a snapshot of their nutritional and wellness benefits. The products we will cover include…
So, are you ready? It's time to choose happiness and begin living life the Happy Way!
Protein powders are not just for fitness fanatics or super health conscious. They provide many benefits—including boosting energy and supporting immunity—which can improve the health and well-being of anyone who adds them to their diet. Our protein powders are made with 100% natural ingredients, organic superfoods and stacks of vitamins and minerals and are also gluten-free. Because of this, they provide more for your body than just a boost of protein, with each ingredient offering its own nutritional benefits. 
Some of the ingredients included in our protein powders include…
Coconut flour – a source of fibre that helps control blood sugar levels, support good intestinal health and keep your bowel movements regular.

Chia seeds – a source of fibre, protein, essential fatty acids and antioxidants to improve heart health, control blood sugar levels, manage cholesterol levels and support good intestinal health.

Psyllium husk – a source of fibre that helps with weight and appetite control and healthy intestines.

Maca powder – known to promote a healthy sex drive, boost energy levels and improve mood. 
Whilst the protein found in protein powders is fantastic for aiding muscle repair and growth, it also makes smoothies, baked treats and meals both nourishing and filling—which means the temptation for unhealthy snacking throughout the day is not as present. Protein is more slowly digested, keeping you fuller for longer, which helps with appetite control and weight management. This also helps with blood sugar control. 
For a more in-depth look at our range of proteins available, check out our blog…..
Vegan protein is a great option for those living a vegan-friendly lifestyle or for anyone who's unable to consume dairy due to an intolerance or sensitivities to lactose. Those who are following a vegan-friendly diet can, at times, find it more challenging to meet their protein requirements and consume a diet that's filled with all the nutrients necessary for optimal health—in particular, the 9 essential amino acids needed for muscle support and development, and protein synthesis. 
Our vegan protein powders at Happy Way are a nutritionally complete protein, being that they're made of either a combination of rice and pea protein or hemp protein. The combination of rice and pea together provides all of the 9 essential amino acids needed from our diet, and hemp protein also contains all 9. It should be noted, however, that certain essential amino acids, like lysine, are found in quite low quantities in hemp, so the quality of the protein can be lower than in a plant-protein blend. 
Vegan protein powders provide numerous health benefits being that they're well absorbed by the body and contain many vitamins, minerals and antioxidants that support both our physical and mental health and well-being. They're also without any hidden nasties, so you can be sure you're consuming only the highest quality ingredients with every scoop.
Some of these benefits include…
Supports the building & maintaining lean muscle mass

Helps with recovery & repair

Assists with digestion

Boosts immunity

Improves mental health & well-being
For more info on Happy Way's Vegan Protein Powders and their benefits, read our blog, 'The ultimate guide to vegan protein powder'.
Whey protein can be consumed by any non-vegans and those who have no intolerance to lactose. A source of high-quality protein being that it contains a complete amino acid profile with all 9 essential amino acids, our whey protein powders are also made with 100% natural ingredients, organic raw superfoods and filled to the brim with vitamins, minerals and antioxidants. Our whey protein is sourced from pasture-fed cows from a dairy farm right here in Australia and is non-GMO and free from any pesticides or hormones. They're also made without any artificial preservatives, flavours or sweeteners—delivering only the best for your mind and body. 
Some of the benefits of consuming our whey protein powders include…
Protects the immune system

Increases strength & performance

Assists with weight loss

Helps build & maintain muscle

Boosts energy & endurance

Improves focus
You won't find much of a taste difference between our whey and vegan protein powders unless, of course, you prefer plant-based and can sniff out dairy from a mile away! When it comes to the actual flavour, what you see on the pack is what you get. We go through a detailed tasting process to ensure that each protein has the right texture and consistency when mixed in a shake or smoothie and that each flavour tastes just like the real thing!
Read our blog, 'The 10 Best Whey Protein Powders', for more info on the features and benefits of our whey protein. 
SOME LOW-CALORIE OPTIONS WITH PROTEIN POWDER
There are many different ways to enjoy Happy Way protein powders—a pre or post-gym shake, delicious breakfast smoothies, or adding a scoop or two to various baked goods—boosting the nutrient level and flavour. Including a source of protein in your daily pre-made snacks is a great way to help meet your protein requirements throughout the day and a healthy alternative to lots of high-sugar/high-fat snack alternatives available. The other benefit of enjoying protein powder in a shake or smoothie is that it will keep you feeling fuller than a small chocolate bar or packet of chips—this is because protein is the most satiating macronutrient, helping to control appetite and portion control.   
All Happy Way protein powders contain approximately 120 calories per scoop, which makes for a very low-calorie/high-protein snack. If you don't enjoy protein powder just mixed with water, low-calorie milk options such as skim milk or almond milk can be great alternatives. Happy Way protein powders can also be consumed with low-fat yoghurt or in a smoothie with low-fat milk and low-calorie fruits such as berries. 
Check out our recipes page for more delicious snacks to create with our Happy Way protein powders.
BCAAs are beneficial for anyone focused on building and maintaining lean muscle mass, those who participate in high-intensity exercise or resistance training, or anyone trying to avoid muscle breakdown. The term BCAAs is an abbreviation for branched-chain amino acids, which are three essential amino acids—leucine, isoleucine and valine—that are linked together and that the body is unable to produce itself, therefore, needing to be consumed as a part of our diet. BCAAs are found in high-protein foods such as eggs, meat and various dairy products, but they're also sold in supplement form and are often used to boost overall health or support those with particular fitness goals. 
BCAAs are absorbed quickly by the body and provide many benefits to both the mind and body. Some of these include….
Helps to build & maintain lean muscle mass

Assists with muscle recovery & repair

Supports the immune system

Helps to balance hormones

Boosts energy & delays fatigue

Increases strength & endurance
BCAAs are a great supplement to add to your pre-exercise routine, as they'll assist in increasing the intensity and duration of your workout. Consuming a scoop of Happy Way BCAAs with water approximately 15-30 minutes before a workout is the optimal time to ensure you get the most out of this supplement. They can also be consumed during your training session to help increase energy levels or even post-exercise to assist with recovery. Happy Way BCAAs are also gluten-free and vegan-friendly so that they can be enjoyed by everyone regardless of their dietary needs or preferences. 
For further info on our BCAAs, check out our blog, 'What are the benefits of BCAA powders?'.
Whilst there are many pre-workout powders out there that are filled with hidden nasties such as artificial preservatives, flavours and sugars, Happy Way's Charge Up Pre-workout Powders are 100% natural and designed to support you not only during your workout, but they also provide numerous benefits to the mind and body with every sip. 
It's true that many pre-workout powders contain caffeine, which helps to increase energy levels and improve focus, but when shopping for a pre-workout powder to add to your daily routine, it's important to consider how much caffeine is present in each serving. An excess of caffeine can be overstimulating and cause serious health problems, especially in those who have sensitivities. Happy Way's Charge Up Pre-workout Powders contain 51 mg of caffeine per serving, which is well within the recommended daily intake of 400 mg. 
Filled with vitamins, minerals and organic ingredients, consuming a pre-workout approximately 30 minutes prior to exercise will ensure you gain optimal benefits. You can also enjoy it throughout the day for a natural energy boost, but we recommend not to consume it too late in the afternoon as you want to allow your mind and body to wind down before bedtime. 
Available in 5 fruity flavours, some of the benefits of Happy Way's Charge Up Pre-workout Powders include…
Increases energy & endurance

Boosts metabolism & supports digestion

Improves focus & mood

Supports weight loss

Helps build & maintain lean muscle

Protects the immune system 

Offers anti-inflammatory benefits
Read more info on our Charge Up Pre-workout Powders via our blog, '7 benefits of having a natural pre-workout'.
Adding Happy Way Super Greens and Super Reds powders to your diet is a convenient way to boost your daily nutrient intake and help meet the daily requirements of two serves of fruit and five serves of veggies per day. Packed with all-natural, organic superfood ingredients, including kale, spinach, spirulina and wheatgrass in our Super Greens Powder, and beetroot, pomegranate and various berries in our Super Reds Powder, you not only increase your vitamin, mineral and antioxidant intake, but you also gain numerous benefits both physically and mentally.
Gluten-free and vegan-friendly, both of our superfood powders are also low in calories and perfect to enjoy on their own in a shaker with a little bit of ice and cold water or added into a smoothie for that extra boost of nutrients. It's important to remember that whilst our Super Greens and Super Reds Powders are both filled with a heap of fruits and veggies, they should be consumed in conjunction with a well-balanced diet rather than as a replacement for whole fruits and vegetables.
Some of the benefits of our Super Greens and Super Reds Powders include…
Detoxifies the body

Promotes overall gut health & function

Strengthens the immune system

Has anti-inflammatory properties

Prevents chronic diseases

Supports blood & heart health

Boosts energy levels
Our Super Greens and Super Reds Powders can be enjoyed at any time of the day—consuming first thing in the morning will help to kick start your digestion, boost your metabolism and optimise the absorption of nutrients for the day, and consuming in the afternoon can boost your energy levels and help get you out of your afternoon slump (a great alternative to having another cup of coffee!).
For more info on our Super Greens Powder, check out our blog here, and follow the link here to read more about our Super Reds.
Acai powder is the perfect addition to smoothies, juices, smoothie bowls, oats or other baked recipes and contains antioxidants that protect cells from free radical damage and promote healthy, vibrant-looking skin. Known as a nutrient-dense superfood, acai berries originate in the South American rainforests and have been a staple in meals due to their nutritional properties. 
High in amino acids, which are the building blocks of protein, acai berries contain omega-3 fatty acids and are a rich source of fibre which supports digestion and good intestinal health. Super high in antioxidants and a variety of micronutrients such as vitamins A, B, C and E and manganese, copper and magnesium, including our Organic Acai Berry Powder in your diet provides many benefits. These benefits include…
Promotes good heart & blood health 

Lowers cholesterol levels

Boosts immunity

Increases energy & performance

Protects against harmful illnesses & disease.
Studies suggest the nutrients found in acai berries may support cognitive function and memory and even potentially decrease the risk of both Alzheimer's and Parkinson's disease.
To learn more about the benefits of our Organic Acai Berry Powder, read our blog, 'Acai berry powder benefits and uses'.
Don't confuse cacao powder with cocoa powder—cacao powder is the raw, non-processed version of cocoa which means it's maintained a higher level of nutrient quality than cocoa. When it comes to flavour, cacao is very different from cocoa and offers a slightly bitter taste in comparison. In saying that, cacao powder is a delicious addition to smoothies, oats or various baked goods, and it also delivers an abundance of benefits that support general health and well-being.  
Some of these benefits include…
Acts as an anti-inflammatory

Helps keep skin looking vibrant & youthful

Prevents cell damage, protecting against harmful disease & illness

Supports blood & heart health

Improves mood & reduces stress
Check out our blog, 'What Is Cacao Powder?', for more info on this organic superfood. 
Maca powder comes from the maca root vegetable and offers a range of general health benefits, proving it to be very beneficial in your daily diet. Packed with antioxidants, fibre, amino acids, and various vitamins and minerals, maca powder is high in iron and iodine, which promote healthy cells and support metabolism, and potassium, which keeps your muscles happy. 
Known as a feel-good superfood, maca powder is filled with nutrients that help reduce depression, manage stress and provide a caffeine-free energy boost—making it a great addition to an afternoon snack for that much-needed pick-me-up. Whether you add a scoop to your morning smoothie, yoghurt, oats or baked goods, maca powder has proven to be particularly beneficial for women, even reducing and fighting the symptoms of menopause.
Some of the other benefits of adding maca powder to your diet include…
Improves endurance & stamina

Increases libido & fertility (in both men and women)

Helps to balance hormones (in women)

Can improve bone density (in women)

Reduces blood pressure

Enhances learning & memory

Boosts energy
For more information on Happy Way's Organic Maca Powder and how you can include it in your routine, check out our blog, 'Benefits and uses of maca powder'.
Banana bread is a household favourite—think warm, toasty bread with a swipe of melted butter—and it's easy to see why when it has a flavour that comforts the soul. Putting a healthy spin on this popular family treat, Happy Way has collaborated with ambassador Sophie Guidolin to create something that not only tastes incredible but is good for you too.
Made with grass-fed whey and all-natural ingredients, this Banana Bread Protein Mix is filled with nutrients and organic superfoods, and without any artificial flavours, preservatives or sweeteners—so you can be sure it will nourish both the mind and body with every bite. 
Creating this recipe has never been easier—simply combine with eggs, bananas and your milk of choice and bake in the oven for a nutritious and delicious snack. 
Don't be fooled by the small size of Happy Way's Snack Bars—they may be pocket-sized, but they're packed with wholesome ingredients that will benefit the whole family!
Made especially for the kids, these Snack Bars are vegan-friendly, gluten-free, dairy-free, soy-free and without any artificial flavours, preservatives or sweeteners. Available in six delicious flavours, our three choc flavoured bars are also nut-free, making them perfect for the school lunchbox. 
Designed to support growing minds and bodies, as well as provide an all-natural energy boost without the crash kids get from high-sugar snacks, our Snack Bars offer so many nutritional benefits and taste so good, you'll wanna keep a stash of them in your bag too. 
Some of these benefits include…
Boosts immunity

Strengthens bones

Improves digestion & gut health

Enhances brain function & focus

Delivers a natural energy boost

Supports blood health

Reduces inflammation

Calms the mind, reducing stress & anxiety
Read more about the ingredients and benefits of Happy Way's Snack Bars in the blog, 'Meet our new kids on the block'.
We hope you love our quick guide to Happy Way nutrition. For further support on any of our products, please don't hesitate to reach out to our Customer Happiness team via support@happyway.com.au.