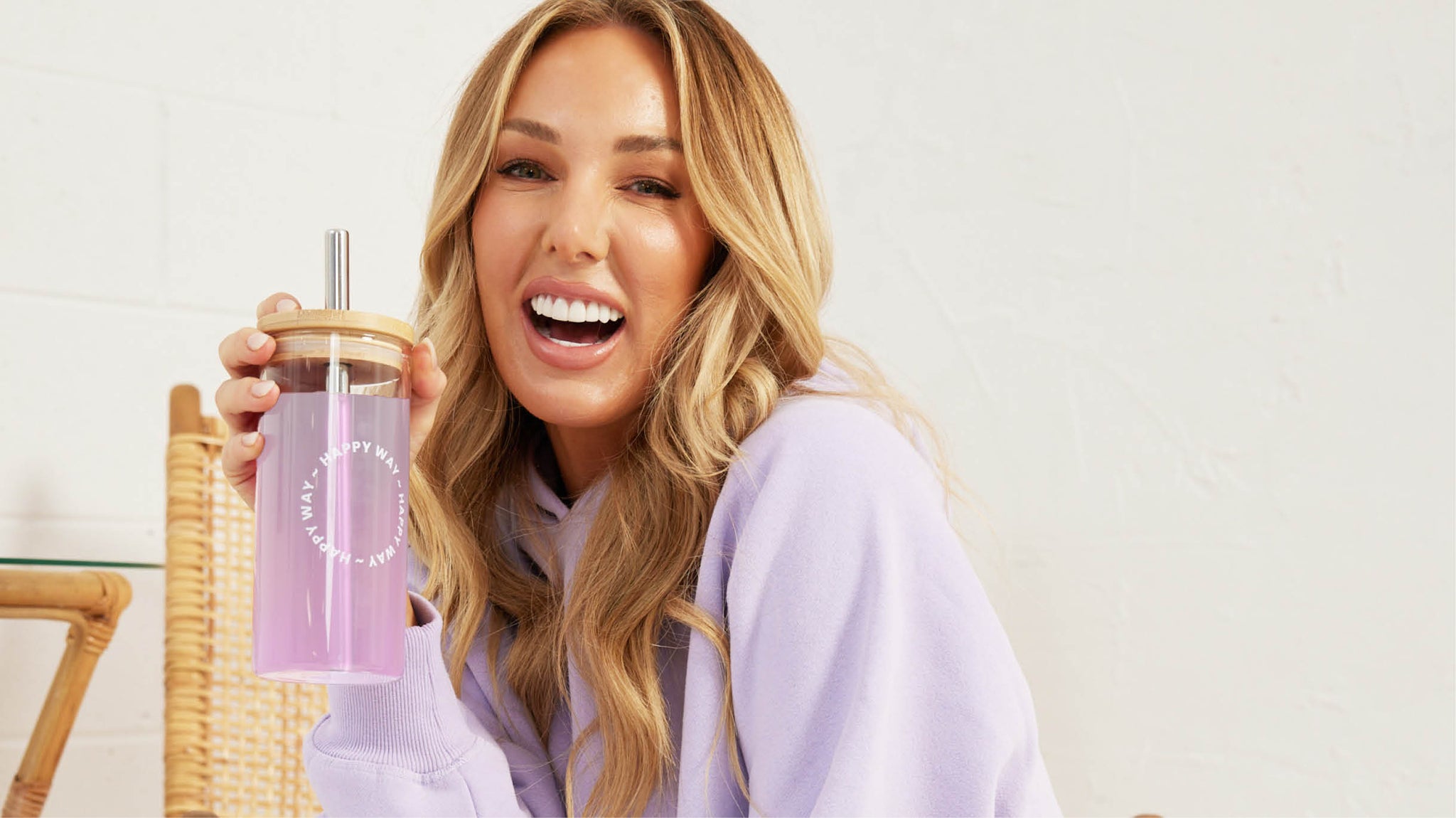 THE INSIDE SCOOP ON ASHY'S PROTEIN WATER
It's official—our Ashy Bines + Happy Way Grape Bubble Gum Protein Water has cannon-balled into Happy Way HQ, making the biggest SPLASH of the year thus far—and it's easy to understand why. All-natural and filled with nutrients that deliver a tonne of benefits to your mind and body, it's also packed with a fresh, fruity, grape bubble-gum flavour that'll take you back to the Hubba Bubba days of the 80s (if you're as old as us lol!) the moment you open the bag!
To make it even more spesh, this hydration game-changer was created together with our much-loved Happy Way ambassador Ashy Bines, who we've previously collaborated with on not one, not two, but THREE of our most popular Happy Way Protein Powder flavours (check them out here). Fitness queen, activewear designer and proud super mama, you can trust that when Ashy partners with us, it's more than just her name on some packaging. Ashy not only works with us on the creation of the product, but she's behind everything from the flavour profile to the benefits it delivers. 
To get the inside scoop on this new daily essential, we sat down with Ashy to discover how this collab came about and how she includes the protein water in her day-to-day. Plus, we got a sneak peek into what's coming down the pipeline for Ashy and Happy Way (so exciting!). 
Hey Ashy, we're so excited about the launch of our Ashy Bines + Happy Way Grape Bubble Gum Protein Water! You've been collaborating with Happy Way since 2016—can you tell us what you love about Happy Way? 
After trying endless protein brands on the market, I discovered that many out there either didn't taste very nice or, if they did have a good flavour, it was most likely because of added artificial ingredients and sweeteners, which really upset my tummy and my skin. Happy Way was an easy choice and a brand I was excited to collaborate with because their products are made with all-natural, high-quality ingredients and taste SO DAMN GOOD!!
We know you're a busy working mama… between two kids, an activewear label, a podcast and a personal training app, how do you find the energy to keep going throughout the day? 
There are so many practices I like to incorporate in my day-to-day to ensure I get the energy and fuel I need to function at my best. These include…
Eating a well-balanced diet full of fresh organic fruits and veggies.
Making time for myself, which is my training and outdoor walks.
Ensuring I get enough sleep.
Supporting my body with natural supplements to assist me with my energy and progress.


I love having protein every day because it keeps me full, helps my muscles recover and repair and satisfies my sweet tooth cravings (Triple Choc Fudge Whey Protein Powder does the trick for me every time!). The launch of my Grape Bubble Gum Protein Water not only helps me up my daily water intake (because I look forward to it daily!), but it also gives me an added boost of nutrients too. 
How important is eating a nutrient-rich diet to you/including supplements in your diet? 
SO IMPORTANT! My nutrition is a priority—I can't deliver to everyone or be my best self if I'm not nourishing my body. My daily non-negotiables are…
A drink bottle filled with H2O and a couple of scoops of Grape Bubble Gum Protein Water.
A scoop of Happy Way Protein Powder in my nutrient-rich smoothie!

You've collaborated with us on three delicious, choc flavoured protein powders already—do you have a favourite Happy Way product? 
That's a super tough question! I would have to say that Triple Choc Fudge Whey Protein Powder takes the number #1 spot, and the Choc Caramel Vegan Protein Powder comes in a close second. However, in saying that, my new Happy Way Protein Water is so special because it's the only one on the market that tastes delicious (grape Hubba Bubba anyone?) and doesn't contain any artificial sweeteners, flavours or preservatives. 
Protein Water is your new collab product with Happy Way—tell us how this protein water came about and why you wanted to collab on this product.
I struggle to get enough protein in my diet, and I also get bored of the taste of plain water. Protein water was something I tried to find in supplement stores, but I either couldn't stand the taste or got an upset tummy from the ones I tried. So, that's why I went to Happy Way to request we bring one out that would tick all the boxes when it comes to nutrients and taste—and we nailed it! 
What are the benefits of drinking protein water, and how is it different from drinking regular water? 
This protein water contains over 20 grams of protein and has the added bonus of electrolytes, which help to boost hydration, support muscle and nerve function, improve performance, reduce stress and promote quality sleep. The whey formula also contains collagen, which assists with boosting metabolism and enhancing skin health. Combining these ingredients together in a delicious drink is an absolute game changer. It's a supplement that's so easy for all of us to consume and reap the benefits! 
How or when do you consume protein water? Can people drink protein water all day?
All day—enjoy it whenever suits you! I fill up my big 2.2 L water bottle with it daily, I honestly can't get enough! One of my best friends even makes some cocktails with it, and she says they are amazing too! I'll stick to the mocktails myself, but it's super versatile! 
You're a self-confessed sweet tooth and a lover of all things chocolate, but this protein water is grape flavour—why grape? 
I feel that Happy Way has absolutely nailed all the creamy protein flavours so well, and sometimes I just crave something a little more fresh and fruity. I wanted something totally different than what we've done before, and once again, there wasn't anything out there in a grape flavour with these benefits! 
Can anyone drink protein water? 
YES! It was extremely important for me that we created both a whey and vegan option to cater to everyone's needs and preferences. If you're pregnant or breastfeeding, we always recommend that you check with a healthcare professional before adding a supplement like this to your diet. 
Why do you love Happy Way's Protein Water?
Quite simply because it's natural, delicious, convenient, and provides so many health benefits all in one! 
Will we see more collaborations with Happy Way down the track?
Just you wait to see what we've got in store! We're already working on a zesty, summery flavour for another protein water because we just know you'll all LOVE THIS ONE SO MUCH! 
So, what are you waiting for? Amp up your H2O game and add a stash of our Ashy Bines + Happy Way Protein Water to your next Happy haul today—you don't wanna be without this one.