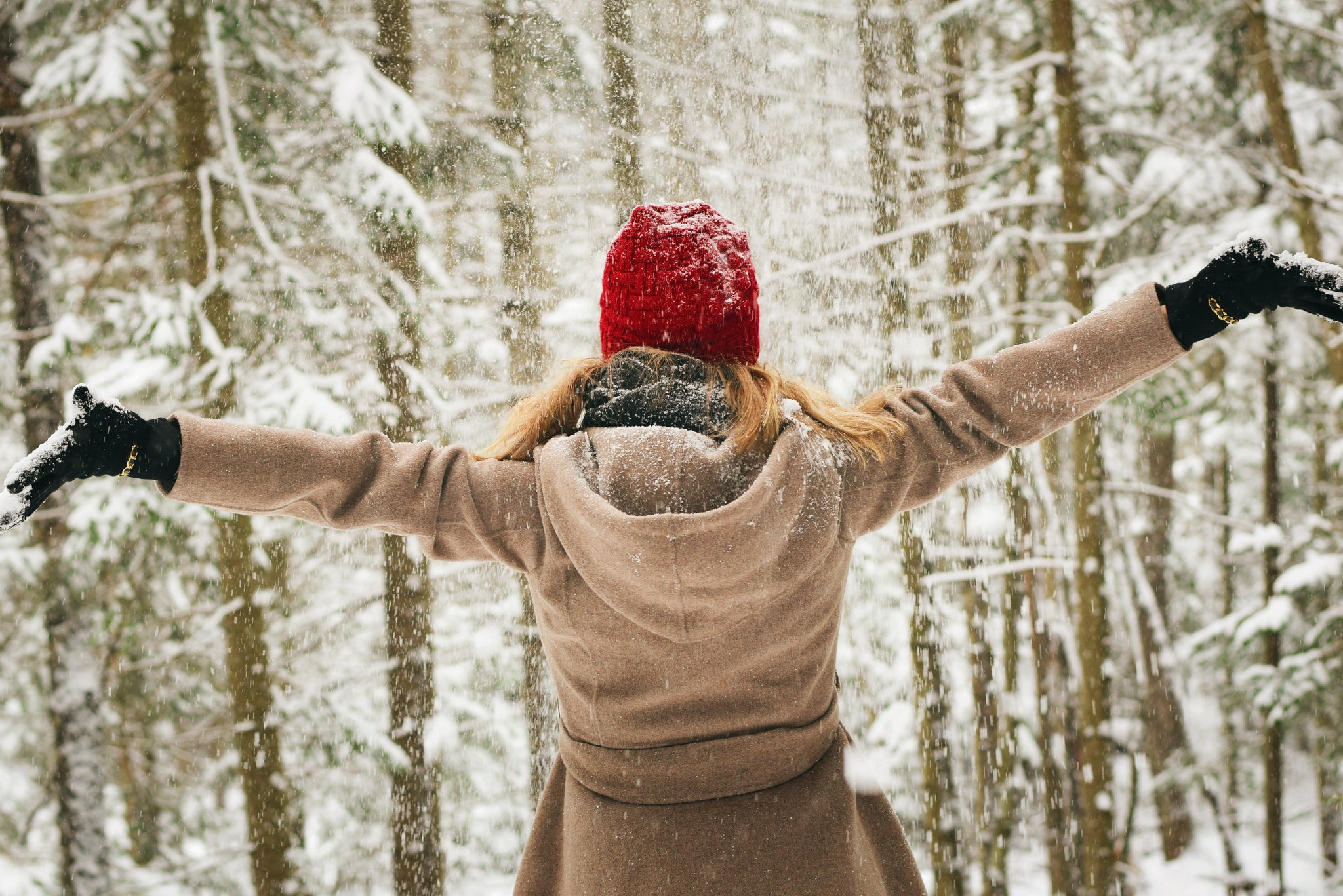 TOP TIPS FOR FEELIN' GOOD THIS WINTER
It's fair to say that a lot of us, especially here in Australia, thrive in the warmer months. Not only are the days longer, warmer and filled with a sense of energy and vitality, but the backyard barbecues, connecting with friends, and the extra dose of (sun-protected) vitamin D leaves us feeling happy, healthy and rejuvenated.
So it's no wonder that when winter rolls on in, we become the mayor of 'Struggle-town' and retreat into hibernation for days, weeks and sometimes months on end. Waking up for that early morning gym sesh becomes harder, leaving home to meet with friends feels like a massive ask, and we tend to switch from light and nourishing summer meals to more comfort food and UberEats takeout (who's moving from the couch?!).
At Happy Way, we're all about self-care and incorporating practices in our daily routines that fill our wellness cups. In this blog, we're sharing our top tips to keep you feelin' good this winter, which we hope will get you through the chilly season and out the other end with a sense of motivation and accomplishment. With everything from fighting off the sniffles to planning nights with friends where you don't have to leave the house (woo hoo!), we've got you sorted. We're also passionate about creating products at Happy Way that nourish from the inside out, and we have a few that should be on your shopping list and in every kitchen pantry this season.
EAT HEALTHY & TAKE CARE OF YOUR IMMUNE SYSTEM
When the temperatures drop, we may as well be standing there, high-fiving cold and flu season as she strolls on in! No one wants to be out for weeks feelin' crappy, so we give you permission to indulge in wholesome comfort foods that warm both your heart and your belly—think hearty soups, roasted veggies, and comforting stews. During this time, it's so important to nourish your body with foods that are packed with vitamins and minerals that will boost and support your immune system. Incorporating plenty of fruits, vegetables, and whole grains into your meals is vital for good health, but we also recommend including these Happy Way supplements in your routine as they're a quick and easy way to ensure you're getting the nutrients you need.
A convenient way to get some extra goodness in your home cooking is adding a scoop or two of our Flavourless Protein Powder. With approximately 25 grams of protein per serving, our whey and vegan protein powders make it easy to reach the recommended daily protein intake. Made from Australian grass-fed whey or yellow split pea protein in our vegan variety, our Flavourless Protein Powders are 100% natural and packed with amino acids that increase energy, improve focus and, of course, boost immunity. The great thing about our Flavourless Protein is its versatility, as it can be added to anything sweet or savoury. From cakes, protein balls and morning oats to quiche, pasta or curries, the sky is the limit!
Shop our Flavourless Protein Powder today, or for more info, read our blog 'Introducing Flavourless Protein Powder'.
This superfood powder is a nutrition game changer and an essential throughout the year! Packed with antioxidants that help to detoxify the body and boost immunity, our Super Greens Powder is made with high-quality, raw organic superfood ingredients and is formulated to promote energy and vitality and improve overall health and well-being. Filled with leafy greens like kale, spinach, wheatgrass and kelp, there's also the addition of pre and probiotics that provide additional nutritional benefits. Simply mix a scoop with water, or include it in your morning smoothie to start the day off right. With a fresh, fruity, tropical flavour, it's much more enjoyable than eating a plate of spinach!
Shop our Super Greens Powder and get more information on the ingredients and their benefits in our blog 'Introducing our reformulated Super Greens Superfood'.
MAKE EXERCISE A PRIORITY & REMEMBER TO HYDRATE!

We all know that exercise not only benefits your physical health but also has a positive impact on your mental well-being too. Whilst it's tough to get out of the trackies and into your activewear, don't let the winter chill deter you from staying active and moving your body. If it's too cold or wet to get out for a walk, find indoor activities that get your heart pumping, such as dance workouts to your favourite tunes or online yoga sessions or fitness classes. By keeping up with your physical fitness routine throughout the winter season, you'll maintain the progress you've worked hard for during the summer and keep those endorphins flowing, lifting your mood in the process too.
Hydration is also just as crucial during the winter months, so make it a point to drink more water and give your body the hydration it needs—not only during exercise but throughout the day. Our newest addition to the Happy Way family—our Ashy Bines Grape Bubble Gum Protein Water—amps up the nutrient level of your H2O, and with the inclusion of electrolytes, it's a great way to boost hydration and improve both physical and mental performance. Keeping the electrolyte levels balanced in the body is vital for good health, especially during and after exercise or if you've been unwell.
Both our whey and vegan protein water are 100% natural and contain vitamins and minerals (like vitamin C) that support the proper functioning of our immune system. Our whey protein water also has the added benefit of collagen, which promotes overall skin health and can even help relieve joint pain. With a delicious grape bubble gum flavour that tastes just like Hubba Bubba, it makes drinking water way more fun!
Shop our Protein Water today, or check out our blogs, 'The Inside Scoop On Ashy's Protein Water' and 'Introducing Ashy Bines + Happy Way Protein Water' for more info.
SEEK THE LIGHT
During winter, shorter days and limited sunlight can leave us feeling a bit flat, so it's essential to bask in the light wherever and whenever possible. Spend time outdoors during the sunniest parts of the day to soak up some much-needed vitamin D and fresh air. Throw on the puffer jacket, a beanie and some winter gloves and take yourself out for a morning or afternoon walk, which will do wonders for your mood.
As much as we don't want to leave the house, especially when we're curled up on the couch in the midst of a Netflix binge, getting out in nature is key to feeling good as it can strengthen the immune system, improve sleep and reduce stress and anxiety which can creep in at this time of year. If you can't get outside, try sitting near a window to soak up as much natural light as possible. Even a little sunshine goes a long way in reducing winter blues and boosting your overall well-being.
SOAK IN A BATH & SCHEDULE TIME FOR SELF CARE

There's nothing quite like a warm, soothing bath to melt away the winter chill and relax your mind and body. Set the scene with some chilled music, some ambient lighting (soothing scented candles), and perhaps some incense, and add some aromatic bath salts or your favourite essential oils to the water too—bliss! Take this time to adjust your hair and skin routine as well, ensuring your locks and complexion stay nourished despite the harsh winter conditions. That might mean switching to more hydrating skincare products like a richer moisturiser or a cleansing oil or balm over a foaming wash, or even indulging in a nourishing hair mask.
LISTEN TO YOUR BODY & ALLOW YOURSELF TO REST
Winter often brings a sense of comfort and cosiness, so it's important to listen to your body and honour its need for rest. If you're feeling tired or run down, don't hesitate to take a break—we can't be on the go all the time and pushing ourselves when our bodies tell us to chill is a surefire way to end up sick. Kick back on the couch, curl up with a good book or your favourite TV show, and give yourself permission to relax guilt-free.
Remember, your well-being should always be a priority. Don't forget to get enough rest, as sleep plays a vital role in maintaining your overall well-being. Create good bedtime habits, such as no electronics or other stimulants before bed, and allow your mind and body to switch off. 
CREATE GOALS & PLANS FOR THE WARMER MONTHS
As the winter months pass by, it's the perfect time to start dreaming and planning for the warmer seasons ahead. Set goals for yourself, whether they're related to personal growth, health and fitness, or particular hobbies and career goals, or even start making plans for the summer holiday you've always wanted to go on (hello Mexico!). Having something to look forward to can keep your motivation high and help you stay positive throughout the winter period.
GET INVOLVED IN SOME INDOOR ACTIVITIES
Make the most of your time indoors by engaging in activities that bring you joy. Experiment with new recipes in the kitchen, dive into a captivating book or challenge your mind with a 1000+ piece jigsaw puzzle. Mindfulness practices, such as meditation, yoga or journaling, can also help you stay grounded and centred during the winter months. Incorporate these in your day-to-day, and you'll discover how a few minutes of quiet reflection can help you find inner peace and rejuvenate your spirit.
MAKE INDOOR PLANS WITH FRIENDS
Winter might be here, but instead of heading out to the local pub or bar with mates, why not bring the party inside? Just because it's cold outside doesn't mean you can't have fun with friends. Organise dinner parties or game nights at home, where you can have fun and connect in the cosy comfort of your living room. If you wanna take it up a notch, why not host an at-home fundraiser, supporting a cause that's close to your heart along with the support of your besties? And for those lazy days, nothing beats a movie marathon with friends, complete with stacks of snacks and blankets—cosy vibes all around!
If you want some recipe inspo for some winter-warming treats to share with friends, check out our recipes page—it's filled with mouth-watering creations!
STAY CONNECTED
Last but certainly not least, make plans with friends and family to keep your social connections strong. Whether it's meeting up for a warm cup of coffee or scheduling regular video calls, staying connected with loved ones is essential for your well-being at this time. Surround yourself with positive and uplifting people who inspire and motivate you and share in the joy of creating new memories together.
Winter doesn't have to be a season of hibernation and low spirits. By incorporating these tips into your routine, you can feel good and stay motivated throughout the chills of winter. So, embrace the cosiness, nourish your mind and body, and make the most of all the special moments that this season brings. Remember, spring is just around the corner, waiting to bloom with new adventures and possibilities!