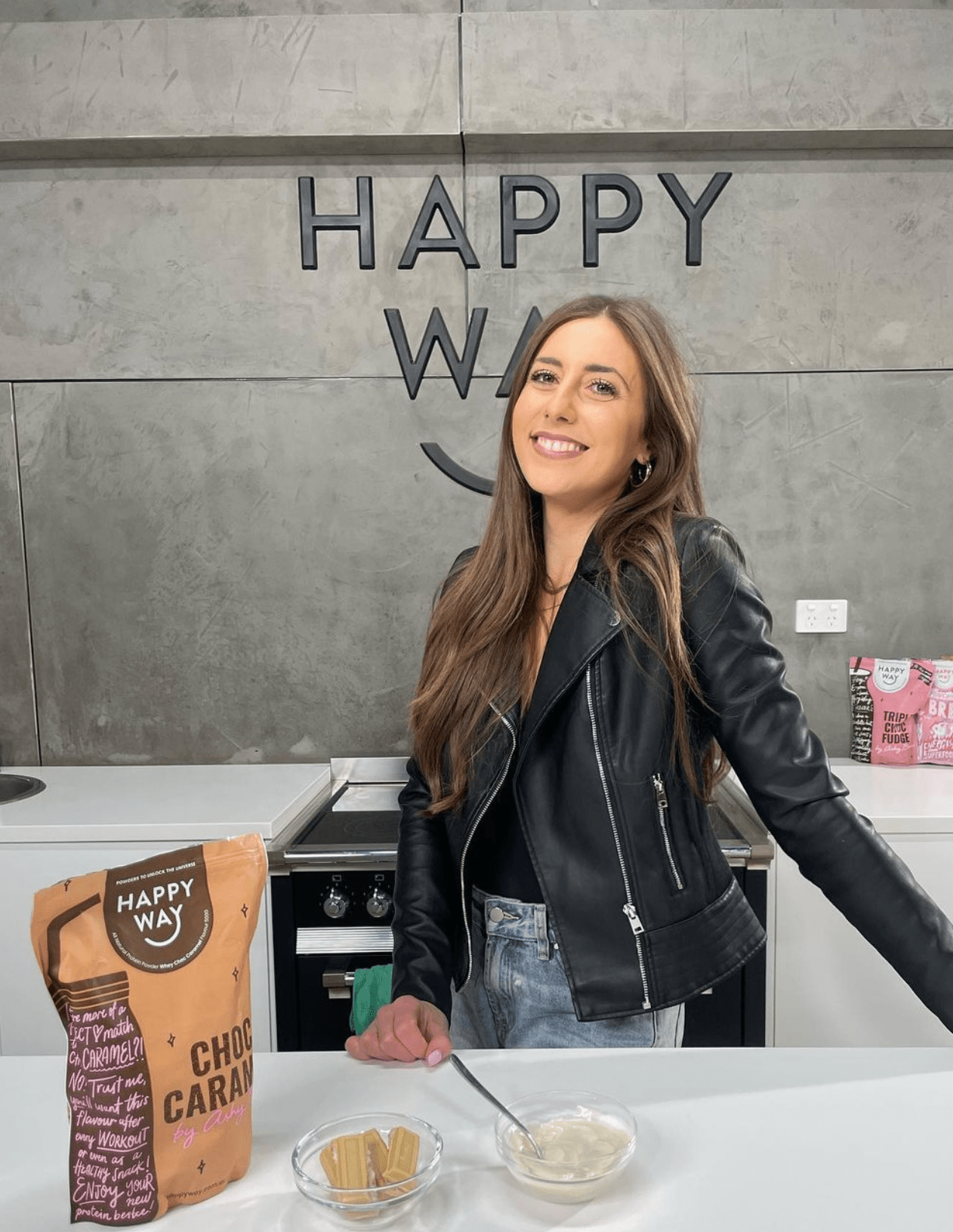 YOUR GUIDE TO SEPTEMBER WITH @DIANNAYOTA
Seen this lovely face on our IG stories? Meet Dianna, the triple threat – a recipe guru, university lecturer, and personal trainer!
ICYMI… She's been with Happy Way for a whopping 7 years (amazing, right?!) Each month, she'll be dishing out juicy health & travel tips, creating scrumptious recipes and sharing her go-to faves, all while soaking up the sun in Greece! (we're so jealous!) 
We caught up with Dianna to learn more about what makes her unique along with her top travel and health tips for September. Plus, she spilled the beans on her absolute must-have Happy Way products. Thanks, Dianna!
TELL US A BIT ABOUT YOURSELF!
Ok, so a bit about me! My name is Dianna, and my instagram handle is @diannayota. Most people think 'Yota' is my surname BUT it's actually my middle name (fun fact of the day!)
My main job is as an Academic, where I work as a University lecturer and facilitator. In addition to that, I am also undertaking a PhD in women's professional football (i.e., soccer) exploring players' perceptions and experiences of feeling integrated into teams. I'm very passionate about my research topic and can't wait to see how it can help clubs in the near future! Other than that, back in Australia I also coach a range of weekly group fitness classes which I love (and miss!).
HOW DID YOU BECOME THE, 'HAPPY WAY GIRL'? 
I've been part of the Happy Way fam for a number of years now and still love the brand and all it stands for to this day! I found Happy Way when I was trialing different natural protein brands about 7 years ago and absolutely loved the taste of it; plus it was the first protein powder that didn't make me feel sick. Our relationship began when I started creating healthier breakfast, snacks and desserts using the Happy Way protein and then sharing my recipe creations to my instagram page. From there, I went on to become a Happy Way ambassador and have been with the brand ever since! 
Besides running my own instagram account where I create healthier snacks and meals, I now have this amazing opportunity to share my passion and love for the brand as the 'Happy Way Girl' on stories, which is a real dream come true! My hope is that I can show people how simple, easy and effective it is to incorporate the Happy Way proteins into their daily lives!
OKAY NOW, SPILL THE BEANS ON GREECE! 
Currently I am residing in Thessaloniki, Greece which has been an adventure and a wonderful experience so far! I'm here to write my PhD, experience a different life with my husband, and travel around Europe! Summer in Greece has been an absolute dream and a much needed break from my hectic life in Melbourne, Australia. 
HAVE ANY TRAVEL TIPS? 
Bring some healthy snacks in your bag! You may not have the opportunity to pick up a snack or perhaps the only options available will make you feel sluggish and give you no energy. I love to carry a healthy snack with me to tie me over until my next main meal. Some examples are protein bars, nut bars, fruit and nut mix, bananas and apples! 
HOW ABOUT HEALTH! ANY SELF-CARE SEPTEMBER TIPS?
Prioritise sleep! One thing that's taken me the longest to learn, is the importance of getting good quality sleep every night. Sleep helps your body function optimally which in turn will help you not just in your day-to-day but also help you achieve those hard to reach goals! You'll be able to do more in less time as you'll be able to think clearer and have more energy. Sleep also allows your body to recover and wind down. Your body needs time to relax, repair muscles, and provide you with energy for the next day! So get those 7-8 hours of sleep a night!
SEPTEMBER EATS 
We couldn't leave you hanging without some super-duper yummy recipes! Here's some of Dianna's fave creations from September. Which will you make first? 
Follow @diannayota for more delicious recipes and helpful lifestyle tips!