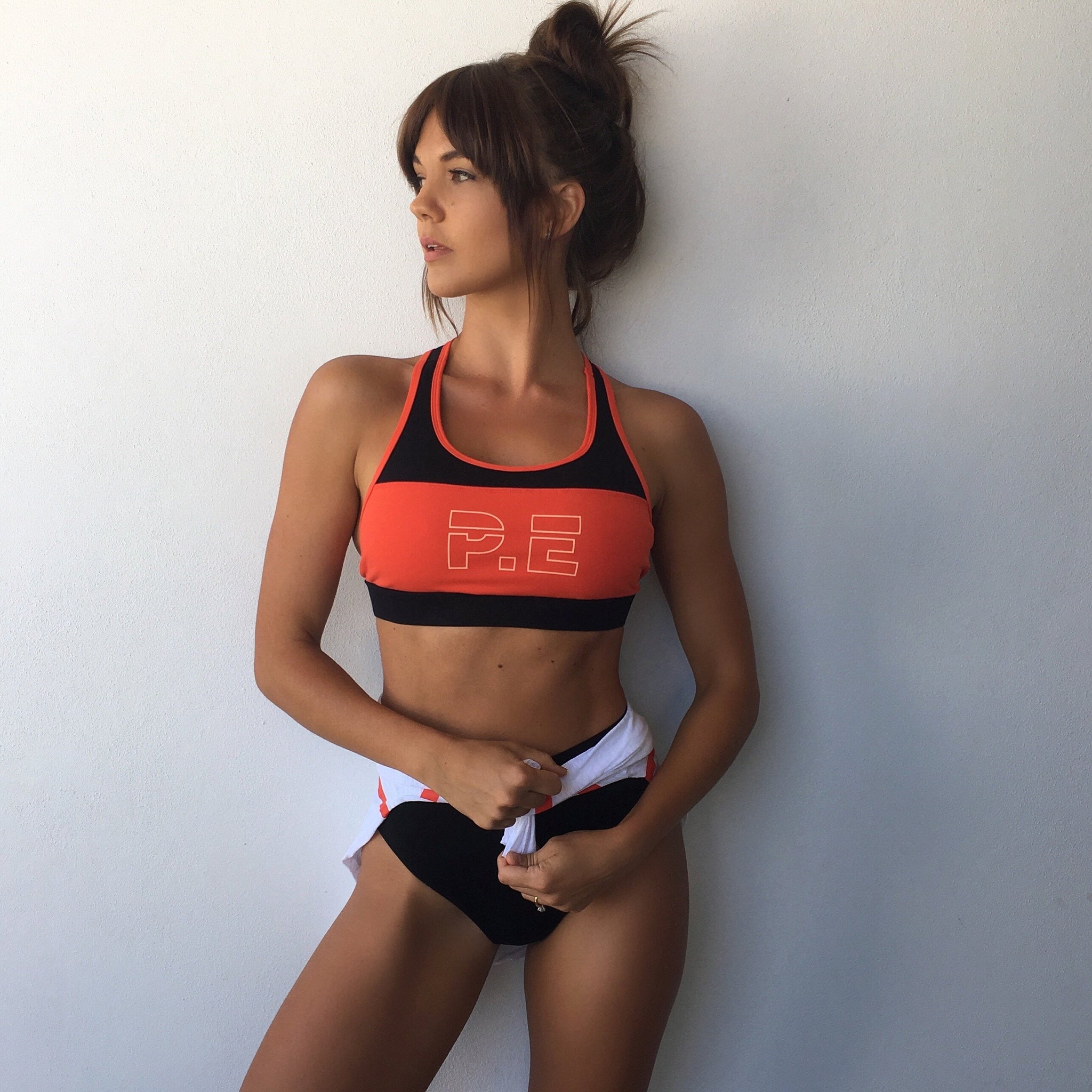 Behind the gram: Social media, fitness and motherhood according to Danielle Bonnor
If you follow our Happy Way pages and journey then you would know that our family is made up of some pretty motivational women. Dani Bonnor is no exception. A mother, wife, model, yogi and influencer (in no particular order), Dani has become a source of daily inspiration to her 160 thousand strong social media followers. Having grown into one of the most sought after content creators in the yoga and fitness world, Dani has collaborated with some of the nation's most respected brands. Continuing to harness the power of the digital age, she also knows that with great opportunities comes great responsibility. Here she shares with us what it means to be a mother, influencer and what confidence looks like behind the lens.
 
 
When did you become a Happy Way Ambassador?
 
I became an ambassador in February of 2017 and we're still going strong! :)
 
What do you love the most about being an ambassador?
 
Firstly, The Happy Way brand aligns perfectly with my lifestyle and me. I genuinely LOVE the taste of the protein powders, BCAAS, greens and fat burners. I use Happy Way every single day, I love the team and I love the whole vibe of everyone I work with. Legit HAPPY VIBES!
 
What do you love about sharing your life on Instagram?
 
I love interacting and building connections with other women. I'm all about women supporting women and I love helping others wherever I can. Whether it be through fitness, health, lifestyle, and now my journey into motherhood. If I can make a change in someone's life even in the smallest way, this makes me happy!
 
What is the most challenging part of being so open on a public platform and how do you navigate around this?
 
I was a very private person and to be honest I still am. I know that when posting images and sharing videos I leave myself open to opinions and criticism and if I ever encounter bullies or nasty comments I kindly remove myself from the situation and send that person love and go on with my day. There is no need to invest time and energy into negativity!

 
How has becoming a mum changed your approach to social media?
 
It has made me more passionate about showing others that living a happy healthy life is achievable even once you become a mother! My priority is to be the best role model I can be for Ayla and if I can share this with the world I hope to inspire others too! Becoming a mum has helped me bond even more with other women, sharing stories, the highs and the lows and really supporting one another through everything. I absolutely love connecting with others that are on a similar path as me and I want to motivate other mothers to be kind, patient and forgiving with themselves because motherhood isn't a walk in the park! It's not about the likes or how I look in a photo, it's so much more than that for me now. It is about sharing my journey, my stories of motherhood, and showing others how they can be the best mother they can be.
 
What is your approach to fitness as a new mum?
 
Becoming a mother has changed my approach to fitness in so many ways. Since having Ayla I have this immense appreciation for my body and what it is capable of. Our mama bodies are fierce and strong and what they have been through is pure magic! I now exercise purely to have more energy for my girl. It's not about punishing myself anymore it is about nourishing it through activities I enjoy. I feel I am the most content I have ever been since having Ayla. Your whole mindset changes when you become a mother. What seemed important before does not even cross my mind now.
 
Did you feel pressure to get back into your normal routine straight away?
 
Absolutely not! My whole mindset changed after having Ayla. It took us such a long time to have her and all I wanted to do was sit back and enjoy every second of her. Everything and everyone else could wait. I didn't start exercising until 3 months postpartum. I had the all clear at 6 weeks but I wasn't interested in pushing myself, I was only interested in nurturing myself with little beach walks and getting outside in the sunshine and fresh air with my baby girl.

 
Is there a level of criticism that comes with showing off your hard-earned work at the gym and how do you navigate around this?
 
Yes there is but to be honest I am not the showy type to begin with and if I do post any fitness related posts I have mostly positive responses. My community of followers is so supportive and I guess the ones who want to stay, stay and those who don't like me or criticize have moved on. I have shared ONE before and after post after having Ayla that caused some drama but those who made drama didn't understand the purpose of my post. It wasn't about how I looked. It was about how I felt mentally and physically after training. I kindly explain my intentions and then move on and continue being myself. I don't pressure or push others to be or look a certain way. My main purpose is to show others how good you can feel when you move your body and nourish it well. A happy mind is everything!
 
How has becoming a mum changed your outlook on body image and confidence?
 
It has taught me to be kinder to myself and to appreciate all that my body can do! I am so proud and confident in my body for making me a mother. Body image and confidence to me is not about how it looks. It's so much more than that. Becoming a mum makes you realise that you are enough. You have so much to offer. You are worthy. You are strong!
 
What advice do you have for new mums who feel that they may not be on the same path as other influencers they may look up to?
 
Never compare your life to someone else's as that person is most likely wanting to be like someone else too. No one is perfect and remember that social media is a highlight reel. I like to share both my ups and downs and stay true and genuine. Motherhood isn't always peachy and my followers need to know that there are difficult times too!

 
Can you share with us something you wish to be more confident about and what you are doing to change this?
 
The confidence in falling pregnant again. The feelings are still very raw and real. I miscarried before Ayla and then it took such a long time to have her. I need to trust that my body can do this again and if it can't, to be happy and grateful for what I have!
 
What is the one habit you abide by to practice self-love?
 
Exercise! Exercise is the foundation for everything else. When I have moved my body in some way each day I feel more alert, I feel happier, I feel more energetic for my little one, it keeps me balanced, I feel it helps me sleep better too!
 
What is the one piece of advice you would give your 20-year-old self?
 
Please relax and be kind to yourself and please stop worrying what others think of you! Stop picking at your flaws and trying to please others. No one will ever be YOU, so own who you are!

 
What is your approach to nutrition?
 
Balance is key. I mostly fill my body with wholesome healthy food every day but I definitely do not deprive myself of anything. If I want something, I will have it. If I'm out or on holidays I will enjoy myself. I have always had a sweet tooth!
 
Nutrition plays a big role in self-confidence. What advice can you give to women about their relationship with food?
 
Eat well to feel well. I know that when I'm feeding my body with wholesome, good quality foods I feel incredible and when I feel incredible, I feel confident. It all goes hand in hand!
 
What is the one thing you wish women would stop doing with their food?
 
Viewing it as good or bad. It'll only hurt your mind/body balance in the long run. Listen to your body. You know what works best for YOU. Avoiding specific foods or food groups can lead to feelings of deprivation that will then most likely lead to a complete imbalance which makes you moody and could make you binge in the long run.
 

What does confidence mean to you?
 
It honestly comes down to being comfortable and secure in my own skin. Being sure of whom I am and knowing I am capable.
 
Can you share with us the best piece of advice you have ever received about self-acceptance and love?
 
I hold two pieces of advice close to my heart so I thought I'd share both.
Just for a moment, let yourself just be here as you are. Perfectly imperfect. Let yourself stop becoming more, or better, or different. Remove yourself from self-judgment for they are just thoughts. They have no power except the power we give them.
Treat yourself as if you are gently holding a flower within the palm of your hands. Nurture it, protect it, be kind to it, forgive it and love it! 
 
Who is an inspirational woman you look up to and why?
 
My mother. She inspires and motivates me to grow without any barriers. My mum looked after and supported me in every part of my life. She's taught me to be strong, to take care of myself, to go for whatever I want to achieve in life. She's my greatest support.

 
What is the biggest misconception about social media and living in the digital age?
 
I suggest you all to never compare yourself to anyone on social media because it is truly not the "reality" you may think!! Instagram is a highlight reel and the majority of users want their page to reflect happiness and for their images to be perfect and pretty. Sometimes I think we all need to take a step back as it is so easy to get caught up in the facade of it all! We forget that what we see is not a true reflection of reality!