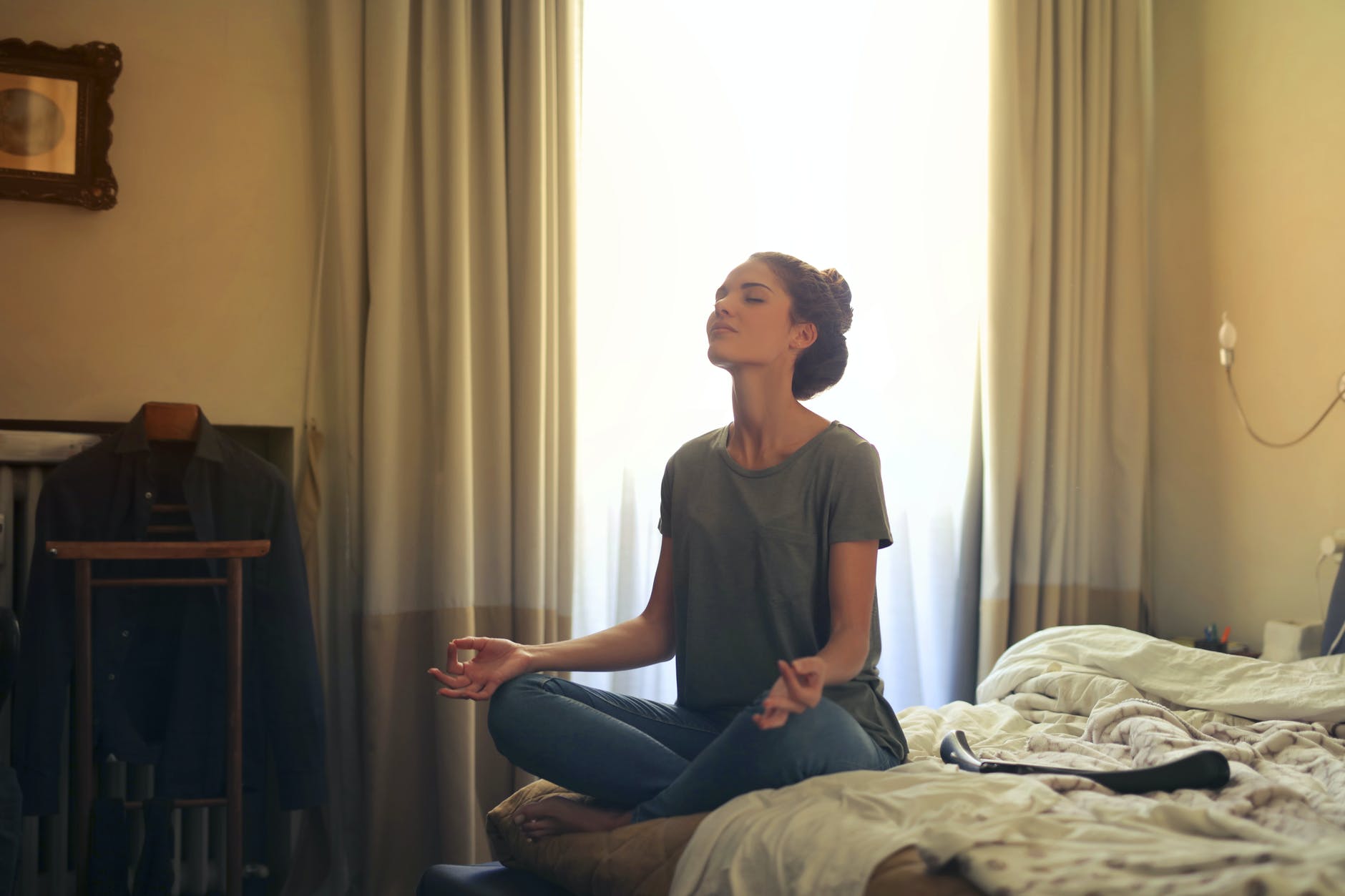 HOW TO WORK ON YOUR MENTAL HEALTH WHILST LIVING IN ISOLATION
If you have landed on this page, pause for a moment and take a deep breath and ask yourself, how am I feeling today? With the world going through various waves of lockdowns in a bid to flatten the curve of the COVID, many of us have found ourselves dealing with a wave of emotions. Whether it be worrying about the health of loved ones, going through work and financial strains or simply trying to accept a new way of life and being, we're here to remind you that we are all in this together. 
We also wanted to remind you to take care of your mental health. With lockdown in Australia entering its third month, the honeymoon phase of home renovations and zoom parties is starting to wear off. While many of us have tried to stay positive by keeping busy and using this enforced downtime to tick off some household jobs, now may be time to focus on a more important project, our mental health. 
So it's time to stop whatever you were doing, brew a hot beverage, sit back and read up on some helpful ways you can work on your mental health while living in isolation.
MOVE YOUR BODY WITH INTENT
When it comes to isolation and exercise, it's time to shake up the conversation if not change it altogether. We know that exercise and mental health go hand in hand, with as little as 15 minutes of cardio helping release those happy endorphins we all need. However, the pressure to use our time wisely during isolation and to emerge on the other side as a newer and better version of ourselves could be doing more harm than good. It's time to move your body because you love it and not because you feel like you have to. 
Whether you have always been active or felt like now was the time to start, we encourage you to keep moving your body, but for the right reasons. What you should stop doing is scrolling through your Instagram feed and watching every influencer you follow take their fitness routines to new heights. The undue pressure to emerge from isolation as a new you could be contributing to your stress and anxiety. On the contrary, what you should be doing is embracing your body, giving it the kind of love it truly deserves and exercising for the right reasons. 
Change your inner dialogue from "I have to change my body" to "I love my body" and change your approach to exercise from "I have to exercise" to "I choose to exercise because I love my body and I know that it is good for my mental health". Once you stop putting pressure on yourself to use this time to transform and begin looking as a daily walk or cardio session beneficial for your overall health and mental well-being, you will be more likely to stick to a routine and exercise regularly. 
EAT YOUR WAY TO HAPPINESS 
When it comes to maintaining our mental health while living in isolation, what we eat matters just as much as what we think and how we speak. While it may be tempting to curl up in bed and make your way through a tray of cookies (and we're totally ok with this every now and then), doing so regularly could be contributing to your overall stress and anxiety levels. This is because highly processed foods not only lack the kind of nutritional foods that will boost our energy levels and endorphins but also fail to keep our blood sugar levels stable, making us feel fatigued throughout the day. 
SO, WHAT SHOULD YOU BE EATING?
CHOCOLATE
Eat all the chocolate, but just make it quality.  Dark chocolate made from at least 70% cacao is found to help boost those happy chemicals in the brain, also known as endorphins. Studies have found that consuming 40 grams of dark chocolate a week is found to reduce stress hormones, including cortisol, handing over the perfect excuse to bite into your favourite treat. However, if you're looking to limit your chocolate consumption, hot cacao offers the perfect alternative. 
Why not try our Triple Choc Fudge Peanut Butter smoothie recipe featuring real, raw cacao. All the taste and the benefits to match...
BERRIES
Blueberries, blackberries, raspberries, blackberries – whatever your heart desires, make sure you add these little nuggets of gold into your food repertoire. This is because these antioxidant-rich foods help fight free-radicals in the body, in turn, help combat inflammation and improve brain function. In fact, adding any antioxidant-rich food into your diet is shown to help improve symptoms associated with anxiety and depression. 
Our super berry smoothie recipe is the perfect excuse to add some colour into your diet, the right way.  
YOGHURT
Research into the gut-brain connection has shown that our digestive system and brain function remain inherently linked.  This means that a healthy mind is also dependent on a healthy gut, which requires the promotion of digestive health and the balance of good bacteria in the gut. Adding yoghurt into our diet remains one of the easiest ways to introduce good bacteria into our digestive system. 
Our protein yoghurt balls offer the perfect excuse to snack on something yummy while doing something good for your digestive health. 
PRACTICE GRATITUDE
It turns out that when mum told us to count our blessings and not our problems, she was offering a scientifically-backed coping skill. While it may be tempting albeit unavoidable to sit and have a pity party during tough times, as science would have it, we are doing ourselves a huge disservice. Shifting our mindset away from negative thoughts and towards things we are grateful for is shown to be one of the most effective skills we can acquire in nurturing our mental health. 
When it comes to practising gratitude, it's more than just looking good on paper with extensive studies highlighting the multitude of benefits that come with looking on the brighter side of life. Leading gratitude researcher Robert Emmons has found that practising gratitude effectively reduces depression and increases happiness.  Showing that the practice not only reduces stress but also helps build mental strength, helping people deal with traumas they may come across in life. If that's not enough to get your pen and paper out, it has also been found to improve sleep, and we know that almost all problems in life can be fixed with time spent between the sheets. 
So how can you practice gratitude? Well, it can be as simple as writing down three things you are grateful for every morning or changing the way in which you approach situations. Rather than saying, "I have to stay at home", change the discourse to "I get to stay at home to flatten the curve and help build a safer future for everyone". On a day that you are feeling inspired, you may even choose to write down things you are grateful for and place them into a jar. On the days or during moments you are feeling particularly down, reach for a note to remind yourself of all the things you should be happy for.  
MEDITATE, EVEN IF IT'S FOR 5 MINUTES
If learning to meditate has been sitting on your 'to-do' list for the past few years, now is the time to bump it up to the first place, pronto. Science and some of the most peaceful people on earth have proven that meditation really is the answer to a less stressful life. It is not only scientifically proven to help alleviate stress, depression and anxiety but it also offers the perfect excuse to shut yourself away from the rest of the family, even if it's for 5 minutes. This will help make living in isolation tolerable even on the toughest of days. 
Meditation, like all skills in life, takes time, dedication and patience (oh the irony). If you have tried meditation in the past and have found it difficult to switch your mind off, know that you are not alone. The reason behind is that the very nature of meditation forces us to face the very things that have been causing us stress. When meditating, we are left with our own thoughts and drowning them out for that moment of sheer inner peace, well that takes time. 
In wanting to meditate, you may actually be making the process a lot harder for yourself. So here are a few tips you can take on board before you start. For one, create a space where you won't be disturbed. It may be as simple as shutting the blinds and sitting on your bed. Set realistic expectations which means you don't have to sit in silence for 20 minutes to reap the benefits of this ancient practice. Begin with 5 minutes and work your way up and finally choose a meditation that works for you. We may even encourage you to download a new app to help the process. 
REACH OUT AND STAY CONNECTED
When it comes to your mental health, there is never a threshold to reach before it's encouraged to seek help. Power is being ok with not being ok. Whether you are feeling strong, stressed or down, it's important to stay connected with family, friends and loved ones. This could be as simple as sending a message or as fun as organising a zoom call. If you are feeling strong enough, check in on your friends and neighbours for as long as you feel like you can do so. Being there for one another has never been more important, and the bonus is that you will be carrying out a random act of kindness which in itself will give you a boost of endorphins. A win-win for all! 
If you need immediate help or need to speak to someone, please contact one of the numbers below. 
Lifeline
Lifeline you can phone, text or chat online.
Phone: 13 11 14 (24 hours/7 days)
Text: 0477 13 11 14 (6 pm to midnight, Australian Eastern Standard Time).
Kids Helpline
Phone: 1800 55 1800 (24 hours, seven days)
Beyond Blue
Phone: 1800 512 348 (24 hours/7 days)