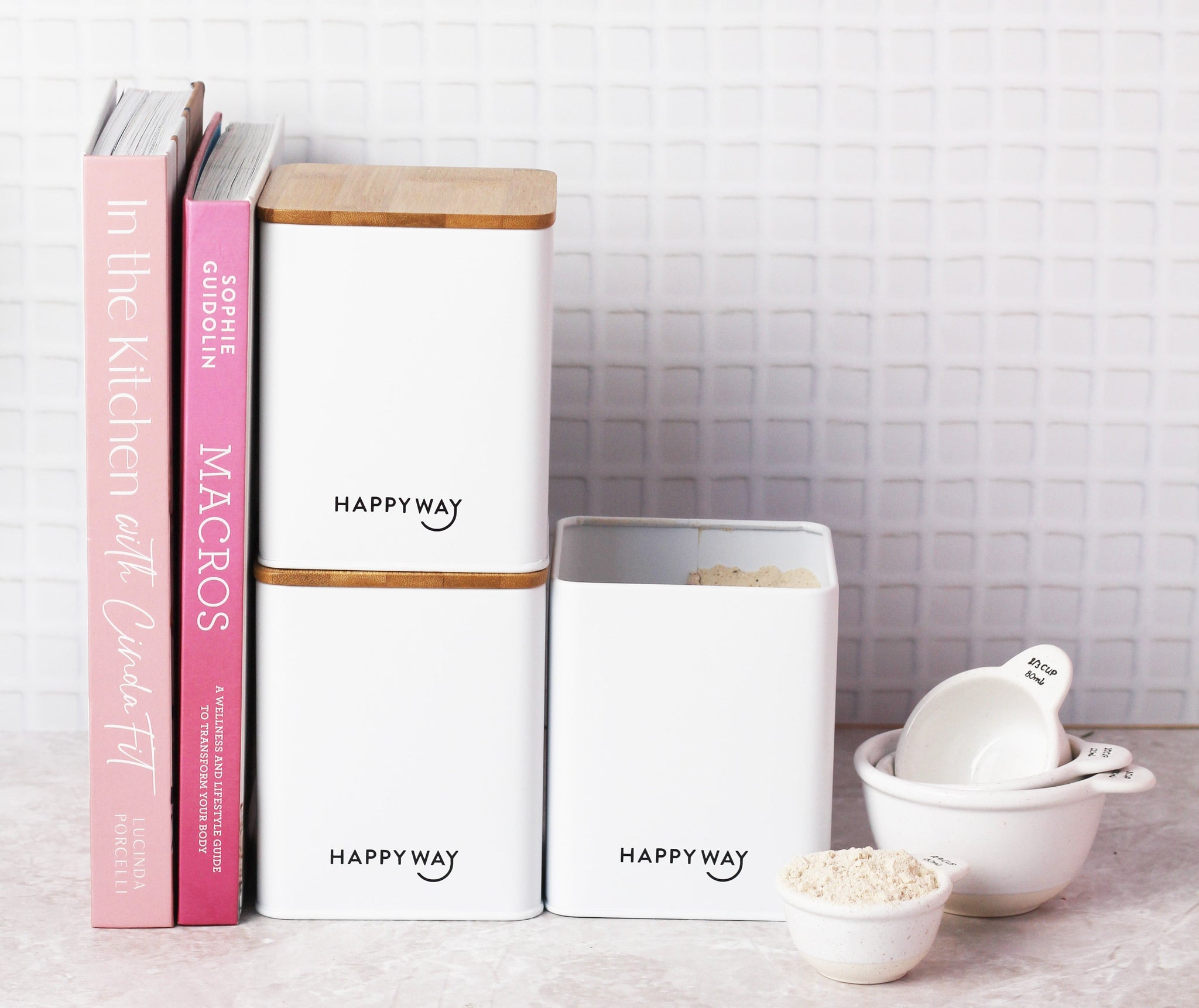 MEET OUR PROTEIN TINS—YOUR NEW PANTRY STORAGE!
At Happy Way, we don't just create the best quality, best tasting protein powders and supplements to support your health and well-being, but we also provide you with fun, eco-friendly accessories to ensure you're living a life that's organised and in style!
Meet the newest member to join our Happy Way accessories fam—introducing our Protein Tin w/ Bamboo Lid—the gotta-have pantry accessory made for those who are obsessed with organisation, are all about aesthetics, and who want quick, easy, and no mess, no fuss access to their favourite protein powders!
See the product details below…
PRODUCT SPECIFICATIONS
Plastic-free.

Made from galvanised steel with a durable bamboo lid.

Holds up to 500 g of your Happy Way powders.

Measure 11 cm (L), 11 cm (W) and 13.5 cm (H)—13.9 cm (H) with lid.

Handwash only.
Available in sleek, classic white, our Protein Tins keep your powders fresh for your workout shakes, morning smoothies and delicious baked goodies whilst solving the issue of messy protein pouches or zip locks that just won't stay shut! No more untidy pantries or struggling to make room for your latest go-to flavour—our tins are stylish and stackable, so you can utilise your cupboard space to its capacity!
Channel your inner Marie Kondo, get out the label maker and call your friends 'round for a pantry party—we're here to make your organisational dreams come true!