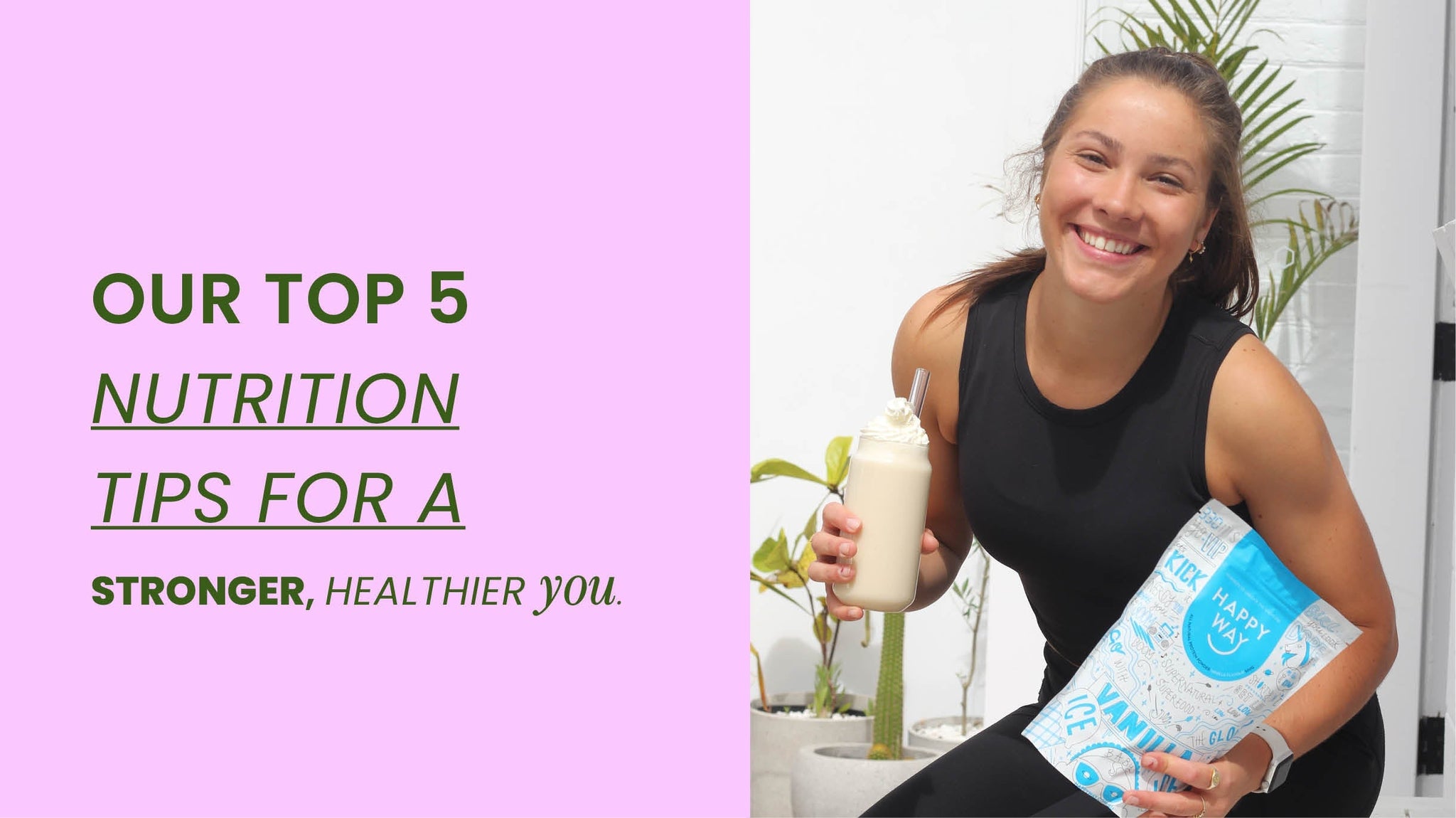 OUR TOP 5 NUTRITION TIPS FOR A STRONGER, HEALTHIER YOU!
The holiday season is officially over—that means no more excuses for having that extra plate of leftovers or kickin' back with a mid-week cocktail (hello daily holiday margaritas!) and skipping the regular physical activity. With a new year comes new beginnings and a chance to reset and create healthy habits to support your goals and well-being throughout the months ahead. 
To kick off 2023, we connected with nutrition queen and Happy Way fan Rachel Kameniar, who has kindly shared her tips, tricks and daily habits she's implementing to ensure health, wellness and success this new year. Creating change or a new behaviour can be a challenge in itself, so starting with small, consistent practices that are achievable is the best way to guarantee it becomes a new habit and like second nature—instead of something that's done for a few weeks or months and forgotten about quickly. 
So, what are Rachel's top 5 nutrition tips for a stronger, healthier you this 2023? 
Read on to find out.
1. BE ORGANISED & MEAL PREP
With the demands of our day-to-day—whether it be busy careers, parental duty or life's many responsibilities—it can be challenging to find the time and the energy to make healthy meals and snacks to enjoy throughout the day. Because of this, we can tend to choose what's quick, easy, and efficient, which often means sacrificing nutritional value and, therefore, not consuming foods that meet our needs or support our goals.
To overcome this, Rachel suggests being organised and making the time to pre-plan and meal prep. 'Not only will this be a huge lifesaver when it comes to organising a day of nutritious eating, but it can reduce stress, help you reach and maintain your body weight goals and also help to save money—no more impulse purchases at the supermarket or spending cash on takeout or quick meals.'
Meal prepping can be done the night before a big day or the weekend before a hectic week, that way you're organised and have a stash of nutritious meals and snacks at your fingertips. So, what exactly is involved in successful meal-prepping? See Rachel's tips below.
First things first, recipe hunt. Look through your favourite cookbooks and blogs, or do a quick google search. Changing it up and cooking a range of delicious recipes will keep it interesting and have you looking forward to meal times!

Write a shopping list of all the ingredients needed for your meals for the week. 

Set aside some time on your weekend or evening to prepare the bulk of your meals and snacks. This may include cooking main meals such as hot dishes and salads, preparing overnight oats, or cutting and freezing fruit ready for smoothies. 
All this preparation will leave you with very little work left to do during the week to bring your meals together, which means you'll have more time to spend doing life and the things you enjoy most. 
2. NEVER SKIP BREAKFAST
How many of you hit snooze way too many times in the morning and end up eating a quick breakfast on the way to work, or worse yet, don't eat breakfast at all?! Breakfast is often referred to as the most important meal of the day and yet can be overlooked due to a lack of time in the morning or the belief that it's unnecessary. 
So, why should breakfast be a priority every morning? Firstly, eating breakfast marks the end of your overnight fast and provides fuel to your mind and body that will give you energy, support bodily function and improve concentration and brain power. Starting the day with a healthy, nutritious breakfast will also boost your metabolism and even help control your appetite throughout the day, reducing the temptation to indulge in unhealthy snacking/eating and supporting and maintaining healthy body weight. 
So what are Rachel's suggestions and must-haves when it comes to eating a nutritionally rich breakfast? Check them out below.
Try to include a source of healthy fats, complex carbohydrates/fibre and protein in your breakfasts.




- Examples of healthy fats: Avocados, seeds, nuts and nut butters.




- Examples of complex carbohydrates/fibre: Rolled oats, brown or wholegrain bread and chia seeds.




- Examples of protein: Eggs, yoghurt, milk and

Happy Way protein powder

. 



Some examples of wholesome breakfasts that include these nutrients are:-




- Porridge made with

protein powder

and topped with nut butter or seeds.


- Eggs and avocado on wholegrain toast.
- Breakfast slices made with eggs, vegetables and cheese.
- Smoothies made with fresh fruit, your choice of milk, chia seeds,

protein powder

and nut butter.
If you struggle to find time for breakfast (serial snoozer!), try to incorporate the meal-prepping tips suggested in step 1 to ensure you can still enjoy a nutritious breakfast on the go. Overnight oats can be prepared the night before and will be ready to have straight from the fridge in the AM, smoothies can be made in less than 5 minutes and enjoyed on your morning commute, or you can make breakfast slices the night before and cut them into small, single serve portions for an easy brekkie. 
Check out some of our quick and delicious smoothie, overnight oats and breakfast recipes here. 
3. ADD PROTEIN TO YOUR MEALS
Including protein in your diet is essential as it's considered the building block of your muscles, bones, skin and hair and is needed to develop and repair body tissue. Made of essential amino acids that are required from our diet to support and maintain healthy bodily function, protein provides the body with energy, boosts immunity, assists with digestion and keeps you feeling fuller for longer—preventing unhealthy snacking during the day. 
Protein is a nutrient that's available in many of the foods we love, it's just knowing how much you need and discovering new ways you can incorporate it into your diet. The recommended daily intake of protein for men and women between the ages of 19-70 varies slightly, with the recommended amount for men being 0.84 g per kilogram of body weight and for women 0.75 g per kilogram of body weight.
There are many great sources of protein and ways you can include it in your diet throughout breakfast, lunch and dinner. Check out Rachel's suggestions below.
BREAKFAST
Eggs, nut butters, protein powders, yoghurt, baked beans.
LUNCH & DINNER
Tuna, tofu, chicken, chickpeas, eggs, vegetable patties.
SNACKS
Yoghurt, nut butters, cheeses (firmer, yellow cheeses tend to be higher in protein), protein powders. 
Rachel loves to use Happy Way protein powder as a part of her daily diet because it's an easy, efficient and tasty way to get the nutrients she needs. 1 scoop (30 g) of Happy Way protein powder contains approximately 21 grams of protein and can be simply mixed with water or milk to create a protein shake, added to smoothies or porridge, baked into cakes or slices, stirred through yoghurt, and used to make protein balls. 
Check out our selection of dairy and vegan-protein powders and our recipe page for a smorgasbord of mouthwatering options you can create with protein powder.
4. EAT ALL THE COLOURS OF THE RAINBOW
Let's be real, no one likes to eat the same thing day in and day out (unless you're talkin' about tacos!)—not only does mealtime get boring very quickly, but it can also limit the number of nutrients or variations you're consuming which your body needs to be its best. For example, orange fruits and vegetables can keep your skin, eyes and immune system healthy, whilst blue, purple and black fruits and veg can improve memory function and reduce signs of ageing (load us up on blueberries, blackberries and eggplant thanks!).
Different foods, including fresh produce, meats, fish etc., are each amazing in their own right and have different nutritional profiles that support the mind and body in a variety of ways. 
When choosing fruits and vegetables, aim to eat all the colours of the rainbow each day, which ensures your body absorbs a diverse range of vitamins, minerals and antioxidants. 
Not sure how to do that exactly? See Rachel's tips below. 
BREAKFAST
Have an omelette loaded with different coloured vegetables such as spinach, mushrooms, tomatoes and pumpkin.

Make a fruit smoothie with a variety of fresh fruits and vegetables, including spinach, berries and bananas.

Create a delicious fruit salad with all your favourite fruits of all colours. 
LUNCH & DINNER
Make salads with green leaves (lettuce, rocket, spinach), red cabbage, grated carrot, and beetroot and add a source of protein such as chicken, tofu or tuna. 

Roast vegetables such as pumpkin, broccolini, tomatoes, mushrooms and cauliflower. 

Create soups filled with wholesome ingredients like lentils, celery, onion, tomatoes and pumpkin.
See further information on the rainbow colours of fruits and vegetables and their benefits here via the SA Health website. 
5. ALWAYS KEEP HYDRATED
It's no secret that staying hydrated throughout the day is super important and that getting plenty of water can benefit the mind and body. We can often get so caught up in tasks, responsibilities and the demands of life in general that the simple act of drinking water—and getting enough—can tend to slip our minds, and we can often end up going hours without a drop!
It's recommended that women drink approximately 8 cups (2 litres) of water per day and men approximately 10 cups (2.6 litres)—not only will this help rid the body of nasty toxins, but it will also improve energy and brain function, enhance performance, prevent and treat headaches, improve your skin's elasticity and reduce the appearance of fine lines and wrinkles, as well as support weight loss and weight control. 
One way to ensure you're drinking enough H2O is to grab a fancy drink bottle, like our fully insulated, Happy Way Stainless Steel Drink Bottles, and keep it by your side throughout the day (they'll keep your water cool for up to 24 hours!). Once you've gone through it twice, you know you're on track to nourishing your body from the inside out! 
We hope these nutritional tips will help guide you to a stronger, healthier you throughout 2023. Shop Happy Way for support on your health and wellness journey this new year!