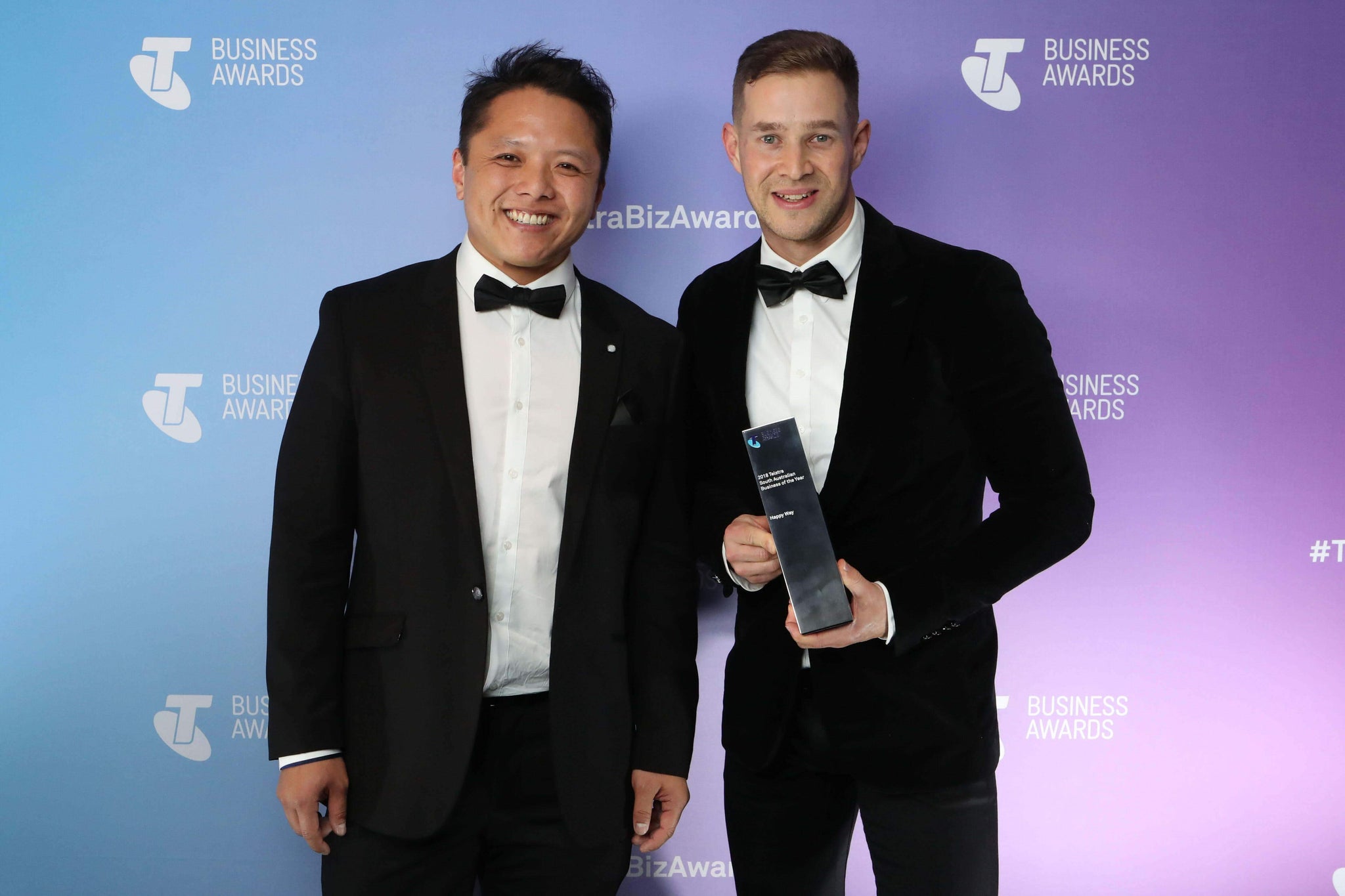 Business of the year! The Story behind Happy Way and the 2018 SA Telstra Business Awards

Recently, Happy Way won the SA Telstra Business Awards for the emerging and energised category. It was a great surprise. We are absolutely flattered by the support and praise from our amazing customers across the globe. Without all of you amazing ladies and our team's passion for creating life-changing products, we couldn't have had made it here.

It all started at the gym. Hien, one of Happy Way's founders, discovered that the majority of his female clients were struggling to find a healthy protein powder that was suitable for women. At the time, he could only suggest protein powders that were designed for male bodies, and so he was inspired by his hard-working, busy female clients to fix the problem.

This is where Hien and Ben joined superpowers to create their vision for Happy Way. They had a goal to create the ultimate, healthy protein powder designed specifically for women. After months of research, gathering data, testing in sample groups they finally had a breakthrough and created Happy Way protein powder.



They transformed their business dream into a product to help women everywhere feel empowered and at the same time made a globally scalable business that now has thousands of happy female customers internationally.

When they first started creating Happy Way protein powder, it was being made in the basement of their home in Adelaide. What motivated them to succeed was their goal to make women all over the world feel positive about their body and to live a healthy lifestyle, regardless of stereotypical body archetypes.

Fast forward three years of hard work later, and Happy Way products are now sold to women across 64 countries worldwide. Every day at Happy Way, we receive countless emails, social media posts and comments from customers about how happy they are when they receive our products, along with how much of a difference they have made on their health and lives.

We find it so rewarding and inspiring seeing our protein powder being loved by women all over the globe. From packing protein powder in the homes of Ben and Hien and delivering it in the back of their trucks, to becoming a fully staffed warehouse. Happy Way has made a long journey from its humble start.

With the goal of improving women's lifestyle and health, Ben and Hien look forward to their future goals of expanding Happy Way's available products. We have so far created a range of delicious vegan protein powders, healthy teas and our brand new kids snack bars.
We wanted to design protein powders that are suitable for pregnant, breastfeeding and working mothers. Women who always seem to be sidelined by the fitness community. Our products have been made to help give health benefits and energy boosts to working mums, so that they may take on the myriads of stress in life. Plus our protein powder products are also safe for pregnant women, so they feel cared for and nurtured during their pregnancy.

We are passionate about spreading the message of holistic health and nutrition among our local communities, especially those who are at an economic or societal disadvantage. So, as a result, we make regular donations to the Kickstart for Kids organisation.



This brings us to us winning the 2018 Business of the year in the Telstra South Australia Business Awards in the emerging and energized category. We found it surreal at first, but it gave us time to reflect on where we have come from and where we can go in the years ahead. Winning the Telstra business awards means so many things for Happy Way. We are now looking at expanding our international market, creating more product lines for women and children, putting our protein powder into more stores around Australia and hopefully, soon we will be able to manufacture our protein powders in-house.

We look forward to the future of Happy Way and again, thank all of our amazing customers, influencers and team for helping make this dream of ours come true.