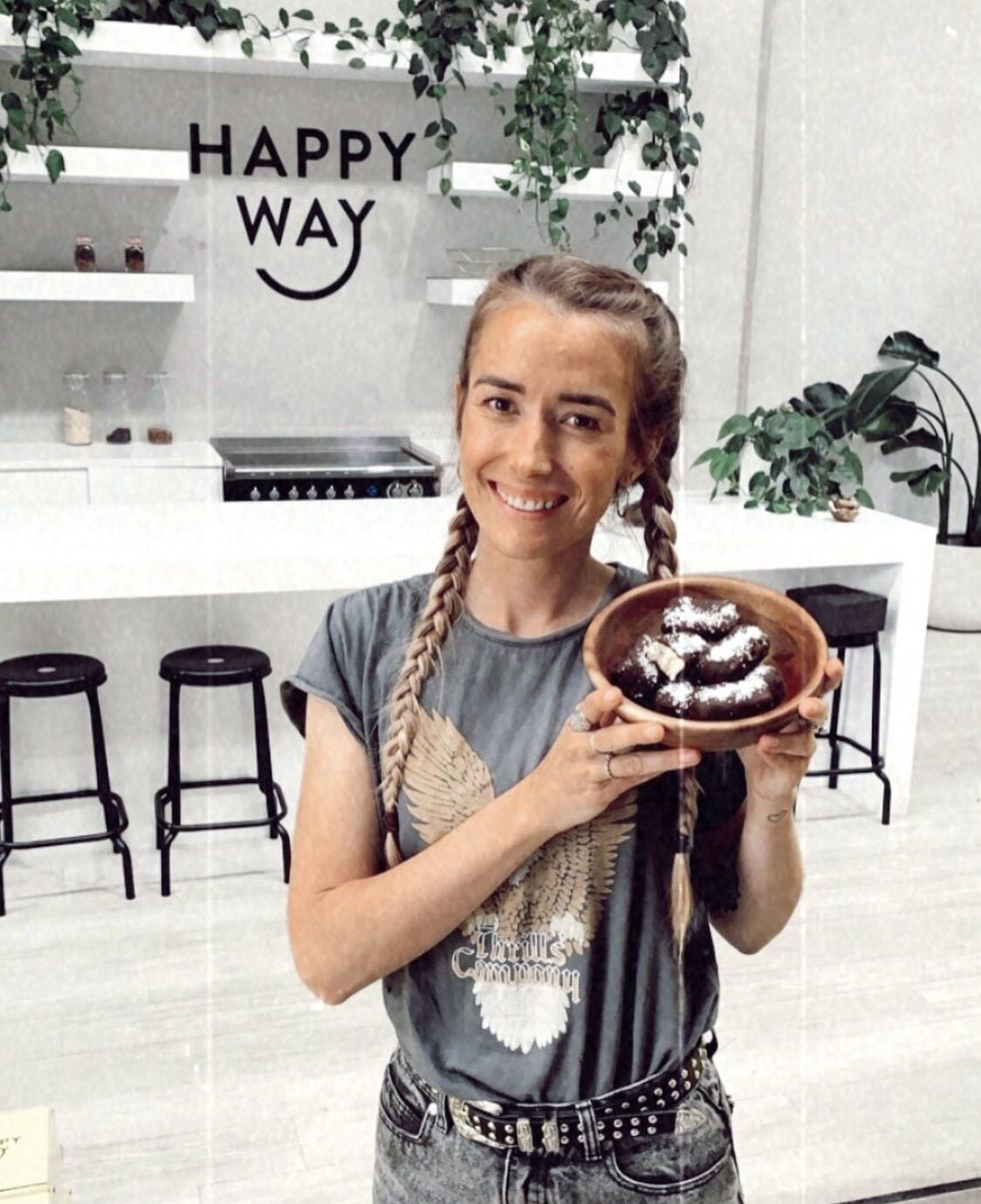 WHAT DOES IT MEAN TO BE VEGAN? WE ASK OUR HAPPY WAY NUTRITIONIST, HAYLEY RICHARDS
At Happy Way, we value inclusivity and understand that everyone has different needs, wants and even beliefs when it comes to their health and well-being. This is one of the reasons why we've created a range of vegan friendly products - allowing those living a vegan lifestyle to gain all of the nutritional benefits from our products as well experience the flavour and fun that comes with being part of our Happy Way fam! 
These days there seems to be a smorgasbord of dietary restrictions and requirements that are ever present in our society. Some are a reflection of what our body needs physically to function properly, some are to keep allergies and health issues at bay, and others come down to our own personal choice and what feels ethically right for us in regards to our diet. 
Today we are shining the spotlight on what it means to be vegan and we are chatting with Happy Way vegan nutritionist Hayley Richards, who made the choice to embody a vegan lifestyle several years ago. Hayley shares with us her reasons for choosing vegan, the misconceptions surrounding being vegan and so much more. For those who are considering making a change to their diet, or if you have someone in your life who lives a vegan way of life, we hope this helps to answer any questions or get some clarity on all things vegan!
Read our interview with Hayley below and check out our range of vegan protein powders here.
When and why did you decide to live a vegan lifestyle? 
I decided to go vegan about 13 years ago when I became aware of the mistreatment of animals in the meat and dairy industries. With the internet at our fingertips, I was exposed to information that I hadn't thought to imagine before and once I saw it I couldn't unsee it. I couldn't continue to support these industries that abuse sentient beings as I'm a big animal lover. Over time, as I became more educated around eating a vegan diet, I also learnt more about the nutritional and environmental benefits and it just felt so natural to me to follow a vegan lifestyle. I haven't looked back!
What do you think is the biggest misconception about those who are vegan?
I think there's the misconception that the vegan diet lacks variety and flavour and is difficult to maintain when it's really the complete opposite. Anything can be "veganised" these days and with the growing awareness around veganism, the plant-based alternative options available in supermarkets and restaurants are also becoming more expansive. 
What do you think are the benefits of choosing to live a vegan way of life?
So many!! The obvious fact is that you are taking a stance against unnecessary animal suffering and giving animals the right to live, on average saving 365 animal lives a year (Cowspiracy.com/facts).
Secondly, it's helping to reduce the use of natural resources such as water, CO2 and deforestation, which is needed to grow crops to feed, transport and process the animals that people then consume. Also, I feel good within myself knowing that I'm trying my best to make small, informed choices on the daily, to take care of Mother Earth and do no harm.
Are there any challenges you find being a vegan?
I must say that I don't really find eating a vegan diet and living a vegan lifestyle challenging at all these days. When I first became vegan over 10 years ago, it was much more difficult as there was less awareness and fewer vegan food alternatives around, which made it more complicated to explain my choices to people who had little understanding. I was also navigating my way through a shift in my previous dietary and lifestyle habits, so there was a bit to learn. Nowadays it's just my "normal" and I don't even think about my dietary and lifestyle habits as being unique or different. It's all second nature to me now - to eat and live in a way that doesn't require hurting animals.
What advice would you give to someone who is considering the vegan lifestyle?
I'd say become informed about your "why". Research information that supports your reason to go vegan, whether that be for the animals, your health and/or the environmental benefits. This will give you a "purpose",  help support your choices and allow you to discover the best way to follow through on them. Watch "Cowspiracy", "What the Health", "The Game Changers", "Seaspiracy" and "Earthlings", if you want to become more informed around the topic. Going vegan doesn't have to happen overnight either. Making small plant-based swaps within your diet and experimenting with alternative options can happen at your own pace. 
The vegan lifestyle has become much more popular in recent times - why do you think that is and how does that impact you?
It sure has! I think there are a few factors that have contributed to this shift. The younger generation is definitely becoming more open-minded and questioning previous "norms" and "conditionings", therefore they're making decisions around issues that they feel is best, rather than what authoritative figures deem as best. With the internet literally at everyone's fingertips now, we are exposed to a lot more information and content regarding animal cruelty and environmentalism, which was much harder to access prior to our social media days. This, I believe, has had a big impact on people's choices. There is also a lot of food/recipe inspiration and resources online, which makes it more appealing and easier than ever before to make the switch to a vegan diet.
Do you have opinions on those who aren't vegan? Could you date a meat-eater?! lol 
I don't judge anyone as I was a meat and dairy eater once before too. I think we all have our own personal journeys and values, so long as we're doing what we wholeheartedly think is best, based on what we know. I think it's really important that people make informed decisions around their food choices, in particular surrounding how it's made. There also needs to be more transparency with all industries so that we know what we are supporting with our pockets.
Haha, many of my friends are meat eaters and I've actually only dated one vegetarian. So long as there is mutual respect around each other's choices and they're willing to give my food a go (and not cook a steak in my house!), then we're all good! 
You're an amazing nutritionist, what are your top 3 vegan dishes that you couldn't live without and want to share with us?
My favourites would have to be - Salt and Pepper Tofu Noodle Salad, with heaps of tahini satay dressing and an Eggplant Parmi.
And for sweet - Oreo Protein Truffles
INGREDIENTS:
24 oreo cookies (we used the Woolworths Free-From Gluten Free alternative)

200g vegan cream cheese

300g vegan choc chip melts
METHOD:
Add the cookies and protein into a food processor and pulse the cookies for a few seconds at a time until the cookies are broken down into fine crumbs.

Add the cream cheese and process until it's completely blended with the crushed cookies. Place in the fridge or freezer for 30 mins to chill and firm up.
Shape into desired sized balls and freeze them for 15 minutes.
While the cookie balls are freezing, melt the chocolate.
Dip the chilled balls into the melted (room temperature) chocolate. Place the balls in a single layer on a waxed paper-lined baking sheet.
Optional- sprinkle the cookie balls with cookie crumbs or drizzle with white chocolate.
Place in the fridge to firm and store in an airtight container in the fridge. 
Get more of Hayleys delicious recipes
@happywayrecipes