Sleep Tight Hot Choccy Vegan
Hot Chocolate
200g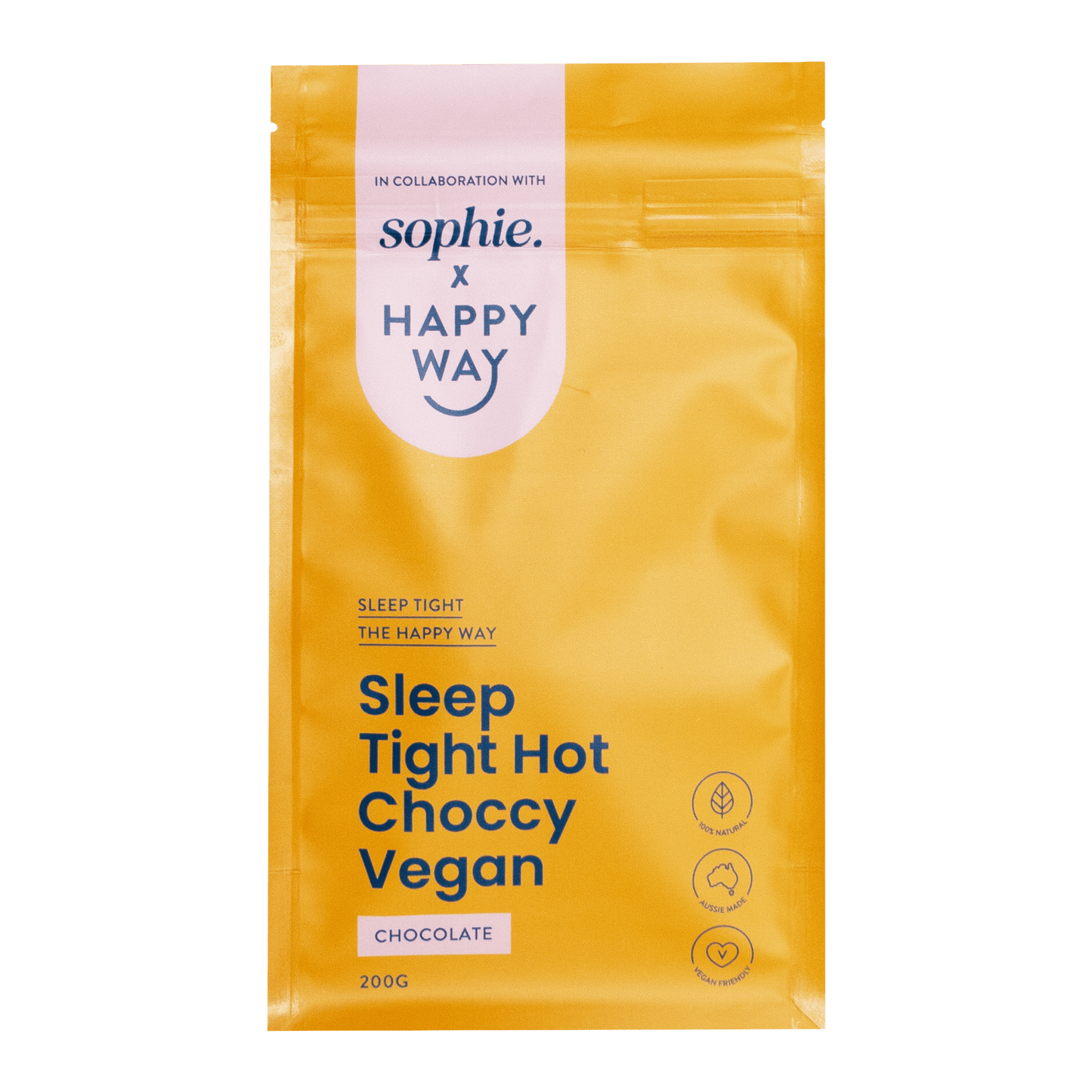 How to
Add two heaped teaspoons (10 g) to 200 ml of hot water or heated milk in a mug and stir well.
Description
Ingredients
Nutritional Info
'It warms my soul from the inside out and is the perfect addition to my bedtime routine.'
Drift into dreamland with your new nighttime essential… Introducing Sophie Guidolin + Happy Way Sleep Tight Hot Choccy! Created in collaboration with our friend and HW ambassador Sophie Guidolin, our vegan-friendly Sleep Tight Hot Choccy is designed to soothe, calm and provide some sweet, soulful comfort once the sun's gone down.
Made with all-natural ingredients and a herbal plant blend that helps you relax and unwind from your day, it delivers a rich choccy flavour that's the key to the heart of any chocolate fan.

Pour a cup and snuggle up with your new evening ritual—it's guaranteed to help you sleep tight the Happy Way.
Cocoa Powder (45%), Organic Cacao (23%). Coconut Milk, MCT Powder 70%, Acacia Gum Natural Flavour, Magnesium, Citrate, Xanthan Gum, Guar Gum, Chamomile, Dandelion, Passion Flower, Cinnamon, L-Glycine, Zinc Gluconate, Natural Sweeteners (Sterol Glycosides, Thaumatin). 

100% natural | Organic ingredients | Gluten-free | Nutrient-rich | Powerful superfoods | No nasties | Delicious flavour | Pantry staple
100% natural | Organic ingredients | Gluten-free | Nutrient-rich | Powerful superfoods | No nasties | Delicious flavour | Pantry staple
100% natural | Organic ingredients | Gluten-free | Nutrient-rich | Powerful superfoods | No nasties | Delicious flavour | Pantry staple
100% natural | Organic ingredients | Gluten-free | Nutrient-rich | Powerful superfoods | No nasties | Delicious flavour | Pantry staple
100% natural | Organic ingredients | Gluten-free | Nutrient-rich | Powerful superfoods | No nasties | Delicious flavour | Pantry staple
100% natural | Organic ingredients | Gluten-free | Nutrient-rich | Powerful superfoods | No nasties | Delicious flavour | Pantry staple