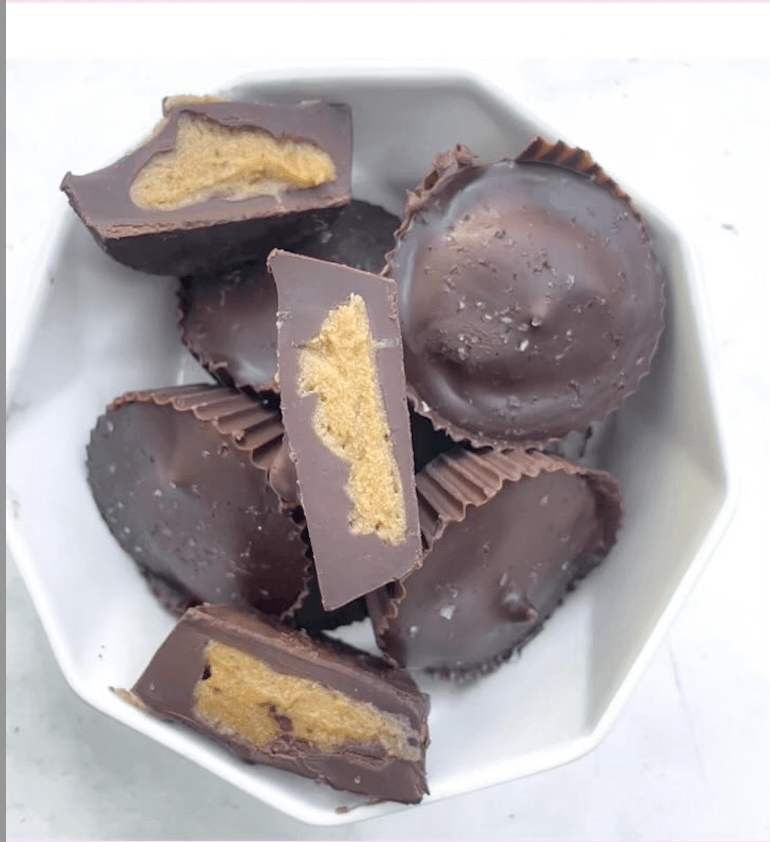 5-IINGREDIENT GUILT FREE PB CUPS
INGREDIENTS
340g Semi-Sweet Chocolate Chips
2 tablespoon Coconut Oil (the solid part)
1/3 cup Creamy Peanut Butter
1/4 cup Pure Maple Syrup
2

tablespoon

 Happy Way Flavourless OR Vanilla Protein Powder
1/4 teaspoon salt + more for topping
* 10 cupcake liners (I used silicone)

METHOD
Combine chocolate chips & coconut oil. Microwave in 30 second increments stirring in between to prevent burning (about 1.5 minutes total)
Add 1 tablespoon to each silicone cupcake liner and slightly tilt so the chocolate moves around to the sides (about 1/2 inch up) - place in the freezer to harden while preparing your peanut butter filling.
Combine creamy peanut utter, maple syrup, flavourless protein powder and 1/4 teaspoon salt. Combine and add to a ziplock bag and snip a tiny piece of the end off to pipe.
Once chocolate is hardened, pipe about 1 tablespoon into each cup. Once done, cover with remaining chocolate, just until the peanut butter is covered.
Sprinkle with some flaky sea salt and place back into the refrigerator or freezer until hardened.
Enjoy!! 
Recipe by @thecymbal.life