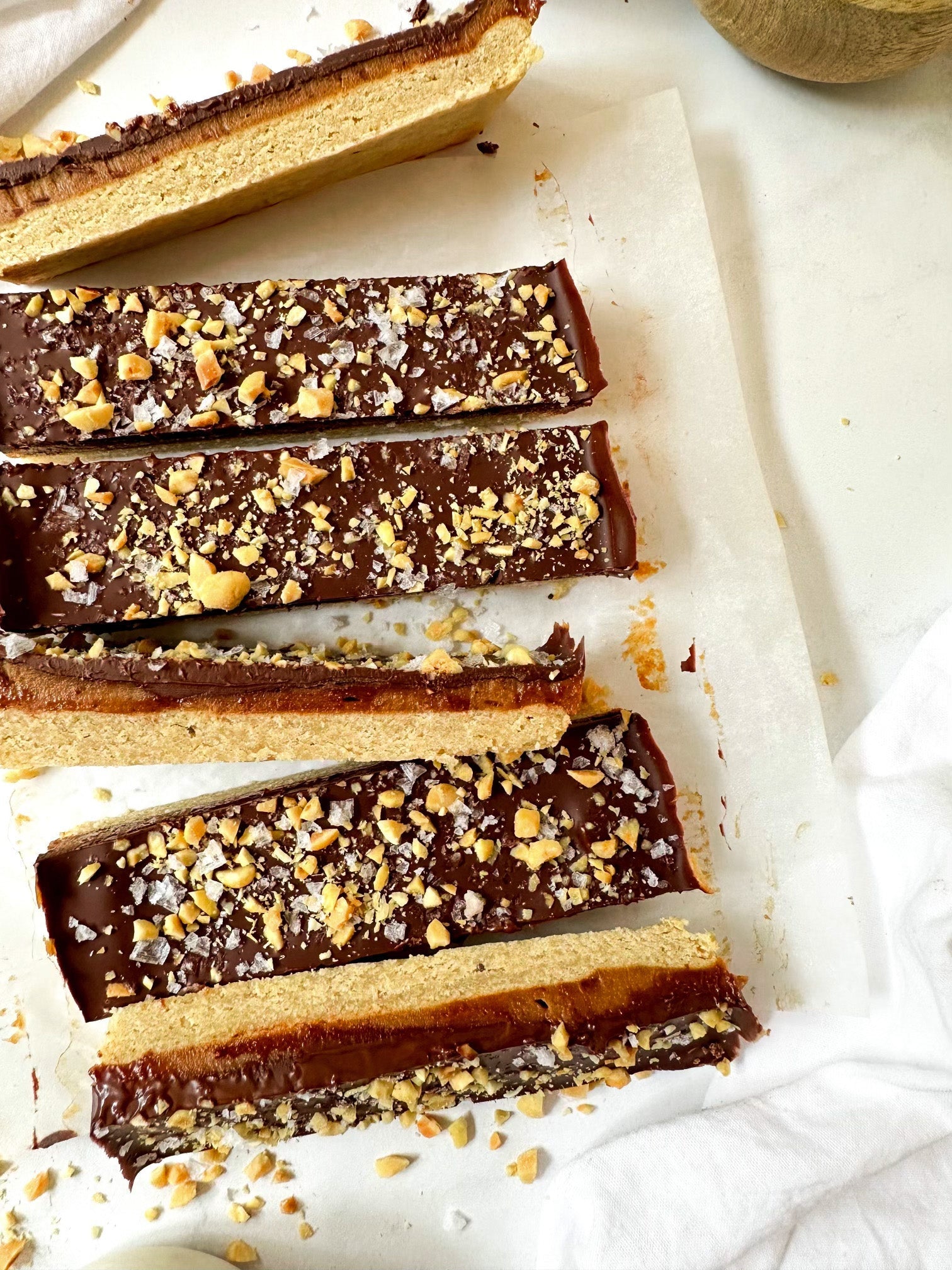 INGREDIENTS:
Base:
55g oat flour

55g almond flour

45g @happywayau salted caramel or vanilla protein powder

45g coconut oil

2 tbsp sugar free maple syrup

1 tsp vanilla bean paste

1 tsp sea salt
Filling:
3 dates (soaked)

90g PB2 powder

90ml milk of choice

1 tsp coconut oil

1 tsp vanilla 

1 tsp salt
Topping:
150g dark chocolate 

1 tsp coconut oil

Sea salt flakes

Chopped peanuts 
METHOD:
Preheat oven to 175C or 350F 

Line a small baking dish with baking paper (I used a 6x8 dish)

In a medium bowl mix together all of the base ingredients. Until dough forms a ball. 

Press into the bottom of the pan and bake for 10 minutes or until golden brown.

In a blender or food processor mix together all the filling ingredients until the filling reaches a thick creamy texture. 

Spread filling mixture over base. Set aside.

In a small microwave bowl, melt together dark chocolate and coconut oil. Microwave on high for 30 second increments stirring until chocolate is melted completely. 

Pour over caramel layer and tilt pan from side to side until chocolate evenly covers the top. 

Top with sea salt and chopped peanuts.

Place in the refrigerator and allow the bars to completely set up.

Once bars are set up, remove from pan and cut into bars.

Keep bars covered and stored in the refrigerator for up to 10 days.
Recipe by @ever_so_fit 
Makes 12 bars
201 Calories 
10g Protein, 16g Carbohydrates, 11g Fat