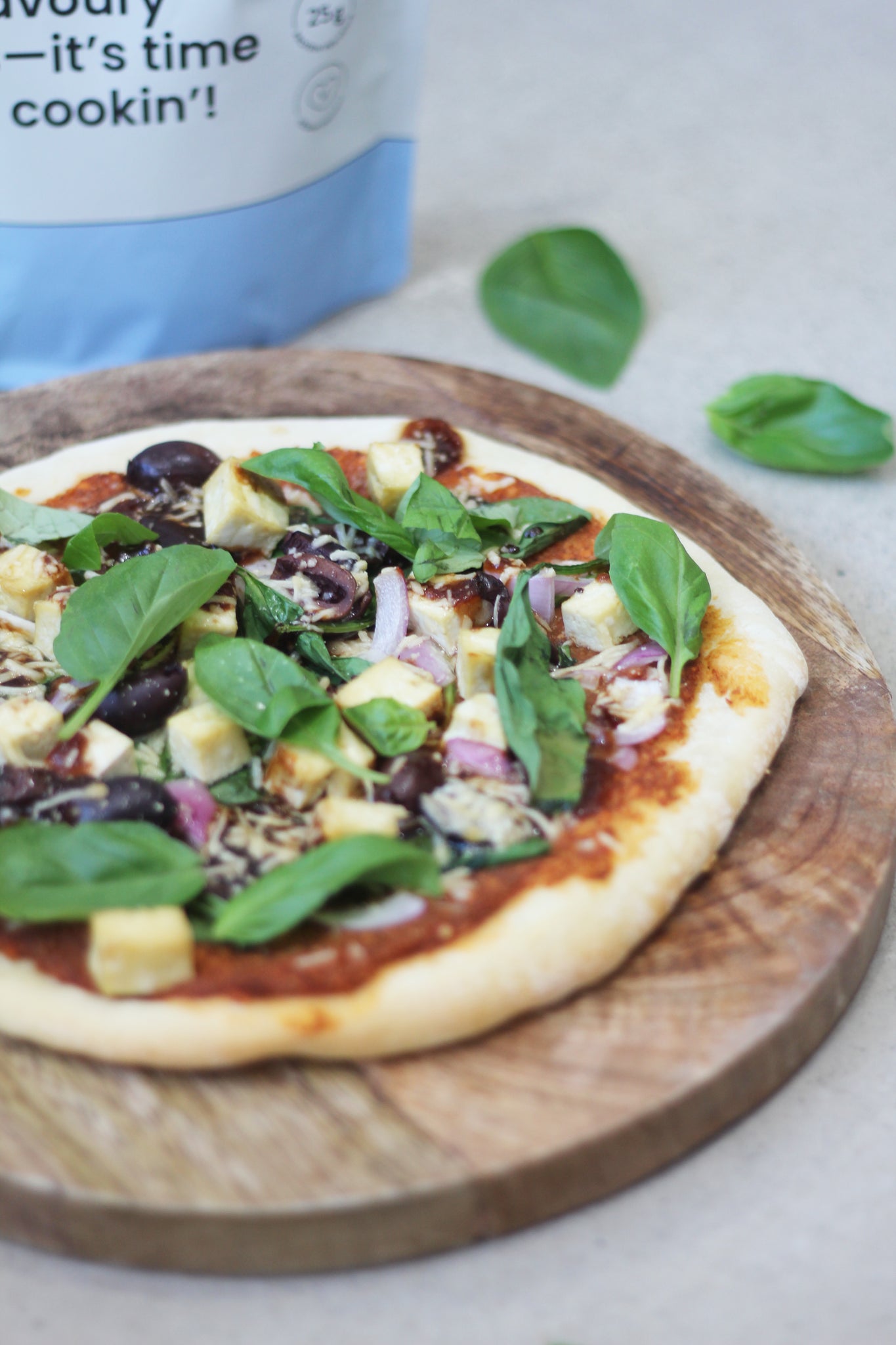 HIGH PROTEIN VEGETARIAN (OR VEGAN) PIZZA
INGREDIENTS 
FOR THE BASE:
1 cup warm water
2 1/2  teaspoons dry active yeast
1 1/4 cup all purpose flour

1/2 teaspoon salt

2 tablespoons olive oil
FOR THE SAUCE:
1/2 cup red lentils

1 3/4 cup passata of choice (we like the italian herbs)

1/2 cup fresh basil 

1 tablespoon tomato paste
FOR THE TOPPING:
2 cups spinach

1 red onion

1/2 cup olives

1/4 cup bbq sauce

450 g firm tofu

1 tablespoon olive oil

1 tablespoon oregano 

1tsp salt 

1 tsp pepper

4 tbsp parmesan cheese or nutritional yeast for a vegan option
METHOD 
FOR THE BASE:
To activate the yeast, add to the warm water and allow to sit for 5 minute, or until small bubbles start to form on top of the water. 
In a separate bowl, combine the flour, salt and protein powder. Add the yeast water and olive oil and combine until a dough forms
Remove dough from bowl and knead on a well floured surface for 5 minutes and then cover and set aside to rise for approximately 1 hour.
Remove the dough from the bowl and divide into desired portions. Roll out portions into pizza bases to desired thickness. 
FOR THE SAUCE: 
Add all ingredients to a blender and blend until a smooth sauce forms
FOR THE TOPPINGS: 
Prepare the tofu. Dice into 1-2cm cubes and toss in olive oil, oregano, salt and pepper. Place on a lined baking tray and bake in the oven for 15 mins at 180˚C until lightly golden
Spread lentil sauce over bases.
Top with spinach, red onion, cooked tofu and drizzle bbq sauce over pizzas. Sprinkle nutritional yeast/ cheese over pizzas and cook in oven for 10-15 mins at 200˚C or until base is lightly golden and cheese is melted. 
Slice and enjoy. 
MACROS
Per pizza (serves 4)
Calories:  529
Protein: 33g
Carbohydrates: 57.75
Fat: 19.75